Cashing in: Retail facilities begin to reap the benefits of green roof technology.
By Geoffrey Hagan 
The green roof industry has embraced much change in the past decade. Nearly 10 years ago, less than 1 million square feet of vegetative roofs had been installed in North America, and very few buildings were seen featuring anything but the standard black and white roof systems. Fast forward to 2012 and 20 million total square feet of green roof material was installed on roofs nationwide, according to a Green Roofs for Healthier Cities (GRHC) survey. A green roof, sometimes referred to as a living roof or vegetative roof, utilizes a growing medium with or without vegetation planted over a waterproofing membrane. Along with green roof technology, additional rooftop environmental solutions (ES) such as solar PV, daylighting and high performance roofing can be integrated to enhance a building's performance and appeal.
The North American green roof industry grew 24% from 2011 to 2012. Although a significant increase, these numbers are largely derived from owner-occupied facilities such as apartment complexes and government facilities, rather than retail structures. However, retail facility managers are beginning to recognize the unparalleled benefits associated with green roof installations, leading to an increase in new eco-roof installations as well as the implementation of green roof technologies on preexisting roof structures. Our company alone has installed over 2 million square feet of green roofs in the past 10 years, with 15% of our business comprised of retail facility projects — a noticeable increase from the 2% of retail projects completed 5 years ago. The benefits that living roofs bring to a retail facility are numerous and can range from reducing operational costs and energy usage to increased employee morale and effective stormwater management.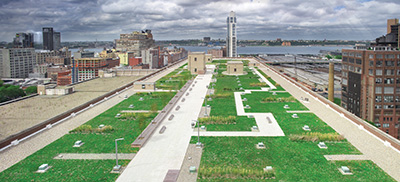 One of the largest economic drivers spurring the retail facility green roof trend is compliance with local regulations and government fees associated with stormwater runoff management. Urban areas with higher numbers of impervious surfaces, such as roads and traditional roofs, and minimal green space absorb precipitation at a much slower rate than areas with more grass and plant life. In areas such as this with combined sewer-stormwater systems, heavy rains typically overload the wastewater system and cause it to flood, dispersing raw sewage into local waterways. Most retail facilities in these areas are required to have a stormwater management system on site, and vegetative roofs provide a unique solution by decreasing and slowing the total amount of stormwater discharge.
Vegetative roofs mitigate stormwater and sewer system problems by absorbing much of the water into the roof's system and releasing the remaining water back into the atmosphere via condensation and evapotranspiration, while retaining pollutants in the soil. The structure is able to slow the runoff process so that the sewer system is not overloaded during peak usage times. Penn State University Green Roof Research studies have found that green roofs can reduce the stormwater runoff volume to sewer systems by 50% to 90% and peak stormwater runoff flow by 75% to 90%, where a typical roof will retain only 10% of stormwater runoff.
Encouraging facility managers to trend toward installing green roofs, many city governments implement rebate and tax incentive programs specific to stormwater management. There are a heightened number of green roofs in cities such as Washington D.C., Nashville, Philadelphia, Chicago and New York City that heavily promote these programs.  Certain districts further incentivize the practice, allowing a facility to expand its footprint if it utilizes a vegetative roof for stormwater control. This is ideal for facility managers looking to grow because it prevents from having to attain land to develop a new structure. The largest green roof in New York City is atop the United States Postal Service's Morgan Processing and Distribution Center in Manhattan. The 109,000-square-foot project features native vegetation that has significantly reduced the amount of stormwater contaminants entering the municipal water system. This project, along with many other facility green roof installations, utilized eco-roof technology to develop a unique solution for a required stormwater management system on a preexisting roof.
In addition to providing effective stormwater management, rooftop environmental solutions are able to significantly reduce a facility's operational costs. First, daylighting systems have allowed facilities to reduce their reliance on interior electrical systems by placing windows, openings and other reflective surfaces that stream natural light as effective internal lighting. Artificial interior lighting can constitute as much as one-third of a retail facility's total energy costs. Daylighting systems are specifically designed to provide maximum streaming of the sun's natural illumination — allowing, in some cases, for facilities to completely eliminate their artificial lighting systems altogether. Research also suggests that workers whose facility implements daylighting are more productive, less absent from illness and achieve higher operational safety standards.
Vegetative roofs also reduce a facility's energy costs by mitigating the urban heat island effect that occurs in a metropolitan area that is significantly warmer than its surrounding areas due to human activities and building materials that retain heat. Depending on the depth of the growth media and the amount of moisture, green roofs act as a buffer to the temperature swings and round them out. For example, on a 90-degree day typical roofs will swelter to 160 degrees, which places a large burden on the cooling systems by forcing them to work doubly hard. A living roof, however, stays closer to the ambient temperature, helping interior spaces stay cool and lessening utility costs. The plants on top of the roof also serve to cool the environment while improving the air quality as they absorb and convert carbon dioxide to oxygen. Overall, these practices will prolong roof life through consistent mitigation of UV rays and other environmental conditions.
Another rooftop ES, solar photovoltaic (PV), is designed with the current roof conditions, local incentives and electric utility requirements in mind to generate revenue and hedge against future energy costs. Producing electricity during daylight hours when commercial and retail buildings are occupied and using electricity, these solar PV installations have helped numerous retail facilities to capitalize on energy output to offset costs they would otherwise be paying to the utility company or generate revenue by leasing their roofs to a third party. Solar roofs are a growing sector of the ES market — largely due to the aforementioned awarding of special grants and tax incentives which the government has set aside to aid in the advancement of these solar practices.  As the prices continue to decrease, solar PV systems ultimately pay for themselves in a short period of time and may not need to rely on incentives in the years to come.
The 346.5 kW polycrystalline solar PV system that was installed on the roof of a big box retailer in Quincy, Massachusetts, is an example of a successful PV system that has helped reduce future energy costs. The system features polycrystalline modules mounted on fixed-tilt racking at a 15-degree tilt and an Advanced Energy Inverter that will produce approximately 400 MWh annually. 
A green roof is not only a valuable tool for managing stormwater runoff, complying with city regulations, reducing energy costs and assisting LEED, but it can be constructed as additional  usable outdoor space for building employees and visitors. If the roof is able to meet weight load requirements, the facility is then able to utilize the roof as extra outdoor seating, meeting space, garden center or other use. Installing useable outdoor space atop a green roof is an ideal choice for new construction, but it can also be an option for existing structures if verified through a structural analysis and safety evaluation. Facilities nationwide have been seen more frequently utilizing their green roof on a daily basis.
For example, the newly constructed Advanced Technology Center at Gulf Coast State College in Panama City, Florida, specifically designed its rooftop to be used by students and faculty. With more than  10,000 square feet of high SRI elevated pavers and over 6,000 square feet of vegetated roofing, occupants can relax on a walkway park bench among solar PV panels and wind turbines. Retail facility developers and managers have taken note of such installations and are beginning to turn otherwise unusable square footage into value-added tenant space.
Whether for new construction or an existing building, rooftop environmental solutions contribute many points for Leadership in Energy and Environmental Design (LEED) certification. Developed by the U.S. Green Building Council (USGBC), this rating system evaluates the design, construction and operation of high performance green buildings and provides retail facility managers with a baseline for identifying and implementing practical and measurable green building solutions. The LEED Platinum-rated Headquarter Honda facility in Clermont, Florida, features a 6,000-square-foot vegetative roof, a 126.88kW solar PV system, 80-gallon solar thermal system and 400 square feet of daylighting units atop a 40,000-square-foot roof with high R-value and durable SRI roof system.
This is an ideal example of how retail facilities are able to combine various forms of rooftop ES technology, which contributes to more LEED points than any other envelope technology. It is important for retail facilities to seek LEED endorsement to demonstrate a commitment to environmental responsibility, promote increased productivity with healthier employees, protect or increase property values and to enjoy the marketing and government benefits.
Vegetative roofing is steadily becoming a more prominent building trend within the United States, but still is primarily seen within owner-occupied buildings. The retail facility market has begun embracing rooftop ES and reaping the numerous benefits of doing so. Mitigating stormwater management, while being in compliance with city government regulations, reducing energy costs, developing additional usable outdoor space for employees and visitors and attaining LEED certification are all benefits of rooftop environmental solutions that are propelling retail facility managers to incorporate these technologies into their building structures.
— Geoffrey Hagan, LEED AP™, RISE CSRP™, NABCEP PV Technical Sales™, is the environmental solutions director for Tecta America Corp. and southeast regional sales manager responsible for the development and implementation of turnkey daylighting, vegetative, solar and green roof solutions.