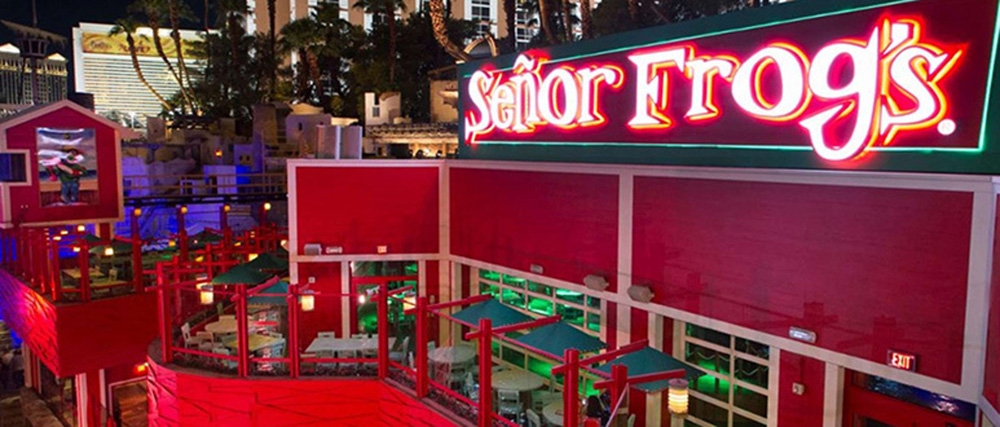 Cancun, Mexico — Grupo Anderson's, a Mexican hospitality industry leader, plans to sell its iconic fun themed restaurant brand Señor Frog's in the U.S. The group owns and operates restaurants and bars located in the main cities and tourist destinations in Mexico, the United States and the Caribbean. Currently they have five Señor Frog's business units in the country: Myrtle Beach, Las Vegas, Miami, Orlando and San Juan (Puerto Rico).
According to a study conducted by Lizan Retail Advisors (LRA), a New York-based consulting firm that recently assessed the chain's potential of market development in the U.S., Señor Frog's brand recognition is very high. Many people in the U.S. know the brand from their trips to the Caribbean and Mexico.
"Señor Frog's is a key player in the fun themed restaurant market, a niche segment serving food and drinks in a casual/relaxed atmosphere, unified by a central theme, catering to tourists/visitors and local populations," reads the study, which identified 30-40 feasible U.S. locations that qualify to support a Señor Frog's restaurant, by prioritizing those locations within high-traffic domestic tourist destinations.
The travel industry has been growing at a high pace for the last 10 years and it is expected to grow further at an average of 4.2% in the next 5 years, according to the U.S. Travel Association. This increase will impact most businesses in the Hospitality and Leisure industry, mainly those focused on the Accommodation and Foodservice sub-sectors.
Additionally, the fact that consumer foodservice in the U.S. is undergoing several significant changes, one of them being a rise in the demand of more experience-based concepts, brands such as Señor Frog's have huge potential of growth due to their offer of value-added experiences.
Since 1971, Señor Frog's has been setting up Mexican cuisine restaurants around the world, offering the perfect mix of interactive fun and flavor.
SOURCE: Grupo Andersons
Tagged under