— By Katie Lee —
Tropical Smoothie Cafe has opened more than 100 restaurants each year for the past 3 years — and continues to grow on pace to reach 1,000 locations by 2021.
When Retail & Restaurant Facility Business last interviewed Tropical Smoothie Cafe (TSC) more than 3 years ago, we were talking about its milestone 500th location. Now, with more than 830 cafes open — 124 opened in 2019 alone — the fast-growing concept remains on track to reach 1,000 locations in 2021 and 1,500 locations in 2025.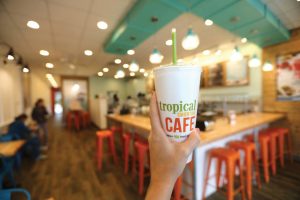 Steady growth is not a new phenomenon for the Atlanta-based fast-casual concept. In fact, TSC has enjoyed 3 consecutive years of opening more than 100 new cafes. This year, it hopes to open 130 new locations.
"We're trying to be really measured in our growth," says Charles Watson, CEO of Tropical Smoothie Cafe since 2019. "Make sure we have great buildouts for our franchisees, keep costs in line. We're excited to keep that pace."
Watson served as interim CEO for the second half of 2018, easing into the CEO role in 2019. Also happening during 2019, Tropical Smoothie Cafe opened its 800th location in Arlington Heights, Illinois, just 4 months after the company celebrated its 750th location in Sugar Land, Texas. As it turns out, 2019 was a very good year.
"We doubled the industry in comp sales, we opened the most cafes we've ever opened, we sold the most franchises we've ever sold," Watson says. "It was a great year — a great year for our franchisees as well. We don't have a business without franchisees. The better we serve franchisees, the better our business does."
To that end, TSC reinvests in many of its existing franchisees: 60% percent of the franchises sold by the company last year were to existing franchisees. In its current pipeline of approximately 500 cafes, 70% of those deals are with existing franchisees. Adds Watson: "Life's a lot easier when you're building with your family."
It also helps to be in the right place at the right time, with the current balance of healthy eating and balanced lifestyles on the minds of many consumers.
"We're leaning into that, obviously," Watson agrees. "I think the average American [understands] that 'I need to eat a little healthier, I need to do a little better.' Our consumer base, we call them active balancers: we've got families, we've got jobs, we're running around from soccer practice to a PTA meeting to a business meeting. So you have to balance, right? I think that we're a brand that you can feel good about what you're consuming. That's a really good thing for our brand, and we lean into that."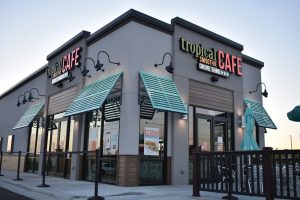 In 2016, Tropical Smoothie Cafe was in the midst of converting all of its restaurants to a new "relaxed coastal" prototype design, featuring muted warm colors, worn wood accents, industrial metals, etc. The understated, trendy look was a far cry from TSC's bright, beachy, palm tree motif that defined the brand for 15 years prior to 2016. To date, nearly all cafes have been converted to the new "relaxed coastal" look. According to Watson, the company might revisit another prototype change in the next 2 to 3 years to work better with today's grab-and-go lifestyle. Since so much of Tropical Smoothie's business (50%) is takeout anyway, the company intends to explore ways to redesign both the back-of-house, from an equipment perspective; and the front-of-house to ease the third-party delivery and takeout convenience.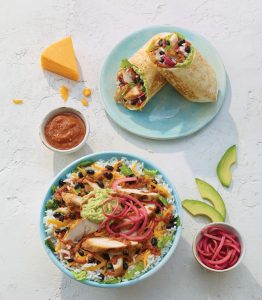 Today's average Tropical Smoothie Cafe is about 1,600 square feet (ranging from 1,200 to 1,800), with a lot of great options — experience and convenience — provided to the consumer. "You and I could go have a business meeting across the street at a Tropical Smoothie, and have lunch, and have a nice meeting and sit at a nice table. Or, we could grab and go," Watson says. "We have that experiential piece, but we also have the convenience piece, and I think we do well on both accounts. But we want to make sure our restaurant is putting our best foot forward in both of those areas."
Helping Tropical Smoothie Cafe put its best foot forward in terms of streamlining efficiencies through technology equipment are Jolt, Olo and Level Up. TSC is currently exploring new options for point-of-sale; it is also looking into beacon technology, digital menu boards and more.
"There's a lot of stuff in the hopper, technology-wise," Watson says. "It's a big part of that convenience: how can we effectively and efficiently serve our guests, and how do we utilize that technology?
"I think the biggest thing for us is the point-of-sale. That ultimately is the foundation for all technology in the restaurant. It enables everything else. That will be a big push for us in 2020 and 2021, and that will give us the foundation that we need to go out and do some more new technology stuff to push messages to our consumers and draw them in and really increase frequency and loyalty with our guests."
According to Watson, TSC's business is approximately 22% digital right now, including its website, app and third-party channels such as Easy Cater, etc. Tropical Smoothie Cafe already partners with Postmates, Grubhub, Uber Eats and DoorDash for delivery. Watson estimates the brand will log over 50% in digital sales within the next 5 years. "I just think the consumer dynamic is going to continue to change," he says. "We already see it. If there's a line at Starbucks, you just open your Starbucks app and order there and stand and wait for your coffee. I think that will become more and more the norm."
TSC is also targeting new markets. At the end of 2019, it was announced that 38 new cafes would be opening in Colorado over the next 5 years. Chicago is another key market, along with Houston; Dallas; Atlanta; Pittsburgh; Columbus, Ohio; Kansas City, Missouri; and Indianapolis.
Franchisees are eager to expand. For one thing, business is good.
"The business model works," Watson says. "When you look at us from a business perspective, we're at about a 2.3:1 sales:investment ratio, so it's what the franchisee is out-laying to open the business and what their average sales are. It allows them to get their money out of the business quicker; we call that the payback period. It's that sales-to-investment ratio and the ability to 'be your own boss,' but also to make money doing it."
According to Watson, Tropical Smoothie invests in corporate support staff as well, which by extension helps franchisees. "The majority of our franchisees are looking to sell wrap salad sandwiches and smoothies," he says. "They're not necessarily looking to get into the IT business from a point-of-sale perspective. Or the construction business. They ultimately want to be in the hospitality business."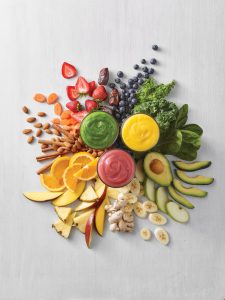 To that end, TSC invests heavily in its real estate and design/construction resources at its corporate support center. "We call it 'hand holding,'" Watson explains. "We're hand holding them all the way through the process so they can get to the ultimate business that they signed up for, which is operating a cafe. When you hand hold them, projects don't stall. We have people working to get their real estate squared away, and once that lease is done, we have a team of about eight that works with our franchisees, general contractors and architects. Get that project rolling and keep it rolling forward 'til the open date."
When it comes to repair and maintenance, franchisees have the autonomy to handle it on their own. However, the corporate office does provide guidance, especially when it comes to equipment and service contracts. Stafford Smith, Trimark and Vitamix blenders are key equipment manufacturers for Tropical Smoothie. TSC also has an Approved Vendor Program that franchisees can use for guidance.
"We utilize the strength and the size of our brand to work on pricing for our franchisees, but they handle [R&M] 100% on their own," Watson explains.
He continues: "We work very closely with our GCs and architects to drive costs and drive quality for our franchisees. We've got some great partners in those areas as well — too many to be named. We rely heavily on them. We're an organization that really believes in partnership. Our whole business model is predicated on the franchisee-franchisor partnership, but our vendors, our equipment suppliers, FF&E, etc. — those are all our partners too. They need to make money; we need to be a great partner to them."
Partnership is what it's ultimately all about — and profit follows good partnerships. "We've got 415 franchisees that are working their tails off, and we as a franchisor need to do everything we can to support their profitability," Watson says.
Tropical Smoothie takes a three-prong approach to its franchise program:
Care: TSC has to show its franchisees that it cares about them.
Communicate: TSC has to communicate deeply and effectively to them.
Profit: Last but not least, TSC has to drive franchisees' profitability.
"We're a brand that is 99.99% franchised," Watson says. "We only own one location. Without franchisee partnership and deep relationships with them, we will not have success. I think that our track record the last 3 to 5 years has shown that we're doing something right."
SIDEBAR #1:
TROPICAL SMOOTHIE CAFE EXPLORES OTHER AVENUES
Military Bases
"We opened about a year ago in Fort Bragg in Georgia," Watson says. "That one's doing really well. We partnered with a group called Army and Air Force Exchange Services (AAFES), and we have agreements for about five to seven more on military bases. That's come to us organically. We have a fantastic franchisee who used to be a colonel in the Army who got us on base at Fort Bragg. The bases really enjoy our heathier, 'eat better, feel better' mentality. Especially when those guys and gals are running 5, 6, 7 miles a day and working out and need better fuel for them to do that. We expect military bases to continue to grow." The company currently has base locations in development at Fort Benning, Georgia; MacDill Air Force Base in Florida; Fort Stewart in Georgia; Fort Jackson in South Carolina; and Fort Bragg in North Carolina.
Airports
"We're also just sticking the toe in the water into other non-traditional locations like airports," Watson says. "We had a team out at the airport show with Paradies — we're hopeful that we'll be getting some airport locations pretty soon. Paradies is a group that we have a lot of respect for that's worked in that space for many, many years. And we're leaning on some of their experience. We think that we have a great product that works really well in that environment, but we also know that we're not experts. It's about having the right partners that have been there, done that. So that's the route we're taking: strategic partnerships, where our brand can flourish under the management of another group that knows exactly what they're doing in that space."
College Campuses
"It's happened organically for us," Watson explains. "The first franchise ever for this brand was actually in Tallahassee, Florida, where Florida State University is. We may not be on campus, but we're very near a lot of campuses. We love to be a part of people's college experiences, whether it's at the University of Michigan or the University of Florida. All over the country."
International Locations
"We currently do not have any international locations," Watson says. "I would say probably in the next 36 months, but we are taking a very cautious approach. We don't want it to divide our resources. We have so much runway, domestically, in the United States. I've seen other brands get distracted by that. Because the world is a huge place, and there are tons of opportunities. We tend to focus domestically. When we do move internationally, we'll be very thoughtful about it and look to countries and partners that really know those local areas and have already proven that they can operate efficiently and effectively in those markets. A little bit wait-and-see for us on that."
SIDEBAR #2:
TROPICAL SMOOTHIE CAFE: THE NEXT 5 YEARS
According to CEO Charles Watson: "This is a brand that so much runway ahead of it. This is a brand that should be $1 million AUV easy. We're currently at $763,000. The top quartile of our system is over $1 million already, so it's not a moon shot — it's just where we need to be. So we're going to continue chopping wood and driving top line sales to get to $1 million average unit volume.
"A second goal is our guest experience. We call it OSAT: operational satisfaction. We want to be above 80% in our OSAT scores. We're well on our way to achieving that.
"Third is our franchisee profitability. This brand should be, on average, 18% profitability. We have many franchisees that are doing that now, but I want everybody to enjoy an 18% profitability.
"Then it's about brand power and footprint. 1,500 units [by 2025] does a lot for a brand in terms of the national marketing fund, household name status, etc. Just being a little bit bigger, that market power will help us to drive additional people to our cafes.
— This article originally appeared (before the COVID-19 pandemic changed everything) as the cover story of the April 2020 issue of Retail & Restaurant Facility Business. Email the editor, Katie Lee, at katie@francemediainc.com.
classic-editor-remember:

classic-editor

abkw-text:
Tagged under