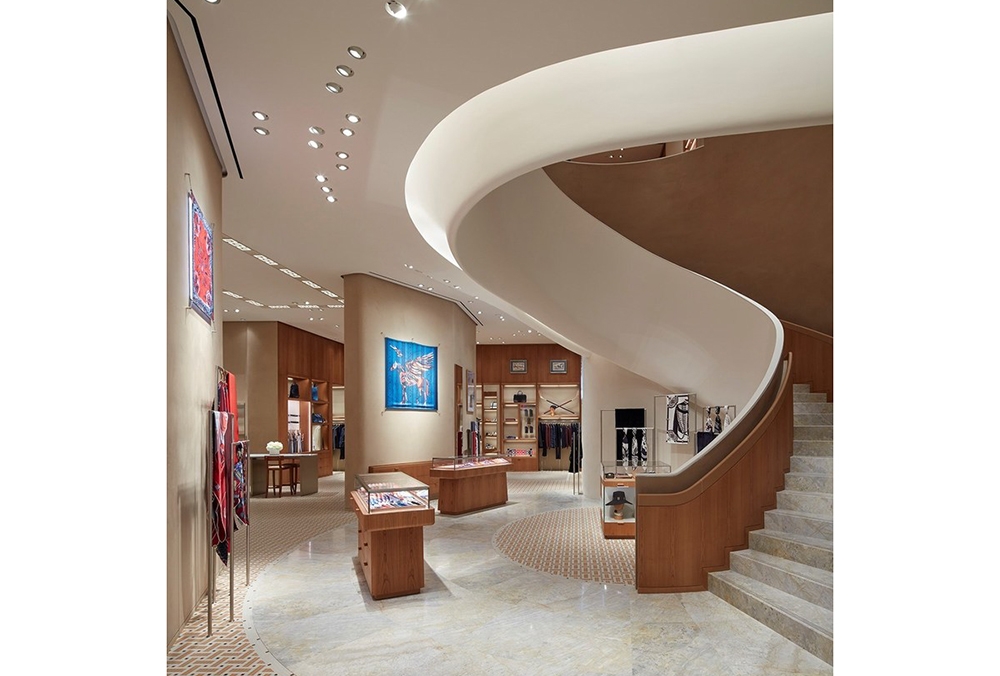 Toronto — Luxury retailer Hermès has opened in Toronto at 100 Bloor Street West. Designed by the Parisian architecture agency RDAI, the nearly 6,000-square-foot retail space presents a full transformation of Hermès' presence in Toronto.
"The opening of our new store in Toronto reaffirms Hermès' commitment to Canada, and salutes the refinement and vitality of this special city," says Jennifer Carter, president and CEO, Hermès Canada. "The deep and authentic bond between Hermès and Canadians is emotional — built on shared values, inspired by the energy to keep innovating, and a love for hand crafted objects made for living."
Inside, at the heart of the store, is an oval staircase that winds upwards, paved in white marble, encompassed in cherry wood, and accented with a leather handrail. Just beyond the ground floor jewelry area is the space dedicated to a full range of fragrances, behind which is the men's section. At the top of the stairs, customers will arrive at the home section, which will introduce Hermès' furniture and lighting to Toronto. Also new to the store are wallpapers and textiles, which round out the offering of tableware, plaids, and objects for the home. The women's and leather collections share the upper level windows.
From its beginnings in 1837 as harness-makers to the rich medley of collections offered today, the founding values of Hermès remain the same: creative freedom, fine craftsmanship, innovation and excellence. A family owned company, Hermès is managed by CEO Axel Dumas, and its artistic direction is led by Pierre-Alexis Dumas, both sixth-generation family members.
SOURCE Hermès Canada Inc.
Tagged under