Atlanta — Huddle House Franchise is driving expansion across Southern markets through its existing franchise network. In recent months, Huddle House announced new store openings in Lynchburg, Va., Owensboro, Ky., Nahunta, Ga., as well as a 10-year renewal agreement in Lady Island, S.C. All of these announcements have come from existing franchise owners.
Christopher and Stephanie Wilson, the husband-and-wife business duo, are the operators of Huddle House of Lady's Island, and have been serving the community since 2018. The Wilsons recently renewed their agreement with a 10-year commitment, ensuring that Huddle House will continue to be a staple neighborhood gathering place on Lady's Island for years to come.
"As we reflect on our journey with Huddle House of Lady's Island, we're not just renewing a franchise agreement but also reaffirming our commitment to this amazing community," Christopher Wilson says. "We are thankful to be working with such a dedicated team and we are looking forward to continue being the destination where friends and neighbors come together."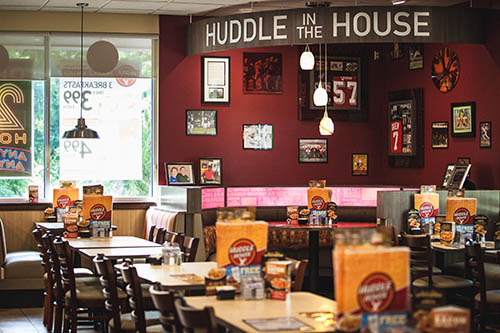 In addition to agreement renewals, existing franchisees are continuing to invest with Huddle House, opening new locations in their communities. With 14 existing locations across Virginia, Huddle House franchisees JJ Raval, CJ Raval and Rithika Patel are opening their second location in the city of Lynchburg.
Existing franchisee Terry Wingfield opened his fifth Huddle House location in Owensboro, Ky. Wingfield also has existing Huddle House locations in Central City, Scottsville and Leitchfield, Ky.
Multi-unit Huddle House operator Gregg Hansen recently opened his newest location in Nahunta, Ga. Hansen currently holds the largest portfolio of Huddle House restaurants with 21 units. The brand anticipates even more exceptional growth with Hansen going forward.
"The signing of these four new agreements and their subsequent openings are adding notable chapters to our ever-expanding success story. Each franchisee brings their unique flavor to our franchise, strengthening the Huddle House legacy, one diner at a time," says Peter Ortiz, chief development officer at Huddle House. "With extensive support provided from the start, franchise investors can tap into the breakfast demand at any time of the day and leverage the concept's established third-party delivery partnerships that are proven to drive higher sales."
Offering flexible restaurant formats, the Huddle House concept perfectly fits the market's available real estate, with buildout options including in-line, endcap, freestanding and non-traditional locations such as truck stops and travel plazas. Operators can also easily choose a format that integrates carry-out windows and patio seating, seamlessly incorporating options for off-premise dining.
For more information, visit https://huddlehousefranchising.com/.
Huddle House was founded in 1964. Today, the brand has nearly 300 locations open or in development. Huddle House is an Ascent Hospitality Management brand. For more information, visit www.huddlehouse.com.
SOURCE: Huddle House