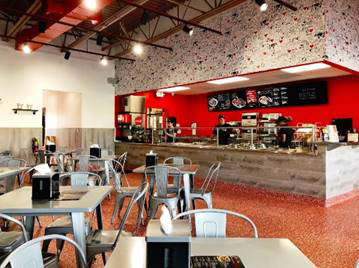 Boca Raton, Fla. — I Heart Mac & Cheese, a fast-casual concept specializing in customizable, made-to-order macaroni and cheese bowls, grilled cheese sandwiches and specialty salads, has signed an agreement with franchise group G5 Services, LLC, to open a new location in Augusta, Ga. Slated to start construction later this year, the Augusta location will be owned and operated by Kimberly and Brian Grotz, opening in winter 2019.
G5 Services, LLC is led by husband-and-wife duo and first-time entrepreneurs, Kimberly and Brian Grotz.
"We are so thrilled to have Kim and Brian onboard with I Heart Mac & Cheese, and feel our concept is a great fit for them as they look to develop a family business," says Stephen Giordanella, CEO and chairman of I Heart Mac & Cheese.
I Heart Mac & Cheese is well-known for custom, build-your-own macaroni and cheese bowls, grilled cheese sandwiches and salads. Guests select a pasta, bread or salad base along with seven different proteins, vegetables and cheeses. Gluten-free options are also available.
A unique franchise concept in the restaurant industry with no fryers, grease trap systems or hood systems, I Heart Mac & Cheese requires a low investment and can be opened in a small space, such as a mall kiosk or food court. Shopping malls, sports venues, areas close to colleges and universities, and high-traffic pedestrian areas are also ideal locations. With a home office in South Florida, I Heart Mac & Cheese offers franchise owner training, marketing support and ongoing development opportunities to ensure each location's success.
"We are excited to bring a restaurant to Augusta where our friends and neighbors can come together to enjoy a wonderful twist on everyone's favorite comfort food: macaroni and cheese," says Kimberly Grotz.
The first I Heart Mac & Cheese location opened in 2016 in Fort Lauderdale, Fla. South Florida locations include Pembroke Pines, Jupiter, Coral Springs and Boca Raton. In addition, there is a corporate location in Patchogue, N.Y. Additional corporate locations are slated to open in New York, Florida and Georgia. In 2017, the company launched its franchising program nationwide and has a franchisee location in Davie, Fla. For more information, visit www.iheartmacandcheese.com.
SOURCE: I Heart Mac & Cheese
abkw-text:

classic-editor-remember:

classic-editor