The 'retail-tainment' venue creates a golfing and gaming experience that makes socializing a sport.
— Interview by Katie Lee —
Golf is generally a quiet, solo sport. Topgolf turns that conventional wisdom upside down with a large, world-class entertainment destination that brings golf to players of all ages and skill levels — and brings those players together for a fun, rowdy time with friends, family, food and drinks. With 50+ locations open worldwide and up to 10 new venues planned in 2019, the retail/restaurant concept is a leader in the growing 'retail-tainment' category. Retail & Restaurant Facility Business recently interviewed Morgan Schaaf, Topgolf's communications manager, to learn more.
R&R: How many locations does Topgolf operate? How many new "first" locations opened in 2018 — first in Minnesota, first in Louisiana… Where else was it first to market?
Morgan Schaaf: "Goodness, where do I begin? The company has grown so much since I started with Topgolf! We have 52 locations worldwide that are open right now — 48 in the U.S., three in the U.K. and one in Australia. We opened 10 U.S. venues, as well as our first in Australia, last year. Almost all of the new venues were firsts in the market: El Paso, Texas; Australia; Columbus, Ohio; Detroit; Minneapolis; Pharr, Texas; Philadelphia; Pittsburgh; and St. Louis."
R&R: Construction is nearing completion on a three-level, 55,000-square-foot venue in Myrtle Beach, South Carolina, which will be the first Topgolf in the state. Tell me about this new location opening in early March.
Schaaf: "We are so excited to open in Myrtle Beach. I cannot wait to get out there and see it. (I have never been there before!) We have a great team that is working around the clock to make sure we open on time. We are still a few weeks away, but with hiring underway, we are building a rockstar team [including Jeff Kowalski, director of operations]."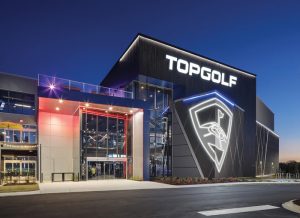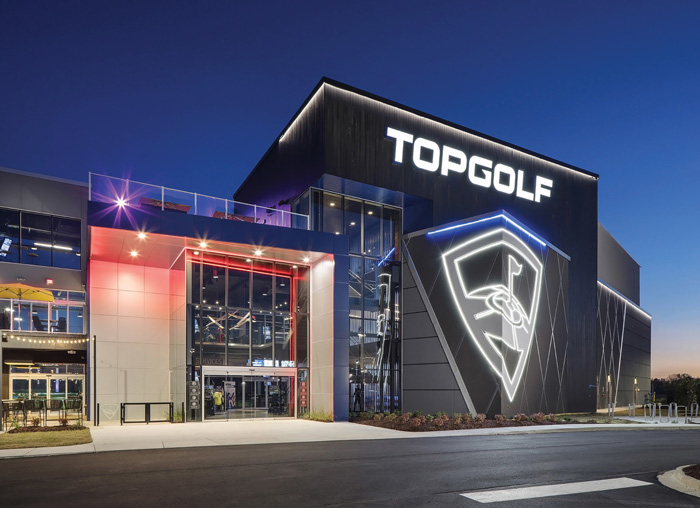 R&R: How many additional new locations are planned in 2019? Are all Topgolfs corporately owned (no franchises)?
Schaaf: "We are aiming to open 7 to 10 venues in 2019. All of our domestic venues are corporately owned, with Australia being a franchise model."
R&R: When did the first Topgolf open? How did the concept come about?
Schaaf: "The first Topgolf opened in 2000 outside of London in Watford. We expanded and added two more venues in the London area before coming to the U.S. in 2005. From there, we branched out all over the U.S."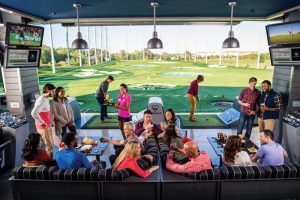 "The concept started with two brothers casually wondering how they could better track and measure their golf scores. So, they put a microchip from a dog collar into a golf ball, and tested it at the local police station. Thus, the concept of Topgolf was born. From there, we've turned it into a global sports entertainment community with food and beverage, events, lessons, cutting edge-technology and more."
R&R: Where are you headquartered?
Schaaf: "We actually don't have one specific headquarters. We have offices in Chicago, Dallas, London, New York, San Francisco and Sweden."
R&R: How do you describe the Topgolf experience? It certainly fits the trend right now of experiential retail — "retailtainment" or "eatertainment," if you will. It seems like malls and developers need to create experience-based retail like this to bring people back to brick-and-mortar.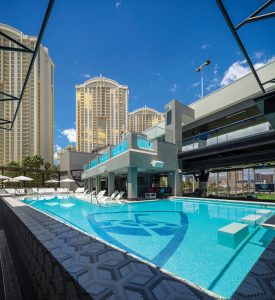 Schaaf: "There is so much to a Topgolf experience that makes us unique. Topgolf is a place to celebrate life's moments, and we've created a shared space to make moments that matter for our guests. We want to be a place where you come and have fun, whether you have picked up a club or not. Having something for everyone — all ages, all skill levels, year-round — is what drives us."
R&R: What is the average square footage of a Topgolf location? How does it break down by driving range, sports bars and gaming rooms, restaurant, hitting bays? I see at least one location has a pool and several have rooftop bars. How important is it to make each location a unique destination in its own right?
Schaaf: "Square footage varies based on the venue, but most are between 55,000 and 65,000 square feet. Most of our outfields are 215 yards, with a rooftop terrace, private event spaces, full-service restaurants and bars, as well as 72-102 hitting bays at each venue."
R&R: What type of real estate is ideal? Do you go in near malls? Are you always freestanding?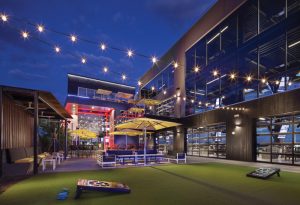 Schaaf: "Our real estate team works very hard to make sure we are placing venues in ideal locations. We look at many things when filing for land, but proximity to other guest-focused areas, as well as highways, is important."
R&R: What markets are you targeting in 2019? Who is your target audience?
Schaaf: "There is an extensive list that our team is looking at, but as a private company, I'm not able to share those details."
"We don't have one specific audience. We want to make sure we are appealing to all ages and skill levels. We are seeing more and more children coming in for lessons and clinics, celebrating their birthdays and falling in love with golf. We also see lots of first dates and ladies' nights. We even see older meetup groups and serious golfers who have been playing for years. We strive to be a place where anyone can have fun, no matter their experience with golf."
R&R: Who do you work with to design Topgolf spaces?
Schaaf: "We have a great team within Topgolf, as well as a few external partners."
R&R: Do you sell products and merchandise or strictly the experience (with food & beverages, of course)?
Schaaf: "We do! I am sporting a super lightweight, yet cozy, Topgolf quarter zip I purchased on one of my venue opening trips earlier this year. There are retail areas within our venues that sell everything from blankets and clothing to cups and lanyards. We also sell experiences, like golf lessons with our professionals, as well as corporate and social events."
R&R: What are your biggest operational and/or maintenance related challenges? (What gives you the biggest headache if it breaks down?)
Schaaf: "Every operation has its challenges. But the biggest takeaway I have drawn from my 5 years at Topgolf is that we have an amazing team. It's like a support system, where everyone is working toward a common goal. There are challenges that pop up, but we have great people in place to solve those challenges and work to improve our systems on a daily basis. It is quite amazing."
R&R: Describe how maintenance is organized. Do you handle maintenance in-house or outsource to third-party service providers?
Schaaf: "We have a maintenance team in house at each venue. They work around-the-clock to make sure everything in the venue is working properly."
R&R: Does Topgolf have any "green" initiatives in place or in the works, such as how it maintains its facilities, lighting retrofits or other energy-related upgrades, sustainable materials used in construction, etc.?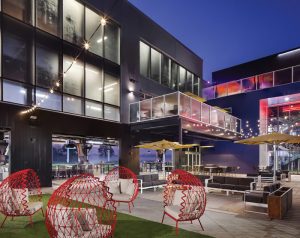 Schaaf: "We do have a team that is working on some exciting things for the future, so stay tuned. Overall, we aim to be as sustainable and resourceful as we can, in every way possible."
R&R: Topgolf is an entertainment/food & beverage destination with a sports component, too. That alone makes it unique to maintain and operate compared to traditional retailers or restaurants. Do you want to expand on that?
Schaaf: "We have really focused on providing a great experience for everyone coming through our doors, whether it's dinner on a Tuesday night or meeting up with friends for happy hour or hitting some balls on the weekend. We also have brought in new entertainment opportunities for guests in the building, such as games in our lower lounge, entertainment up on our terrace and even inserting game lounges into a few select venues to attract the e-sports world. It really is about evolving and making sure we are doing everything we can to be world-class, while providing the best experience for everyone."
R&R: What do you enjoy most about your job on a daily basis?
Schaaf: "This is a tough one, goodness! There are so many things I enjoy. I started at the Topgolf Dallas-Allen venue, and I loved every minute of it. I came over to our Dallas office in 2015 and have loved every minute here, too. I think the family aspect of the Topgolf culture is what drives me each and every day. I can honestly say that Topgolf is my family. I wake up every day excited to come to work. Topgolf has embraced me and introduced me to people who I call my family, whether they are here in Dallas or at one of our venues. Everyone here inspires me, challenges me and make me strive to be better. That is how our company works, and I wouldn't have it any other way."
R&R: What are some of your future goals you've set for your team or your locations?
Schaaf: "For my team specifically, we just make sure we are supporting the venues and offices at 100%. We all work together toward the company's goals — making them a reality."
— This article originally appeared as the cover story of the March 2019 issue of Retail & Restaurant Facility Business. Email the editor at katie@francemediainc.com.
abkw-text:
Tagged under