— By Del Williams —
Streamlining reporting, monitoring and operations requires a flexible POS system and quick, supportive vendor response.
In the quick-service restaurant (QSR) arena, both established and emerging franchises understand the importance of choosing the right POS system to keep operations functioning smoothly.
Although there are many options on the market, most POS systems offer similar technological advantages: the commonalities include hardware such as POS terminals with touchscreen interfaces and credit card swiping mechanisms as well as the software that ties to all to back office operations.
Today, it also increasingly includes speed of service timers, drive-thru order confirmation boards, wireless headsets, integrated mobile ordering technology and even surveillance systems.
That isn't to suggest that all systems are technological equals — they are not. However, despite the similarities, the one area where POS system providers diverge is in the level of support provided. And yes, corporate franchise operations and even individual franchisees want to feel truly supported when it comes to their POS systems.
So what does that mean? It starts with trouble-free installation; onsite training of employees and management for more than a few hours; and lightning quick help desk resolution should the system ever go down (and it shouldn't very often). It may also mean customizing the software to fit the unique requirements of a franchise.
Although support is critical for even the largest, established chains, it can be argued that emerging franchises need even more support as they evolve from a localized operation to a sophisticated chain with many locations.
That is why for many QSR franchises, the choice of POS system is as much about the support they will receive from the integrators as the technology itself.
Vendor Responsiveness Improves Operations
With over 30 years experience in the fast food business and 48 franchisees in five states across the Southeast, Beavers Inc.'s d/b/a Arby's is an industry leader in its region. So when it came time to replace its aging POS system, the group had specific requirements not only for the system but also for its integrator.
"A POS system is one of the largest and most important capital investments you can make in your stores, so we looked at six different options," says Brandon Spain, CFO of Beavers Inc.'s d/b/a Arby's.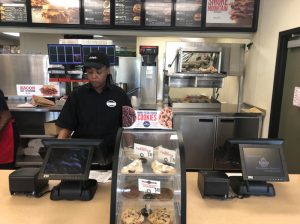 According to Spain, the goal was to efficiently run back office reporting for all stores from the central headquarters office. The solution would also include full digital POS touchscreens at all stores at a very economical price.
From experience, Spain knew that vendor responsiveness, system flexibility and customization were absolutely critical.
"Technology inevitably has issues, and we did not want to call an 800 number or wait on tech support to get back to us when we need an immediate solution," says Spain.
Based on these criteria, Beavers Inc.'s Arby's Restaurant Group selected a hospitality systems POS integrator that has supplied over 10,000 restaurants with POS systems including Arby's, Popeyes, KFC and Burger King. The company also currently provides POS systems for Kahala Brands, which manages a portfolio of 18 diversified brands worldwide at more than 3,000 locations, including Cold Stone Creamery.
A full POS package, including software and tablet PCs, was implemented, and Spain is happy with the choice.
According to Spain, "With the POS platform we can now efficiently run all of our back office operations from headquarters with the latest franchise data, and uploading items to the store registers is much easier."
If there is ever a problem, he says that he simply calls the cell phone numbers of key decision-makers at his POS provider, who quickly resolve it.
"We were able to roll out a complete POS system across all five states with their support much more efficiently and cost-effectively than we have ever done in the past," says Spain. "If we have an issue, we can get it resolved immediately."
As an example, he cites the initial POS system rollout to all 48 stores, when a 2-for-$6 sandwich promotion was not ringing up correctly.
"Normally it would take a day or two to get that fixed, but with their help we were able to fix it within minutes," says Spain. "The streamlined access to help increased our net sales by operating more efficiently."
He estimates that having the right POS system in place, along with quick vendor response and customization, is helping to drive sales to any given location.
Integrating Operations at Emerging Chains
By all definitions, Surcheros fits the description of an emerging QSR franchise. The Georgia-based, fast-casual, Tex-Mex chain now has nine locations and will be adding five more by the end of the year. In the next two years, the plan is to expand to 50 locations through-out the Southeast, says CEO and Founder Luke Christian.
"Because we are an emerging chain, everything is not yet set in stone," says Christian. "So we needed a flexible POS provider that was willing to adapt the system to us as we expand and our requirements change."
According to Christian, Surcheros' initial iPad-based POS system lacked such flexibility.
"As we started to grow, we realized that our system didn't have the capabilities or support we need, whether being PCI-compliant, providing the reporting to manage our locations, or integrating our in-store and online ordering," says Christian.
Based on a recommendation, Christian chose a new POS system.
"They had the capabilities of some of the biggest players, a good price point, and were very willing to customize to our needs," says Christian. "They have bent over backwards to en-sure our business grows."
For example, Surcheros was using a third-party mobile app provider to allow for online ordering. However, the online and in-store orders were on completely different systems, making it difficult to reconcile both at the end of each day.
"[The POS provider] worked with an app provider that was able to create a mobile ordering interface that integrated completely with the software," explains Christian. "Now everything including the credit card processing, customer loyalty programs, etc., are tied together and we know exactly what sales are in real time whether in-store or online."
This has the added benefit of allowing Surcheros to collect customer information for marketing purposes.
"It enables us to gather a lot of information from our guests and they receive discounts or free food," says Christian. "So it's a win-win for both parties."
All-in-One POS Systems
When restaurant chains are already stretched to the limit ensuring excellent food quality, customer service, etc., managers have little time and fewer dollars to throw at POS systems that are costly or difficult to use. So systems that offer true value and exceptional support are "must haves" for busy operators.
Willie Jewell's Old School Bar-B-Q is the fast-casual sister concept of a 69-year-old live fire pit BBQ chain. It still smokes its BBQ for hours the old-fashioned way, but can serve customers in minutes. Based in Jacksonville, Florida, the chain is now opening its 13th and 14th locations with plans to keep growing throughout the Southeast.
Part of the challenge of growing, however, has stemmed from starting with a costly, older, less flexible POS system.
"We have been set up on 'Cadillac systems' before that have far more capabilities than we would ever need — and were paying for those, unfortunately," says Josh Martino, CEO of Willie Jewell's.
However, Martino also did not want to be "nickeled and dimed" for a basic POS system that charged extra for a host of necessary functions.
"A lot of companies will sell you a base system and then charge extra for all the added pro-grams and apps," says Martino. "It's funny, every add-on seems to be another $99 a month to the fee and that adds up."
Now, however, Martino is not overpaying for too much POS capability or paying extra for necessary capabilities. Instead, he is getting it all in one package that suits his needs.
"The system has everything we wanted since day one," says Martino. "There have been no add-on costs and no surprises, which helps each store budget appropriately and maximize their profitability."
However, getting a POS system to work smoothly is more than just a matter of hardware and software. It also involves ease of use, training and support.
"Training on our POS system is very easy," says Martino. "We wanted it to be easy to use for anyone who has trained on it for an hour. We wanted them to get the hang of it very quickly, and be able to handle a high volume of customers."
According to Martino, one of the best things about their POS system is how their integrator handles the training and implementation at the opening of each new franchise.
"Every time we open a new store, [the POS provider] sends a staff member to stay on-site with us for a few days," says Martino. "He trains our cashiers and then will stand behind them to help with anything that comes up. He will help us produce reports at the end of the night to better manage the store. That kind of dedication makes our lives incredibly easy."
According to Martino, running a restaurant is already hard enough without also having to be an expert in POS systems.
"Our focus should be on customer service and food quality: making sure that every guest is happy, every plate is perfect, and the restaurant is spotless," he concludes. "So anything we can do with the POS system that makes life easier — that is the goal."
— Del Williams is a technical writer based in Torrance, California, writing on behalf of ERC, a Kennesaw, Georgia-based hospitality systems POS integrator that has supplied over 10,000 restaurants with POS systems, including Arby's, Popeyes, KFC and Burger King. For more information, visit www.erconline.com.
abkw-text:

classic-editor-remember:

classic-editor
Tagged under