— By Joe Pazdan, AIA —
Open-air restaurant and music venue thrives through COVID-19.
The restaurant business is notoriously fickle, but the COVID-19 pandemic dealt death-blows to thousands of establishments across the country as they struggled to stay afloat through mandated closures, capacity limits and an overall downturn in patronage.
So how did Gather GVL, a live music venue with a courtyard gathering spot bounded by restaurants in repurposed shipping containers, not only survive opening for business during the early days of the pandemic, but continue to thrive during such a tumultuous time for restaurateurs?
The story of Gather GVL is one of collaboration, inspiration, teamwork and perseverance.
How the Project Came Together
Doug and Mark Cross of Four Oaks Property Group had a vision of a refreshing, family-oriented space that would reinforce the sense of community in downtown Greenville, South Carolina, and engaged my firm to design the project.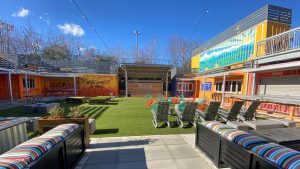 Since the most successful examples of community-based, food-inspired gathering spots are concentrated in Southern California, we went there to find inspiration and ideas to incorporate into our design. While a gathering space in Greenville would certainly have a different character than one in Long Beach, we found the common factor was a focus on family and friends with a variety of foods, furnishings and entertainment.
During those travels, we got to know a few restaurant owners from these gathering spaces to understand their needs in a specific way. We realized the success of Gather GVL would depend heavily on a diverse group of entrepreneurs thriving together.
As designers, we worked with the property owners to establish a strong relationship with the City of Greenville's Design Review Board to ensure the project fit within the downtown master plan and was compliant with local design guidelines.
Gather GVL's Design and Character
To understand what would create usable and attractive offerings to local restaurateurs, we prepared an early series of accurate design sketches we call "feelers" for leasing and setting up functional services. In doing so, the amenity programs for the performance space and casual seating came about, as well as the open-air concept.
These early sketches were instrumental to the overall understanding of the design concepts of the spaces and the operation of the food court as a collaborative group of individual restaurants. Most importantly, they helped us identify the site's constraints, service functions and the balance between leasable area and amenity space.
The Courtyard and Venue
Gather GVL sits on a half-acre lot on Augusta Street, a prominent route adjacent to the central business district in Greenville, one of the most energetic and high-demand areas of the city. It was designed around offering a community-oriented gathering space with a stage for local musicians with a variety or local culinary options.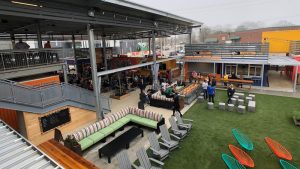 Over the past 25 years, our firm has designed and constructed more than 70 individual works of architecture that are woven neatly into the urban fabric of Greenville, so we were committed to strengthening the city's overall sense of place as the designers of Gather GVL.
The layout of the site is centered around the gathering and performance space, bounded by the containers and open to the street through the main gate. The plan of the courtyard leaves an open view to the outfield and stands of Flour Field, a minor league ballpark within walking distance.
Since Greenville is known as a hotspot for foodies, sports fans and entertainment venues, Gather GVL is perfectly located to take advantage of foot traffic generated by nearby businesses, while also adding to the vitality of the area with its unique offerings and communal space.
To maintain usability during typical regional weather conditions, an overhead canopy acts as shelter from rain, through ventilation cools the space on hot days and firepits warm it during cool ones. The entire space is pet-friendly, with ample astroturfed green area.
The Containers
The project used both repurposed and newly fabricated shipping containers positioned around the courtyard to form a welcoming gathering space. The design takes advantage of the containers for their straightforward ability to shape the outdoor space and simultaneously accommodate interior functions. The containers are colorful, utilitarian and striking in the setting of Augusta Street in Downtown Greenville.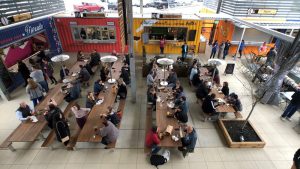 Early in the design process, a kitchen consultant helped us meet the specific needs of each vendor while maintaining the adaptability of the overall container framework. The food-serving spaces are oriented toward the courtyard, and the kitchen spaces are located along the back lane to maintain a discreet back-of-house with a welcoming seating area. The stackable containers are accessible on two levels, offering diners a wide range of tables to choose from within a variety of upper- and lower-level seating areas.
The containers are not only attractive and quirky in the neighborhood's setting, they are also readily useful in another setting if and when the site is ultimately cleared. In fact, all elements of Gather GVL are designed with dry connections for easy disassembly to be set aside for reuse.  The kitchens, too, are designed to be uniquely suited to the specific needs of each restaurant, and every component is easily removable for re-assembly elsewhere.
Gather GVL Succeeds in Spite of the Pandemic
Even though it opened during the early days of the COVID-19 pandemic, Gather GVL achieved positive cash flow within 6 months of beginning operations, while maintaining over 90% occupancy. An independent appraisal projected a 12% to 15% 10-year internal rate of return, despite opening during the worst climate for restaurants and music venues in recent memory.
The build supported more than 100 construction jobs. It also led to the creation of 13 local businesses and more than 50 permanent jobs. The city saw a tax revenue increase of 500%.
Additionally, it is patronized by 3,000 to 5,000 customers weekly. Gather GVL's popularity could be due to its open-air setting, which creates a safe place for customers to enjoy a meal out on the town without the worries that come with being in an enclosed space. The Centers for Disease Control and Prevention (CDC) recommends buildings "increase the percentage of outdoor air, potentially as high as 100%," in addition to using natural ventilation (open windows) to dilute indoor air and reduce occupant risks of catching the virus. The design of Gather GVL creates an inherently safer environment for patrons to enjoy themselves, worry-free.
Though it's not unusual for a space like Gather GVL to set the stage for future urban development, the emerging downtown plan represents a case in which the careful blending of gathering space with community-oriented commerce serves the anticipated near-term development of residential complexes to the either side.
While Gather GVL was designed prior to the coronavirus pandemic, it offers a new model that, when implemented thoughtfully, increases the vitality of a local economy and community by offering an attractive and safe gathering space for families, foodies, beer-drinkers and music lovers.
— Greenville native Joe Pazdan is a managing principal of McMillan Pazdan Smith, a regional, studio-based architecture, planning and interior design firm with offices in Greenville, Charleston and Spartanburg, South Carolina; Asheville and Charlotte, North Carolina; and Atlanta. He can be reached at [email protected].
classic-editor-remember:

classic-editor

abkw-text:
Tagged under