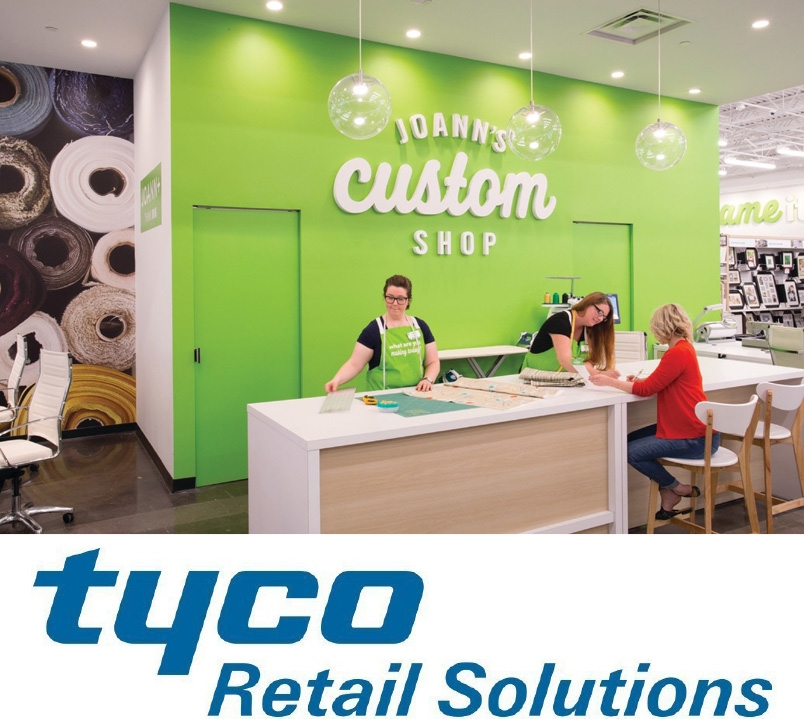 Neuhausen, Switzerland — JOANN Stores, LLC, a leading fabric and craft retailer, will be rolling out Tyco Retail Solutions' ShopperTrak in-store traffic analytics solution to provide insights for the company's 870 stores. An industry leader for 75 years, JOANN recently set a precedent for the future of crafting with a completely reimagined store experience focused on new features and services based on the latest crafting trends. The ShopperTrak solution supports JOANN's customer-first focus, as it will better identify traffic patterns to ensure the right number of team members are available at the right times to offer service and sales in each store.
"JOANN stores have become a place that inspire creativity and foster a shareable and welcoming experience," says Chris DiTullio, senior vice president of stores & store operations, JOANN. "Our goal in rolling out the ShopperTrak solution is to optimize labor and conversion rates in our stores. Implementing this technology will help ensure team members are available where and when customers need us, to create a supportive and efficient experience. Based on ShopperTrak's success in other retailer rollouts, we're confident this will have a positive impact on our customers' experience."
ShopperTrak provides retailers like JOANN with industry-leading customer traffic analytics to help them make informed decisions that positively impact sales. Having precise store visit data allows retailers to create effective marketing and operational decisions and understand the related impact. By incorporating broader market benchmarks, promotional data and other analytics, retailers can convert real-time data into insights to better engage their customers. For more information, visit www.shoppertrak.com/.
Johnson Controls is a global diversified technology and multi industrial leader serving a wide range of customers in more than 150 countries. For more information, visit www.johnsoncontrols.com.
Tyco Retail Solutions, part of Johnson Controls, is a leading provider of analytics-based loss prevention, inventory intelligence and traffic insights for the retail industry. For more information, visit www.TycoRetailSolutions.com.
For 75 years, JOANN has inspired creativity in the hearts, hands, and minds of its customers. From a single storefront in Cleveland, Ohio, the nation's leading fabric and craft retailer has grown to include more than 865 stores across 49 states and an industry-leading e-commerce business. For more information, visit www.joann.com.
SOURCE: Tyco Retail Solutions