Newport Beach, Calif. — Juice It Up! has opened its new Ehrenberg, Ariz., location, marking the brand's entry into the Grand Canyon State. The Ehrenberg location is part of the bustling AZ Travel Plaza, adding to the store's current food/drink offerings. Juice It Up! will continue expanding its footprint in Arizona with another opening in Kingman slated for fall 2023.
"As a co-owner of the AZ Travel Plaza, I often consider new concepts that have the potential to thrive and provide unique experiences to our visitors. Having lived in Southern California, I was familiar with the Juice It Up! brand, which always stood out with its quality products," says franchisee Rod Rezvani. "In bringing the brand to Arizona, I have found the Juice It Up! franchise support team to be tremendous."
Juice It Up! continues to attract other like-minded corporate ambassadors and franchise partners with its relatively lower costs of development and food costs combined with a lighter labor model than other franchised restaurants.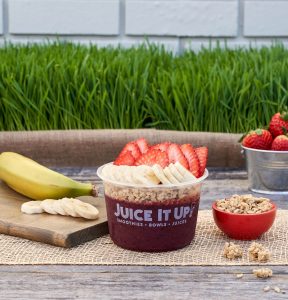 Juice It Up!, one of the nation's leading handcrafted smoothie, superfruit bowl and raw juice chains, was founded in 1995 with its franchise support center now located in Newport Beach, Calif. With over 100 locations open or under development across California, Arizona, New Mexico, Oregon and Texas, the company is showcasing a new restaurant design, strong new digital mobile ordering technology, a heavier focus on functional products and ingredient transparency, and a menu refresh. For more information, visit www.juiceitup.com.
SOURCE: Juice It Up!