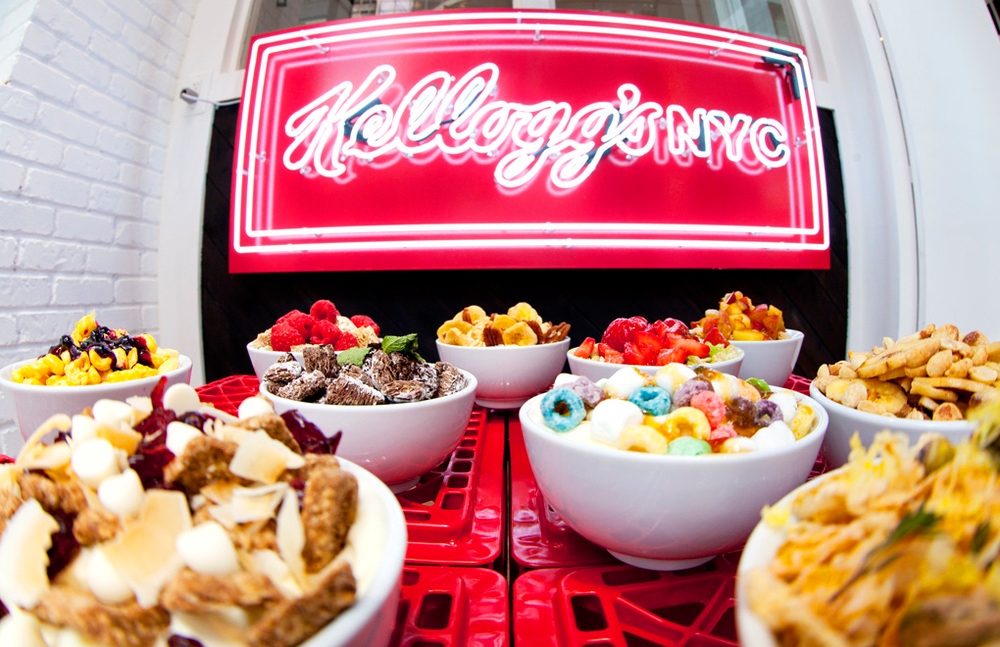 Battle Creek, Mich. — Building on its first year of success in Times Square, Kellogg's® NYC Café will open the doors of its immersive new brick-and-mortar cereal café and experience on December 7, 2017 in New York City's Union Square neighborhood.
The second iteration of the cereal café, located at 31 E. 17th St., will be a destination to create and explore the endless possibilities of cereal all in one place. The new location will include several new elements (and some more exciting surprises and announcements to come):
Kitchen: Anchored by an open-concept kitchen where guests can watch as cereal creations are being made, visitors will be able to select items off the menu or create their unique flavorful combos — including a DIY cereal creation station with ingredients fresh from the Union Square farmer's market.
Menu: The new location will offer a revamped cereal-inspired menu — including some favorites from the original Times Square location and new creations inspired by surprise partners.
Insta-worthy: The concept was designed and made with social media enthusiasts in mind, allowing guests to capture the perfect cereal selfie and food photo in one of many areas where cereal and Kellogg's characters vibrantly and colorfully come to life.
"We're excited people can experience cereal in new ways all the time at our permanent location, versus other pop-ups which we've seen can quickly come and go," says Aleta Chase, Kellogg's® marketing director. "We're excited to see how people re-think the possibilities of cereal and how their creations might inspire us to bring new products to life."
Conceptualized by Anthony Rudolf and Sandra Di Capua of Co.create NYC, the experience will be five times the size of the former location, with room for dining, lounging and collaboration spaces.
Kellogg Company's brands include Kellogg's®, Keebler®, Special K®, Pringles®, Kellogg's Frosted Flakes®, Pop-Tarts®, Kellogg's Corn Flakes®, Rice Krispies®, Cheez-It®, Eggo®, Mini-Wheats® and more. For more information, visit www.KelloggCompany.com or www.OpenforBreakfast.com.
SOURCE: Kellogg Company