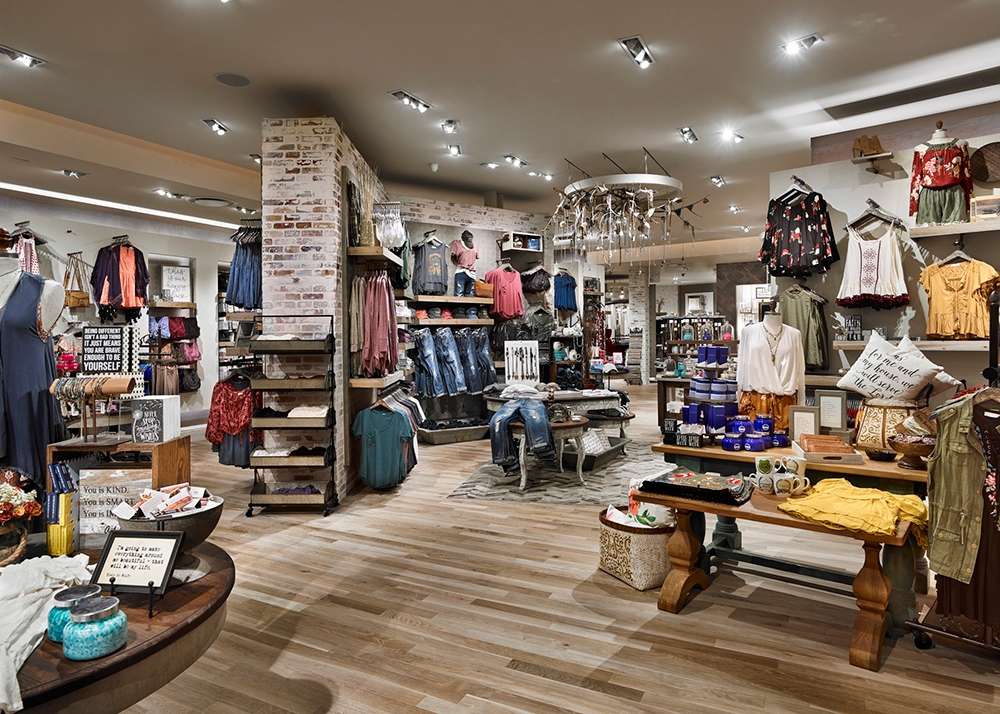 St. Louis — St. Louis-based Knoebel Construction has completed construction of the 50th store it has built for fashion boutique Altar'd State in 5 years, working with the retailer across 26 states. Knoebel has worked with the retailer nearly since its inception and through rapid expansion, constructing stores that create a unique brick-and-mortar shopping experience.
The new 6,088-square-foot Altar'd State store in Lone Tree, Colo., at the Park Meadows Mall incorporates unique finishes that reflect the local landscape of the Colorado Front Range.
"Our goal is to create a brand that represents the local community," says Mary Beth Fox, chief branding officer for Altar'd State. "It's important for our design team to put a little extra love in every store we build, whether it's a special sitting room or design elements that tie in the local style."
The new Lone Tree location features Colorado-inspired furnishings, a rotating display window platform with graphics of Aspen tree trunks, and Aspen leaf design accents. The store is also one of the first to integrate checkout video monitors that display messages about the charitable causes Altar'd State supports.
Knoebel Construction's partnership with Altar'd State began in 2012. Knoebel currently is working with Altar'd State on several new stores including Ann Arbor, Mich.; Pittsburgh; Madison, Wis.; and Omaha, Neb.
Knoebel constructs and turns over each Altar'd State store in a short 77-day timeframe. Every store features elements that are unique from the others, and designs often evolve during the construction process.
"Changing the face of retail means looking for partners that are aligned with our vision," says Fox. "Every store is like a custom home, specific to the market. We partner with Knoebel Construction because they embrace what we are looking to do as a company. Not every general contractor is willing to go the extra mile and adjust to design changes along the way. Knoebel jumps on board, embraces the challenge and are part of developing solutions to create the best store environment."
Altar'd State is a success story in today's retail climate. Since its start in 2009, the company has expanded from 13 employees to nearly 1,500. Today, Altar'd State operates nearly 90 boutiques in 30 states, with plans for continued growth.
Knoebel Construction, Inc. is a national general contractor specializing in retail center, restaurant, grocery, healthcare and retail store construction. Founded in 1981, Knoebel Construction provides full-service development, contracting and construction management services to real estate development firms, independent restaurant and retail owners, and retailers. Centrally based in the St. Louis region, Knoebel Construction offers services nationwide. For more information, visit http://www.knoebelconstruction.com.
SOURCE: Knoebel Construction
Tagged under