Milwaukee, Wis. — Kohl's has unveiled the 250 stores that will be adding a full-sized, 2,500-square-foot Sephora at Kohl's experience in 2023. The addition of 250 new locations brings the total Sephora at Kohl's fleet to more than 850, achieving the partnership's initial planned goal of the Sephora at Kohl's rollout.
"We are making great strides in building a formidable beauty business with the addition of Sephora at Kohl's," says Karen Daoust, Kohl's senior vice president, general manager, Sephora at Kohl's. "The completion of our 850 stores in 2023 is just the beginning as we look to expand Sephora at Kohl's to all stores, enhance the customer experience and deliver prestige beauty to our customers across the country."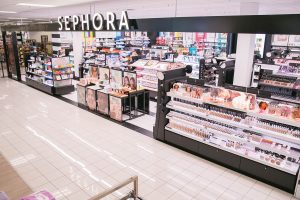 The 850 full-sized Sephora at Kohl's shops feature a fully immersive beauty experience that mimics the look and feel of a freestanding Sephora. Within all Sephora at Kohl's locations, customers can explore the signature Sephora experience with a carefully curated assortment of prestige makeup, skincare, hair and fragrance brands, as well as innovations in clean beauty and self-care. In all 850 stores, Sephora-trained Beauty Advisors offer personalized beauty consultations and assistance with finding products, while testing and discovery zones serve up a rotating assortment of new, emerging or trending products.
In addition to expanding across more than 40 states, Sephora at Kohl's will enter seven new states in 2023, including Arkansas, Idaho, Louisiana, Mississippi, New Mexico, South Dakota and Utah, bringing Sephora at Kohl's presence to 48 states.
In 2020, Kohl's and Sephora announced their strategic partnership to bring prestige beauty to millions of Kohl's customers around the country through a rollout of 850 Sephora at Kohl's stores over 3 years. In 2021, the companies introduced the first 200 stores, followed by 400 additional Sephora at Kohl's locations in 2022. This year's 250-store addition completes the planned execution of the initial partnership, and its early success serves as a foundation for future growth of Sephora at Kohl's.
As a result of the promising trajectory of the initial Sephora at Kohl's stores, Kohl's and Sephora announced last year that the companies would further their transformative partnership by expanding the Sephora at Kohl's presence to all Kohl's 1,100+ locations. As a part of this expansion, Kohl's will open 50 smaller format Sephora shops by the end of 2023, with a plan to roll out to the remainder of the chain by 2025.
View the map of all Sephora at Kohl's locations that will be open by the end of 2023 here.
Kohl's is a leading omnichannel retailer with more than 1,100 stores in 49 states. For more information, visit www.Kohls.com.
Since its debut in North America more than 20 years ago, Sephora has been a leader in prestige omni-retail. Sephora has more than 600 stores across the Americas. And with its new long-term retail strategic partnership, clients can now shop Sephora at Kohl's with 600 locations nationwide by year-end, and 850 locations by 2023. For more information, visit https://www.sephora.com/about-us.
[EDITOR'S NOTE: To read our August 2022 cover story on Kohl's and its Sephora shop-in-shops, please click here.]
SOURCE: Kohl's Corporation