— By Katie Lee —
Kohl's expands with smaller-format stores, including Sephora in-store shops; launches new digital conveniences; and reduces its environmental impact.
Kohl's is going big …by strategically going small. While some traditional discount department stores might bring to mind giant power centers with huge parking fields, Kohl's is betting on the trend that a smaller footprint can better meet the demands of today's savvy shopper. Just because the physical space is smaller doesn't mean big things aren't happening.
With more than 1,100 stores across the country, the Menomonee Falls, Wisconsin-based retailer opened four new smaller-format stores in 2021 (in South Carolina, Texas and Georgia), recommitting itself to its investment in brick-and-mortar. It will also expand its Sephora-at-Kohl's shop-in-shops, roll out new omnichannel ordering/convenient pickup options, and continue to meet and surpass sustainability goals — all rolled up in a smaller, more efficiently designed and stocked space.
Going Small
As the future of retail evolves, Kohl's continues to emphasize the in-store experience. Over the next 4-5 years, Kohl's plans to add 100 smaller-format locations in previously untapped markets. The expansion follows Kohl's pilot of 20 smaller stores, which average around 35,000 square feet versus 80,000 square feet. In June 2022, the company opened a smaller-format store in Bonney Lake, Washington, and this fall, stores are set to open in San Angelo, Texas; Morgantown, West Virginia; Tacoma, Washington; and Lenox, Massachusetts. A smaller-format store will also open in fall 2023 in Milwaukee.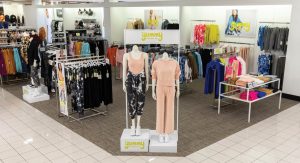 Alongside these additions, Kohl's will be modernizing its existing 1,165-store portfolio by transforming the flow of its interiors to include dedicated discovery zones with products from diverse- and female-owned companies. These new stores will also be among the first to test the aforementioned shop-in-shop collaboration, Sephora at Kohl's, in smaller store formats.
According to the company, the introduction of Discover @ Kohl's experience is not only designed to inspire, intrigue and bring a new sense of exploration to Kohl's, but it also contributes to the company's overarching efforts to modernize, transform and elevate its store and online experience for customers.
"Discover @ Kohl's has also given us the opportunity to partner with unique and emerging brands that are hard to find anywhere else, and brands customers will feel good about purchasing from," says Ron Murray, Kohl's interim chief merchandising officer.
Discover @ Kohl's is featured in over 600 stores nationwide.
Sephora In-Store
The company will be expanding its partnership with San Francisco-based beauty retailer Sephora through the addition of 850 of its Sephora at Kohl's shop-in-shops by 2023. The shops, which typically occupy space toward the front of the store, offer an expanded collection of Sephora's makeup, skincare, haircare and fragrance offerings.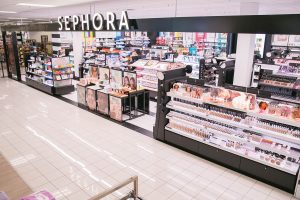 In February, the company unveiled the list of the 400 stores that will be adding Sephora at Kohl's shops this year. From Alaska to Maine, the stores will span 36 states, eight of which are brand new homes to Sephora at Kohl's. The addition of 400 stores brings the Sephora at Kohl's location total to 600 and puts the partnership on track to meet its 850-store goal by 2023.
"We're thrilled to be bringing Sephora at Kohl's closer to millions more of our customers nationwide through this 400-store expansion," says Michelle Gass, Kohl's chief executive officer. "The quick and vast rollout of Sephora at Kohl's is a testament to how much we believe in this partnership and making prestige beauty more accessible to people everywhere. We're excited to grow and bring this elevated beauty experience to more of Kohl's existing and new customers this year."
First introduced in fall 2021, Sephora at Kohl's features a 2,500-square-foot, fully immersive beauty experience that mimics the look and feel of a freestanding Sephora. Within all Sephora at Kohl's locations, customers can explore or utilize the assistance of Sephora-trained Beauty Advisors, who offer personalized beauty consultations and assistance, while testing and discovery zones serve up a rotating assortment of new, emerging or trending products.
Early indications show that Sephora at Kohl's is off to a great start and has been driving sales, bringing in new, younger and more diverse customers, and enabling cross-category purchases across all lines of business.
"Since our partnership with Kohl's began, we've always had the intention to keep the Sephora at Kohl's beauty assortment as relevant and similar to our freestanding Sephora stores as possible. We want every customer who comes to Sephora at Kohl's to be able to discover new brands and find their favorites, just like they do at our other Sephora stores," says Artemis Patrick, Sephora's executive vice president and global chief merchandising officer.
Exterior signage at these locations will display both Kohl's and Sephora branding. The addition of modern fixtures and the expansion of aisle space also make the shopping experience more welcoming and efficient.
By this fall, Kohl's will have opened 400 new Sephora at Kohl's locations, which builds on the existing 200 shops that opened in 2021. Next year, Kohl's will open the 250 remaining Sephora at Kohl's locations.
"Customers are excited about the introduction of Sephora at Kohl's," says Patrick. "Not only does the partnership bring Sephora's prestige beauty experience closer to millions more customers nationwide, but it's also attracting new, younger and more diverse customers to Kohl's."
Going Digital
Kohl's also plans to roll out several omnichannel initiatives, including the ability to buy products online and pick up in-store (BOPIS), which will be available in all stores by the end of this year. Additionally, Kohl's  continues to test self-serve returns, currently in over 100 stores, with more planned throughout the next 18 months. The self-return experience is unique to Kohl's, offering a simple in-store drop-off process. Last but not least, self-checkout is also being tested.
"Kohl's began with roots as a brick-and-mortar company, and these 60 years of experience have set the company up to become a leading omnichannel retailer," says Mark Griepentrog, chief property officer at Kohl's. "Our strong and productive off-mall store base can continuously evolve with our customers' expectations and demand, and we see substantial opportunities to leverage our real estate in producing long term growth."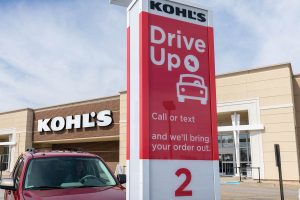 Kohl's ongoing investments in technology across its physical footprint continue to deliver on future store experiences that benefit the customer. Additional services include In Store Pick Up, Drive-Up, Self-Pick Up and Amazon Returns.
Kohl's integration of store and digital technology enables the company to support enhanced discovery and easy shopability with new functionality being released continuously. Stores also play an integral role in fulfilling omnichannel orders, with approximately 40% of Kohl's digital orders currently being fulfilled by stores. The integration allows Kohl's to convert more customers to become omnichannel customers, and those who shop Kohl's across channels are at least four times more productive than store-only or digital-only shoppers. The strength of store and digital integration allows Kohl's to provide a world-class omnichannel experience.
Going Green
In addition to creating a world-class shopping experience, Kohl's also seeks to create a better world. In the last year, the company has made measurable progress against its 2025 goals, which focus on climate action, waste and recycling, and sustainable sourcing, including:
Reduced greenhouse gas by 50% vs. 2014 baseline — accomplishing its 2025 goal 4 years ahead of schedule.
Diverted 86.5% of waste from landfills — surpassing the company's 2025 goal of 85%.
Reduced energy consumption by 29% since 2008, just shy of its 2025 goal of 30%.
Continued its support of a low-carbon transportation system by adding 45 EV charging locations in 2021, bringing its total to 146, and nearly tripling its charging sessions from 36,000 in 2020 to over 105,000 in 2021.
In November 2021, Kohl's was also one of the first companies to join the U.S. Department of Energy's Better Climate Challenge, strengthening Kohl's commitment to reducing greenhouse gas emissions. As a partner in the challenge, Kohl's plans to share its carbon reduction progress and strategies to help other organizations leverage its learnings while also establishing a goal of reaching net zero by at least 2050.
To continue to track toward — and surpass — these milestones, Kohl's is expanding its EV charging and solar programs.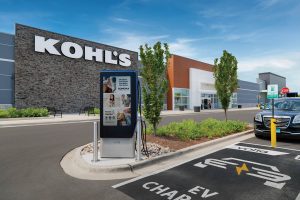 The company currently has 325 EV charging stations and will be adding 200 new stations this year, along with 400 in 2023 to total over 1,000 EV charging stations around the country. These stations provide more than 100,000 charging sessions per year to Kohl's customers and associates. By supporting electrical vehicle owners, the charging Kohl's provides more than 800,000 miles of driving and saves more than 36,000 gallons of gasoline annually.
Kohl's is also busy expanding its solar program, beginning construction on 15 new solar arrays across rooftops in Arizona and Illinois this year. Currently, more than 6% of the electricity Kohl's uses to power its business comes from renewable sources. Many Kohl's locations get up to 50% of their energy from solar. The additional 15 new solar projects will increase Kohl's installed solar capacity by 10.4%, to a total of 56.97 megawatts. Relative to each state, 11% of Kohl's Illinois operational electricity usage and 9% Arizona operational electricity usage will come directly from solar.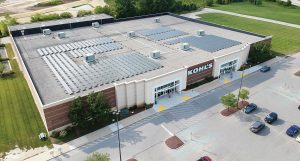 In 2007, Kohl's started out with about 38,000 solar panels on the rooftops of 19 California stores. Today, it currently hosts 163 rooftop solar arrays around the country, totaling more than 200,000 solar panels, including two large solar trees at Kohl's corporate headquarters in Menomonee Falls. When the planned 15 new solar rooftops are finished next year, the location total will tally 178.
Further bolstering Kohl's presence in renewables and commitment to sustainability, the company is contracting to support the development of 23.4 MW of community solar projects across New York in 2022. Continuing to grow in scale and popularity, Community Solar will enable Kohl's to help spur the development of localized renewable energy. Kohl's will subscribe to a share of four community solar projects that will generate clean, renewable energy and provide economic and environmental benefits to local area residents. The projects will also provide energy credits to 18 Kohl's store locations throughout New York.
"As Kohl's advances in expanding our renewable energy footprint, we are excited to begin developing the solar arrays across Arizona and Illinois, while also supporting the New York Community Solar Program," says Steve Thomas, Kohl's executive vice president, chief risk & compliance officer. "These projects are fully aligned with Kohl's mission to leverage sustainable initiatives that empower the company, the climate as well as our customers."
Kohl's continues to update stores with energy-saving LED lighting, and is committed to updating all stores by 2025. This initiative will deliver at least a 20% reduction in scope 2 emissions.
"Kohl's has a long-standing commitment to being a responsible corporate citizen, and I am proud of the progress Kohl's has made this past year. As a purpose-led organization, ESG stewardship is an integral piece of Kohl's culture and an important component of the company's vision and long term strategy," says Gass. "I am appreciative and impressed with how our associates and our company have continued to manage our business through this ongoing pandemic to support our customers, our business and one another."
As Kohl's continues to invest in its partnerships, its planet and its online offerings, it also remains true to its brick-and-mortar roots. It understands the balance retailers require in a post-COVID world: to provide the omnichannel conveniences that customers expect, but also present a unique shopping experience that brings in customers — both old and new alike.
— This article originally published as the cover story of the August 2022 issue of Retail & Restaurant Facility Business magazine. If you are interested in having your retail or restaurant company profiled, please email the editor, Katie Lee, at [email protected].