— By Jennifer Morris —
Fast-casual concepts breathing new life into historic buildings.
In the competitive restaurant industry, it's often a challenge for concepts to break away from the pack. The dining experience and brand identity aren't solely limited to the cuisine and culinary approach, but rather also developed through the site, decor and ambiance. Looking to differentiate themselves, many fast-casual concepts are taking the approach of choosing older, historical buildings to invest in, as opposed to commercial space that is new, modern or sleek. In the process, not only are these concepts investing in the physical building, they are also investing in the city and surrounding community's history.
These concepts are breathing new life into centuries-old buildings and finding a balance between honoring the space's history while also incorporating their signature design elements that set their concept apart from the rest. This approach helps to build a community through preserving and restoring pieces of the past to make them relevant, once again, for current and future generations to enjoy.
Artichoke Basille's Pizza
The popular New York City pizza institution Artichoke Basille's Pizza has been serving authentic NYC slices and whole pies since 2008, but its Manhattan and Brooklyn locations, housed within centuries-old tenement buildings, make it feel like they have been slinging pizzas for much longer. The original Artichoke Pizza is located in a small 350-square-foot space inside a worn down brick building in New York City's Chelsea neighborhood. Artichoke's founders Francis Garcia and Sal Basille admired the building's grit and authenticity, seeing it as a true representation of a homegrown NYC business.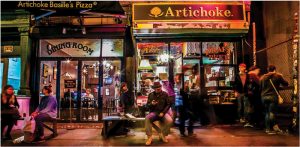 With limited square footage to work with, Garcia and Basille demolished the sheetrock walls and ceilings to open up the space and make it feel larger. While doing so, they revealed an original brick wall and tin ceiling that was painstakingly restored to achieve the nostalgic, authentic New York look and feel they sought.
"A few weeks after we opened our first shop, a local stopped by with his girlfriend and told her that his father had been taking him to our pizzeria since he was a little kid," says Garcia. "When we told him that was impossible — that we'd only been open for a few weeks — he refused to believe us. It was then that we knew we managed to pull off the look we set out for."
Those same exposed brick and antiquated tin elements can be found in all Artichoke Pizza locations across the country, from New York to Miami to Connecticut to Northern California, largely because that was the canvas the founders stumbled upon in the original restaurant. Now that the fast-casual has began its nationwide expansion through franchising, it plans to impart the same gritty New York look and feel to future locations, even those located in newer establishments. Although no two historical buildings are the same, Artichoke's goal is to mimic the brick-and-tin aesthetic in every location, while at the same time uncovering and highlighting characteristics that showcase each property's unique history.
SAJJ Mediterranean
SAJJ Mediterranean, a family of restaurants and food trucks based in Northern California, takes a modern approach to its Middle Eastern cuisine that is personal, satisfying and transporting. The concept's outpost in San Francisco's Financial District, however, transports more than just the taste buds, and takes guests out of the area's bustling downtown and back to the early 1900s. SAJJ's FiDi store, which opened in summer 2018, is located inside a 112-year-old building that was built just after the Great San Francisco Earthquake of 1906, and now stands among giant skyscrapers that characterize San Francisco's financial epicenter.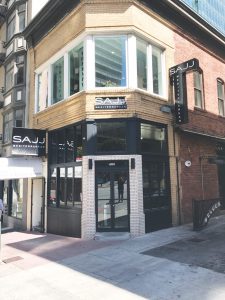 To preserve the integrity and history of the building, SAJJ kept a majority of the building's original structure and qualities intact, including the brick walls and mosaic floor. "It was more expensive to maintain the integrity of the structure, but it was well worth it. The building has lots of charm," says Zaid Ayoub, founder and CEO of SAJJ Mediterranean.
In addition to its historic elements, the FiDi location is situated on Belden Place, a street known among locals for transforming from a small car road at night into a pedestrian-only street during the day. To continue on its promise of transporting guests from the everyday, SAJJ offers al fresco dining along Belden Place to provide an escape from the modern, bustling San Francisco neighborhood that surrounds the historic location.
Fork & Salad
The Maui-based health concept Fork & Salad will soon be introducing its farm-to-table eats to the mainland U.S. with an upcoming location in Orange, California. As one of the oldest historical cities in Southern California, the city of Orange is known among locals for its plethora of antique shops, mom-and-pop businesses and 1920s architecture. Fork & Salad's new restaurant will be located in a historically restored building that features original brick construction from 1922, open wood truss beams, and is located in the heart of Old Towne Orange. Originally the site of a church, the 1,500-square-foot space will fuse together the brand's Hawaiian roots with the rustic interior of the nearly 100-year-old building.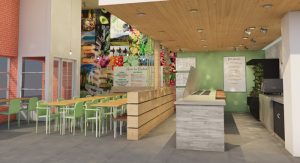 "We were initially attracted to the history and charm that Old Towne Orange has to offer," says Travis Morrin, co-founder of Fork & Salad. "We know that every site has its challenges, whether it be historical or not, and at the end of the day, our locations need to appeal to the customer base nearby. We just felt like this one was a no-brainer."
Fork & Salad has plans to maintain original features of the building, such as the intricate brick and wood detail, but also infuse the space with its earthy brand elements to give the space an authentic, organic Maui feel. Ultimately, the company wants to honor the building's history and the history of the city around it.
Fast-casual concepts that opt for historic sites are creating a bigger impact than simply opening a new neighborhood eatery. By preserving a building's history through restoration rather than renovation, it demonstrates to the surrounding community that the restaurant wants to invest in the neighborhood and honor its past. Historic buildings offer the concept the opportunity to create an original dining experience and highlight its own brand voice, while also honoring the history of the building and community in which it is housed.
— Jennifer Morris is founder and president of Ajenda Public Relations, a national PR company that specializes in the hospitality industry with an emphasis on fast-casual concepts. Leveraging her 15 years of working in restaurants, combined with her 10 years of public relations experience, Morris has launched viral campaigns, secured print and national broadcast features, and championed many prestigious awards for her clients. For more information visit www.ajendapr.com.
classic-editor-remember:

classic-editor

abkw-text: