Minneapolis — Macy's is expanding its restaurant portfolio with the opening of The Social Kitchen & Libations at Macy's Ridgedale in Minnetonka, Minn. Its modern vibe and open kitchen concept connect traditions to trends, with a menu that pays tribute to Macy's rich history in foodservice, spanning over 115 years. Macy's has at least 15 store locations with various local and national restaurants included.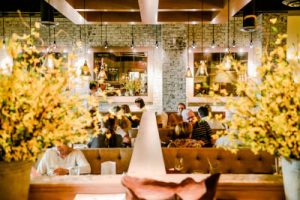 "We are thrilled to announce the opening of The Social Kitchen & Libations, bringing a mix of traditional and modern flare to the Minneapolis and Saint Paul area," says Tom Leuer, senior director of Macy's Food Division. "Food is an important part of our customer experience, and we are committed to serving fresh ingredients and locally sourced beverages to shoppers and the community."
The Social Kitchen & Libations is designed to enhance a customer's visit by blending restaurant and retail experiences with a delectable meal or signature cocktail before or after exploring the adjacent Macy's store. This furthers Macy's commitment to creating exceptional customer experiences in a constantly evolving retail landscape.
For more information, visit http://macysrestaurants.com/the-social/.
SOURCE: Macy's Inc.