— By Mike Rosen —
How your parking lot can drive down operating costs.
Of all the areas you're responsible to maintain, the parking lot is one of the largest. And, in the fast-paced retail and restaurant industry, it isn't always convenient to make repairs to it. This is a significant challenge for c-stores in particular where downtime is especially costly. How do I know? Recently, I had the privilege of attending the National Leadership Conference for a leading retailer of gasoline and convenience merchandise.
My participation gave me a broader understanding of the c-store business model and the need to maximize site safety while minimizing site disruption. This goal is beneficial for many reasons including reducing c-store operating costs which, for many, have risen between 8% to 10% each year.
The parking lot plays a critical role in site safety, but maintaining it can be a logistical nightmare.  Fortunately, there is a solution. With advancements in materials and help from a knowledgeable paving contractor, maintaining c-store pavement doesn't have to be disruptive to customers or the bottom line.
To reduce your operating costs and maintain safe asphalt and concrete, four things need to happen. First, it is important to be proactive with parking lot maintenance. This is tough if you manage a large portfolio and are unable to visit each site frequently to evaluate the condition of your pavement assets.
The result is that you may spend more on unnecessary repairs or wait too long to perform maintenance, leading to more costly, structural remedies. A pot hole, for example, can cost upwards of $6 to $8 per square foot (equivalent to $0.20 to $0.40 per square foot per year to repair over the course of 10 years).  Performing preventative maintenance with the right repair at the right time (prior to pothole formation) can save $0.10 to $0.30 per square foot per year over 10 years.  But, to determine preventative procedures as part of a proactive strategy requires routine pavement assessments.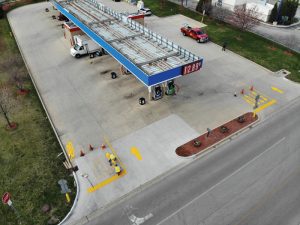 If you cannot be on site regularly, partner with a vendor that can help you perform routine assessments in order to identify immediate needs — such as slip-and-fall liabilities — and prioritize future repairs. The data collected can help you plan and budget 2 to 3 years out, while also reducing last-minute emergency repairs and unplanned expenses.
Knowing what's out there is the first part of the equation. The second half involves timing. C-store operation, in particular, hinges on timing. It must be convenient for customers to get in, fuel up and get out. Any disruption to fuel delivery or pump downtime has a big impact on the bottom line. That's why it's important to partner with a paving contractor that has resources to quickly process requests, gather additional information such as jobsite pictures, and turn around quotes fast.
The right materials and application process are vital, too. Simply put, c-store retailers cannot afford precious down time for fuel pumps or merchandising stores. Fortunately, there are alternative paving materials that require less time to apply and cure.  For example, in canopy and drop-zone areas where full-depth repairs are difficult, a patching compound can be used. This product is available in two forms: an asphalt-based, black material for asphalt repairs and a resin-based material for concrete repairs. Both are hot-applied and can be used to repair depressed cracks, spalled concrete, uneven transitions or potholes. There is minimal saw cutting (mostly grinding with a bobcat attachment) and no heavy compaction equipment is required. And, in most cases, the repair can be reopened to traffic within 1 hour.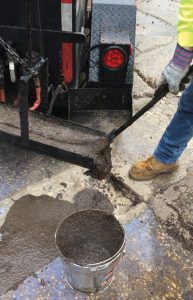 A c-store in suburban Chicago recently opted for the resin-based patching compound to repair deep cracks and other areas of deterioration traditionally handled by removal and replacement and/or concrete crack fill. It was an ideal material choice because it significantly reduced downtime while effectively addressing deterioration, including areas of safety concern. The application was completed in 1 day and the store experienced just 40 minutes of downtime.
Glue-down thermoplastic markings were also applied at this site as an alternative to traditional water or oil-based paints in order to increase the life expectancy of the markings while creating a stronger curb appeal. The glue-down method is an easy two-step process in which the areas are cleaned free of all loose dirt/debris, adhesive material is applied, and markings are applied and rolled for maximum adhesion. The material can be used for standard markings, parking bays, ADA parking stalls, cross-hatched paths of travel, directional markings, stencils and custom markings. Perhaps the biggest advantage, however, is that thermoplastic markings last, on average, 60 months or five times that of traditional traffic marking paint.
Last, but not least, it is critical to work with a paving contractor that is able to schedule repairs for a cluster of jobsites, saving time and lowering the cost of materials and labor. He or she must also be able to perform procedures during off-peak hours to minimize disruption to business operations.
As an owner or manager of c-stores, you can help drive down operating costs, maximize site safety and minimize site disruption. It starts on the surface with a proactive approach to parking lot maintenance in partnership with a reputable paving contractor. Hire a contractor that is responsive, creative in specifying materials and application procedures, and flexible in scheduling. The result is well-maintained pavement assets that make it convenient to get to your store.
— Mike Rosen is vice president of operations and partner at Let's Pave, headquartered in Oak Brook, Illinois. He has extensive experience in business development, operations and construction management with an emphasis in retail and restaurant pavement maintenance nationwide. Visit www.letspave.com.
classic-editor-remember:

classic-editor

abkw-text:
Tagged under