As the Disney Store turns 25, it finds new ways to create 'the best 30 minutes of a child's day.'
As the Disney Store celebrated its 25th anniversary on March 28, 2012, it had much more to cheer than a quarter-century of past success. With an ambitious new store design, impressive in-store technology and a renewed focus on guest experience, the Disney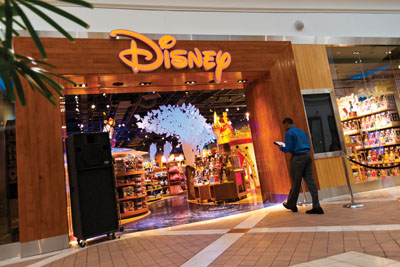 Store looks toward the future — and takes the creation of magical moments very seriously. Maintaining this retail vision is no simple task, but the inspiration behind it — "the best 30 minutes of a child's day" — is what drives the Disney Store onward and upward as leaders in the specialty retail segment.
"Once we rallied around 'the best 30 minutes of a child's day,' we were able to really begin re-imagining what the Disney Store experience should be," says Paul Gainer, senior vice president of Pasadena, California-based Disney Store North America. "We really started to look at [the new store design] through a child's eyes."
The first redesigned store opened in June 2010 in Montebello, California, a couple of years after the Disney Store reclaimed the operations of its own stores from The Children's Place, which had been operating many of Disney's stores until 2008. Today, 60 remodeled or repositioned stores are open with the new design, with an additional 20 planned by year-end. The chain currently has 215 stores in North America and 360 worldwide. The Disney Store recently opened in Milan, and it will open its first store in Shanghai this fall.
"We're looking to leave our store base about the same; we like being in that 200- to 220-store range in North America," Gainer says. "It's not about growing the chain — it's about repositioning and having the best real estate for the Disney Store brand."
That real estate, typically 4,500 square feet in mall-based or high-street locations, has received a magical makeover. For one, there's a new 'pixie path' that winds its way through the various 'neighborhoods' inside the store — all grouped by theme such as princesses, or characters from Cars or Toy Story, etc.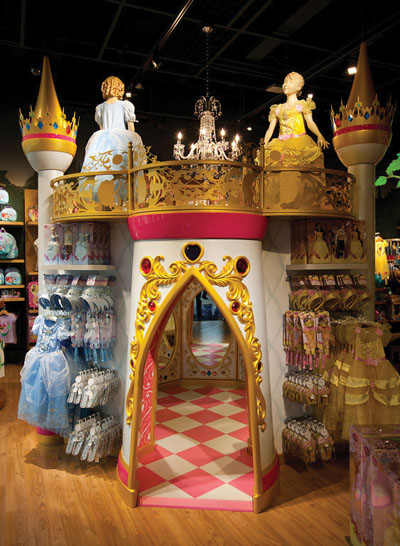 Another noticeable design change is the influx of new technology and interactivity. For example, a child can wave the wand of her favorite princess at the new magic mirror, prompting that particular princess to materialize in the mirror and interact with the child. There is also a castle children can walk through, a theater, as well as the centerpiece of the new design: giant, magical trees that sparkle and shine along the pixie path.
"These great trees help bring the environment and the magic of Disney to life in the Disney Store," Gainer says.
Of course, behind all of this 'magic' is very sophisticated technology — and unfortunately, sometimes technology breaks down. "If that family walks in and the trees aren't working, we probably didn't deliver the vision [of the Disney Store]," Gainer says.
Enter, to the rescue: the maintenance/operations team. The Disney Store has an in-house group led by the head of store operations, Jonathan Storey, whose team is divided into different areas of operation. One manager oversees store maintenance, another oversees store systems & processes, and so forth. Additionally, there is a construction & store design team, which handles fixtures, flooring, tile and most of the finished goods in the store. Maintaining technology keeps every department on its toes.
"We definitely have to think differently because there's more technology in the new store design than we've ever experienced in past designs of any Disney Store," Gainer says. "Taking a more holistic approach, we had to start with our Disney standard: We want the guest experience to be a premium experience. Guest experience involves lots of different aspects of their store visit, including the technology working properly."
With the new design not yet 2 years old, learning curves remain when it comes to handling the new in-store technology. "We've gotten a lot better," Gainer says. "The first 6 months we were hand-holding the first stores because the technology, quite frankly, was new to us. We continue to get better, but it's still the newest part of our maintenance program."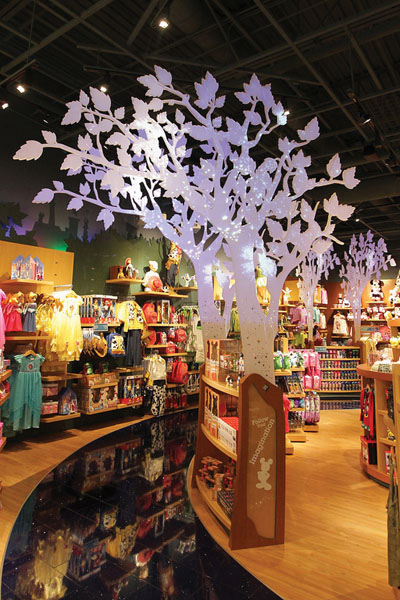 Technology is a big part of what makes maintenance at the Disney Store a unique endeavor; in addition, the company has several high-street locations with unique needs. "We have a lot of technology compared to a typical retail build-out in a mall, but also the maintenance of our high-street locations," Gainer says. "If we have an escalator or elevator, or receive shipment through a loading dock — those things are all different from being a mall-based retailer where that support system is already built in around you. Those are common area maintenance responsibilities of the landlord, but in a high-street location, sometimes the responsibilities of what you own and control from a maintenance perspective are very different."
Currently, the Disney Store has three national vendors who utilize subcontractors at the local level for service calls. Approximately every 2 years, Disney reevaluates its vendor base and service levels — always evaluating everything from a service and guest-facing point of view.
"Perhaps we're doing really well in repairing the escalators (we've gotten really good at fixing those), but maybe we're not doing so well fixing the video technology," Gainer says as an example. "So maybe we need another national vendor to address those specific areas."
Disney Store typically turns to national vendors and does a full bid process. "It's a very independent process that allows each of the vendors to talk about what they offer, and bid out," Gainer says. "Pricing is obviously a key ingredient, but really they need to be able to sell us on how they would support our 215-store chain."
"It's a very collaborative but rigorous process, and it's probably not for all vendors," Gainer continues. "Because we have a very high standard when our vision statement is 'the best 30 minutes of a child's day.' The vendors that usually get business are vendors that understand the Disney business, and understand our guests, and understand our service standard."
— Katie Lee is editor of Retail Facility Business magazine. She may be reached at [email protected].