— By Aaron Hartung —
Developing a maintenance plan for your facility's carpet, LVT, VCT and ceramic floors.
Flooring maintenance protects your initial investment, paying dividends when compared to ripping and replacing every 5 years. And here's an insider tip: It typically doesn't cost anything to have a flooring contractor build a custom maintenance plan for your facility because their contract is for the actual maintenance work. Plus, they'll add value by tailoring your daily cleaning and periodic maintenance procedures to your facility's budget — and how your facility is actually used.
They'll begin by sitting down with the facility manager to read the floorplan, asking:
What's your maintenance budget?
How is each area of your facility used?
What are the manufacturer-recommended maintenance procedures for each product in your facility?
The answers to each will affect your maintenance plan. Consider a flooring product with manufacturer guidelines that call for weekly deep cleans. That frequency level might be cost-prohibitive for a facility with a lower maintenance budget. To maximize the power of your budget and prevent premature flooring failure, it makes sense to break out maintenance frequency by traffic patterns.
That's why they'll label each room on your floorplan by product and traffic level (low, medium, high). Working within the constraints of your budget, they'll develop frequencies for routine (vacuuming, spot cleaning) and periodic (interim deep cleaning) maintenance based on each traffic level.

You might, for instance, have your in-house janitorial staff take care of routine maintenance once a day for high-traffic areas (e.g., lobbies, dining, main hallways) and only three times a week for low-traffic areas (e.g., breakrooms, offices). And your flooring contractor might take care of periodic maintenance activities monthly for high-traffic areas and semiannually for low-traffic areas.
Maintenance Needs for Common Commercial Flooring Products
The specific maintenance activities required will vary widely by product category and manufacturer. For example, a luxury vinyl tile (LVT) product from one manufacturer might have slightly different manufacturer-recommended maintenance instructions than a similar product from another manufacturer. The differences tend to lie in the proprietary cleaning chemicals and equipment recommended, not the general process.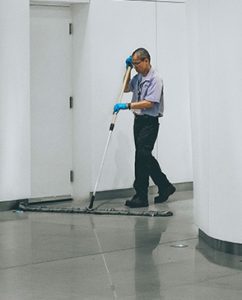 Below we'll outline maintenance best practices for four of the most prevalent flooring systems in commercial facilities: Commercial carpet, LVT, VCT and ceramic tile.
How to Clean Commercial Carpet
Carpet and broadloom tiles (this article explains the difference) is the most popular flooring category, comprising 45.4% of overall floor sales in the U.S.
Routine Maintenance
Vacuuming is the most important part of carpet maintenance — as much as 85% of dirt can be removed through vacuuming alone. And when excess dirt is present in carpet, it begins to abrade the fibers, matte the carpeting and create visible traffic lanes. Use only vacuum cleaners earning Gold-Level Seal of Approval from the Carpet and Rug Institute (CRI). When spills, stains and soiling occur, promptly clean the area with the spot cleaner recommended by the manufacturer.
Periodic Maintenance
Encapsulation, where the carpet is vacuumed, sprayed with a cleaning agent, agitated and then vacuumed again, is required on an interim basis between deep cleanings. Hot water extraction, where the carpet is vacuumed, sprayed, agitated and then rinsed with clean water and then dried, is required every few encapsulation treatments to deep clean your carpets. Videos of both encapsulation and hot water extraction can be found here.
How to Clean Commercial LVT
LVT has quickly established itself as a leader in the commercial vinyl flooring category across many markets.
Routine Maintenance
It's recommended to vacuum and dust mop LVT regularly to prevent dirt from grinding into the surface. Spills and spots should be mopped up immediately using a neutral cleaner diluted to the recommended level. Wet mopping can be done daily, weekly or as needed depending on the traffic or soil level of the area.
Periodic Maintenance
At a frequency recommended by your flooring contractor, LVT should be cleaned using a neutral cleaner and autoscrubber and then rinsed with water. This can be followed by spray buffing if required to remove scuffs. Routine maintenance activities must be performed before periodic cleaning to prevent the dirt from being ground into the flooring surface by the scrubber.
Here are several maintenance guides from different manufacturers if you'd like to take a deeper look at how to clean and maintain commercial vinyl tile floors.
How to Clean Commercial VCT
For years, VCT was the leader in commercial vinyl flooring. It's a budget-friendly, abrasion-resistant, durable material. But it comes with a major downside — it's very high maintenance. And with the rise of LVT, though, many facilities are switching to avoid the tedious, high-cost maintenance of VCT.
Routine Maintenance
The floor should be vacuumed and mopped regularly with the manufacturer-recommended neutral cleaner to prevent the buildup of debris causing abrasions to the tile's protective polish.
Periodic Maintenance
The floor must be machine scrubbed periodically and, if needed, additional coats of polish should be added. Every so often, you'll need to chemically strip and reapply the tile's floor polish to ensure there's a sufficient protective barrier above the porous tile.
How to Clean Commercial Ceramic Tile Floors
Ceramic tiles are high-performance and low-maintenance with a long list of commercial applications: lobbies, bathrooms, high-end offices and more. And although LVT has taken the market by storm, offering a cost-effective alternative to tile, ceramic tile still accounts for more than 14% of flooring sold in the U.S.
Routine Maintenance
Most dirt and soil can be vacuumed and cleaned with a neutral cleaner. Spots, paints, oils and soap can be cleaned with the spot cleaner recommended by the manufacturer. It's important to note that any soil left on the floor may abrade the tile surface and liquids will change the slip resistance of the tile and pose a safety risk.
Periodic Maintenance
Even ceramic tile installed with 100% epoxy grout will need to be deep cleaned occasionally to remove buildup of dirt, grease soap or other types of soil and prevent grout discoloration.
The Importance of Taking a Holistic Look at Flooring Maintenance
A myriad of other factors — flooring product, budget, traffic level, facility environment — also affects your facility's maintenance needs. Something as simple as buying walk-off mats to place near sinks and coffee pots in your breakroom or cleaning the sidewalks right outside your front door can prevent damage to your flooring and save thousands in the long run.
That's why it's important to work with a maintenance professional with a thorough understanding of flooring to create your program. They'll look at all factors collectively, stretching your maintenance budget as far as possible while still protecting your flooring system from failure.
— Aaron Hartung is the marketing manager at Spectra Contract Flooring, the largest commercial flooring contractor in the U.S.
classic-editor-remember:

classic-editor

abkw-text:
Tagged under