— Interview with Greg Smith —
Sport Clips Haircuts proves how essential its service is with a thriving franchise system of more than 1,800 stores and locations in all 50 states.
As many of us realized very soon into the pandemic, it's easy to argue that hair salons are essential services. Nevertheless, like other hair salons around the country, Sport Clips Haircuts was forced to close its more than 1,800 locations during the spring shutdown. By October, nearly all had reopened and, as we continue to navigate the pandemic, they continue to thrive. The Georgetown, Texas-based company was on track to open more than 50 stores in 2020 and expects to exceed that number in 2021. In December 2020, Retail & Restaurant Facility Business interviewed Greg Smith, Sport Clips' chief development officer, about the company's wild ride in 2020 and what it has planned for the future.
R&R: How many locations does Sport Clips operate today? Did any brand-new stores open in 2020 or were expansion plans delayed by the pandemic?
Greg Smith: Sport Clips currently has more than 1,800 stores operating in the U.S. and Canada. The brand will open more than 50 new stores — even in a year like 2020. Expansion plans were not delayed as the franchise team continued to work with potential franchisees through virtual Discovery Days.
R&R: At the height of COVID, you temporarily closed 100% of your locations. Tell me about your 2020 journey, how Sport Clips weathered the shutdowns — how you waived franchisee fees, paid more than $300,000 (100% of leases) in rent for company-owned locations during this tough time, etc.? Hair salons have a unique perspective in all of this — as we soon found out how essential your service really was!
Smith: We started 2020 with yet another all-time record in sales and were set to have a successful year. By March, we saw every store in our system closed and had to manage the complexities and emotions of shutting down while also preparing our teams and franchisees to reopen. We offered aggressive fee relief to keep cash in their hands, and helped them navigate the ever-changing intricacies of the PPP Loan program (90% received funding), as we navigated the unknowns of the COVID shutdowns. We focused all our efforts on keeping franchisees and stores open for the long term future, and doing so in line with our values by keeping people first. We knew it was important to maintain positive relationships with our landlords and made the decision to pay rent for our company-owned stores even while many were closed. This allowed us to utilize all our resources to support our franchisees. We provided guidance to our franchisees on how best to work with their landlords during shutdowns, including asking for what was truly needed, and being respectful of the fact that landlords were in a tough position also.
R&R: By October, nearly all locations were back up and running. Are all locations now completely open?
Smith: 97% of Sport Clips locations have reopened, with a few still closed due to various reasons, such as staffing limitations or additional COVID mandates. California just mandated additional shutdowns, so 142 stores in California had reopened, but are temporarily closed again.
R&R: Tell me about the history of Sport Clips.
Smith: Gordon and Bettye Logan began Sport Clips in 1993 with Coach Lou Holtz's "Heart of a Champion" philosophies: "Do your best; do what's right; and treat others the way they want to be treated." These are the values on which Sport Clips was founded 27 years ago, and they remain the focus today.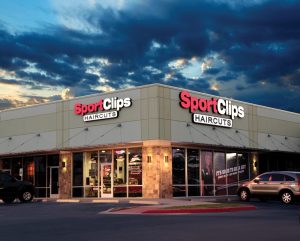 Franchised in 1995, the company is one of the nation's leading franchises as a sports-themed hair care franchise for men and boys with more than 1,800 stores across the United States and Canada.
Gordon's son, Edward Logan, has grown up in the business and played a key role in the company's growth since he joined full-time in 2010, setting new standards for excellence as president and chief operating officer. After graduating from SMU and prior to joining Sport Clips, Edward served as a consultant with Deloitte Consulting in Dallas. In his early work with Sport Clips, Edward oversaw the company-owned stores, taking many of them to top performers within the system and working to pioneer company-wide innovations used throughout the system today.
It's been rewarding to work with him, and his leadership during the COVID-19 crisis has been impressive.
R&R: What's next in terms of 2021?
Smith: We know there are still many unknowns when it comes to this pandemic, but the brand is in a strong position to grow in 2021. We are focusing on what's possible and what can be enhanced while keeping safety and convenience top of mind. We expect store openings to exceed 2019 and 2020. We are also aggressively pursuing long term strategic enhancements to the business model through operational innovations, technology, and marketing. We have a lot of positive momentum.
R&R: Are you planning to expand in new markets or non-traditional real estate such as college campuses or even airports?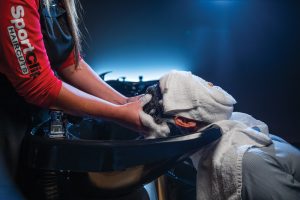 Smith: We'll continue to expand in new markets and look to open up existing markets where appropriate. We have a strong, tenured real estate team, and we rely on their knowledge and experience along with the data we have about our markets to determine the best sites for future locations. Our broker network and landlord relationships will allow Sport Clips and our franchisees to secure opportunities that will become available.
R&R: What makes Sport Clips attractive right now to franchisees?
Smith: Sport Clips has always been an enticing franchise option for entrepreneurs. Over the last 27 years, the brand has established itself as a top provider of hair care for men and boys and was the first hair care provider with locations in all 50 states in the U.S. We have a responsible growth plan and a semi-absentee, manager-managed business model that allows owners to work on the business, not in the business. The franchise has an exceptional continuity rate of 95.4%, based on 5 years of data.
R&R: Tell me about Sport Clips' partnership with an incentives for veterans?
Smith: As a brand, Sport Clips is a supporter of the International Franchise Association's (IFA) VetFran initiative. Its mission is to educate veterans and franchisors about the unique match between veterans and franchisors and to assist veterans in their transition/entrance into franchising. Qualified veterans interested in owning a Sport Clips are eligible for a 20% discount off Sport Clips' franchise licensing fee.
R&R: Please describe your typical prototype.
Smith: The typical Sport Clips prototype is a location that ranges in size between 1,000 and 1,400 square feet and houses six to 10 chairs. Locations are typically found in established retail centers with strong anchors or strip centers with national co-tenants.
R&R: What are your biggest operational and/or maintenance related challenges?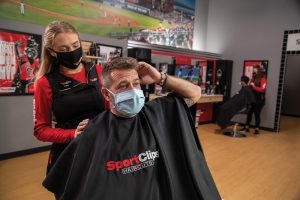 Smith: From an operational perspective, hiring and training are the biggest challenges. In addition to the cosmetology licensing requirements for our team members, Sport Clips provides additional training and education with specific techniques and processes unique to the brand. Typical maintenance issues include keeping our proprietary vacuuming system functioning properly; ensuring our massage chairs and European-style shower stations are comfortable; standard maintenance of cleaning systems, including washers and dryers; and maintaining the quality and look of our padded flooring and chairs in the store.
R&R: Describe how your maintenance department is organized. Do you handle maintenance in-house or outsource to third-party service providers (i.e., let the franchisees choose who they use)?
Smith: As a franchise system, maintenance varies across the system. Company-owned stores are maintained by a small team working at the Sport Clips Support Center. Our franchise own-ers are responsible for the maintenance and care of items in their stores and can outsource and/or choose service providers as needed.
R&R: Do you rely primarily on national vendors? Or a mixture of national and regional/local?
Smith: This also varies across the system, but we understand the power we have as a franchisor in securing quality vendors and affordable pricing for our franchisees. As stores open, there are some required vendors that must be used to ensure consistency across the brand, e.g., flooring, massage chairs, stations, etc. We have a broad list of approved, recommended national vendors for everything from signage to towels to mannequin heads for training, but our franchisees can go local if it makes better business sense for them.
R&R: By what criteria do you choose your vendors?
Smith: Sport Clips' selection process of vendors is driven by the value they provide our franchisees. The value is not only price, but the partnership and support they provide the franchisee. We have a standard RFP process to make sure that we carefully review any vendor to make sure they meet the value proposition and support our values. We take zero kick-backs or indirect benefits as the franchisor, always passing along any savings directly to the franchisees, the relief fund we have established to support the employees of franchisees who have fallen on hard times, or the Help A Hero foundation we support to help military veterans transition into civilian life and build careers.
R&R: What do you enjoy most about your job on a daily basis?
Smith: Helping franchisees be successful. Sport Clips' success is based on the success of our franchisees. Every day we look to improve and strive for excellence, which makes each day unique and fulfilling.
R&R: What are some of your future goals you've set for your team or your stores?
Smith: Future goals embrace our long standing smart strategic growth philosophy. I look forward to getting back to opening 100-150 stores a year in a strategic manner. Opening quality locations with our franchisees has always and will always be our number one goal. I look forward to hitting 2,000 stores within about a year and then hitting 3,000 locations. With each challenge comes opportunity, and Sport Clips has a lot of opportunity. n
— Greg Smith served as director of real estate at Sport Clips from July 2003 to December 2007 and senior director of real estate from December 2007 to December 2012. He was promoted to vice president of real estate in December 2012 and then promoted to chief development officer, leading the real estate and franchising development teams, in December 2017. From November 2000 until July 2003, Smith was a senior real estate manager for Sally Beauty Company of Denton, Texas.
EDITOR'S NOTE: This article originally published as the December 2020/January 2021 cover story of Retail & Restaurant Facility Business magazine. Email the editor, Katie Lee, at [email protected].