Washington, D.C. — Martin's Tavern, the city's oldest family-run restaurant, is celebrating 90 consecutive years of serving patrons in Georgetown. This unique establishment, situated on the prominent corner of Wisconsin and N St, N.W., has remained a favorite destination for influencers from politics, sports, media and culture.
"Martins Tavern is one of those rare places that is steeped in D.C. culture and offers a rich cultural and historical experience to visitors from around the world," says Elliott Ferguson, president and CEO of Destination D.C. "The restaurant is a national treasure and we're glad it calls Washington, D.C., home."
Martin's Tavern was founded by great-grandfather William Solomon Martin, and grandfather, former Major League Baseball player, William Gloyd "Billy" Martin, and opened in 1933 as Prohibition ended.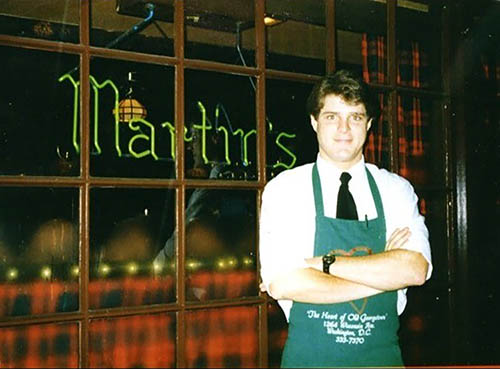 "We are so very honored to have the outpouring of support from the community, which, combined with our committed and loyal staff has truly made Martin's what it is today," says owner Billy Martin.
It was at Martin's Tavern that John F. Kennedy proposed to Jacqueline Bouvier in 1953, in the couple's regular booth, which is aptly referred to as the Proposal Booth. This remains the most requested spot in the tavern for popping the question. In addition to the Kennedys, former Secretary of State Madeleine Albright was also a regular. Among her many conversations with owner Billy Martin, she confided that Martin's Tavern was an extension of her living room. Every U.S. president from Harry S. Truman to George W. Bush has visited the restaurant to discuss important matters or relax with colleagues, family and friends. Martin's Tavern was also the meeting spot for Supreme Court Justices following deliberations of the Brown v. Board of Education decision.
For more information, visit https://www.martinstavern.com/.
SOURCE: Martin's Tavern