VRF: An efficient HVAC solution for retail stores and restaurants.
By Kevin Miskewicz
Retail stores and restaurants face some steep HVAC challenges — among them, customer demand for continuous comfort, limited space for mechanical equipment and a strong need for simple maintenance due to high employee turnover. Owners and managers of properties like department stores, restaurants, supermarkets and drug stores know that succeeding in business means maximizing operational and energy efficiency. Finding HVAC systems that team members can easily maintain contributes to that efficiency. Equally important is ensuring an unparalleled customer experience.
Variable Refrigerant Flow (VRF) is a proven HVAC technology worldwide and represents a growing segment of the U.S. HVAC market.  More and more engineers, architects and building owners are embracing these systems to solve a variety of building challenges because they provide precise zone control, energy savings and installation flexibility. This article describes how VRF is ideally suited for retail and restaurant applications given four key benefits:
1. Operational and Energy Efficiency
2. Easy Installation and Use
3. Customer Experience
4. Smart, Flexible Design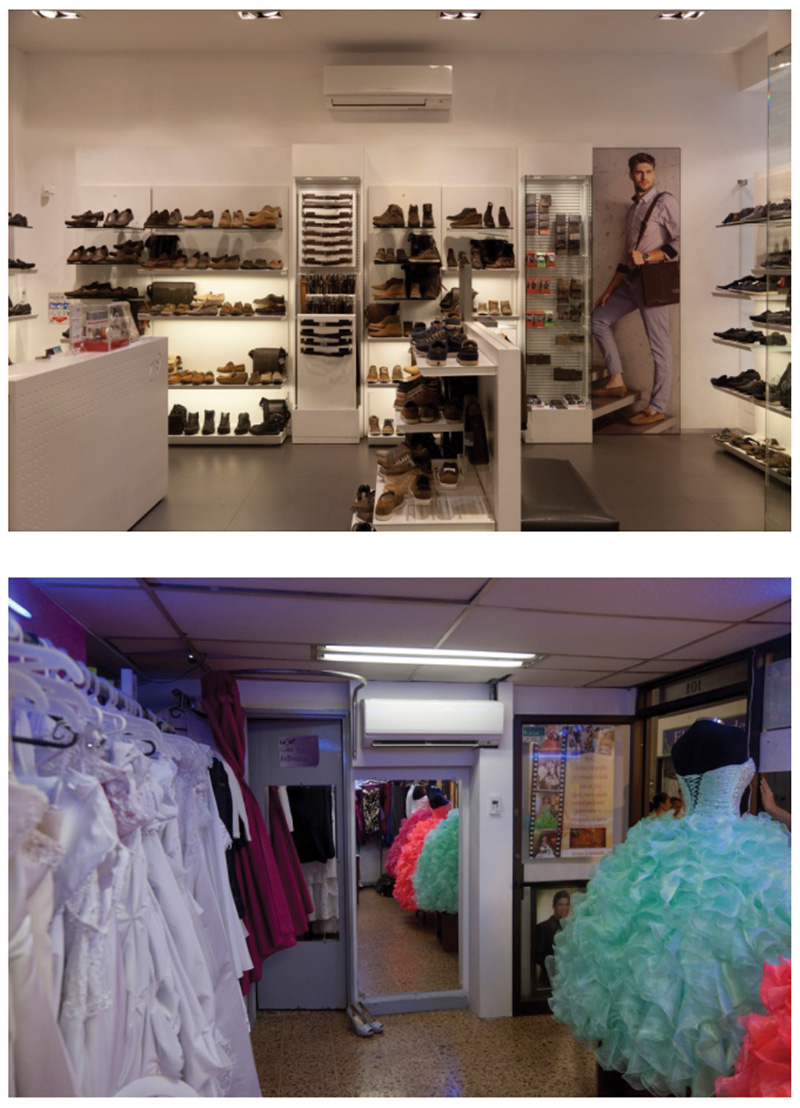 Operational and Energy Efficiency
A store's efficiency shapes the overall direction of its business. Owners' and managers' properties must be efficiently operated to maximize profits.
1. Energy efficiency. VRF systems consistently perform at 25% higher efficiency than conventional HVAC systems. Their variable speed INVERTER-driven compressor uses only the exact amount of energy required to meet the zone's cooling and heating demands, which is particularly important when partial load conditions occur.
2. Lower life-cycle costs. Energy savings above conventional systems, along with lower installation and maintenance costs, deliver a lower life-cycle cost for VRF systems.
3. Case in point. Louisville, Kentucky-based Yum! Brands, Inc. is the world's largest fast food restaurant company and parent of chains like KFC, Pizza Hut, Taco Bell and WingStreet. Yum! invested in VRF technology for its KFC-Taco Bell restaurant in Northampton, Massachusetts. The technology was selected for its year-round performance — a need in Massachusetts' icy winters. The system's efficiency also helped earn valuable points toward LEED® Gold certification.
Easy Installation and Use
The retail and restaurant landscape is ever-changing, but no matter the time or place, stores and restaurants must be open and in business to serve customers. 
1. Installation Ease. VRF offers easy installation in terms of time and money. Labor costs are reduced since ductwork is not required and installing contractors only need to run refrigerant piping. Some manufacturers' systems offer further savings by using two refrigerant pipes (versus three); fewer pipes yield fewer connections, meaning less material and lower labor costs.
2. Lighter weight. VRF systems are 31% lighter than chilled-water systems, resulting in easier handling, lower transportation costs and more options for installation location.
3. Maintenance. VRF offers simple maintenance, with routine indoor unit filter cleanings and outdoor unit coil cleanings the only regular maintenance required, which means no special trades or training. In the event more significant work to the system is required, one unit can be serviced without taking the whole system offline, preventing a disruption to business operations.
4. Advanced system control options. Advanced system controllers simplify the monitoring, scheduling and controlling of several dozen (or more) indoor units. Available controller types include app-based, wireless, wall-mounted and hard-wired. Multiple central controllers can be networked together to provide one interface to the building, which can also be remotely monitored and controlled.
5. Case in point. The Cambulos Building is a mixed-use facility with 23 shops and a 12-story office tower in downtown Medellín, Colombia. When an HVAC replacement was needed, VRF offered a non-disruptive installation — disturbing neither the shops' business nor the historic building itself. Olga Lucia Palacio, the building's property manager, said VRF's "speed of installation, flexibility and energy efficiency" made it a wise choice. Since installation, she has been pleased with the "appearance, comfort and improved user satisfaction throughout the commercial premises."
Customer Experience
Creating loyal customers means providing a positive shopping or dining experience. The store or dining room environment determines a meaningful portion of that experience.
1. Precise zoned cooling and heating. VRF provides each public and private space with its own comfort control system, bettering customer and staff experience and decreasing occupant complaints. The technology offers year-round, continuous comfort with a single system. It also provides the flexibility to control a variety of zones, among them showroom floors, dressing rooms, dining rooms, offices and workspaces.
2. Quiet operation. VRF operates at a whisper-quiet sound level, allowing employees to focus on serving their customers, and customers to focus on their experience. Quiet systems also contribute to a healthy and balanced workplace — likely contributing to lower employee turnover. Quiet operation is made possible by technologies like sound-dampening insulation, vibration-absorbing feet and special fan designs.
Smart, Flexible Design
Construction costs can be astronomical, but a good HVAC system helps bring that cost down.
1. Precious real estate. Less space dedicated to HVAC equipment means more space dedicated to inventory, customers and employees. VRF's compact outdoor units, indoor units and other components can be installed in tighter spaces because they require less piping and duct space. Outdoor units, for example, can be set up out of sight — on the ground in the rear of a store/restaurant, on the rooftop or mounted on an exterior wall — offering maximum design flexibility.
2. Discreet indoor units. Indoor unit styles in a variety of models meet varied interior configurations, from a fast food restaurant with a single seating area to a multi-level superstore with diverse departments. Unit styles include wall-mounted, floor-standing (concealed and exposed) and concealed vertical. Ceiling-mounted options include suspended, recessed and ducted.
3. Easy to modify. Adding on to an existing building and require additional HVAC capacity? No problem. As the building needs change, VRF can easily change with it. The flexibility of the indoor air handling units, coupled with the lack of or minimal ductwork, make reconfiguring indoor spaces a breeze compared to conventional HVAC systems.
4. Case in point. Dallas-based Fogo de Chão® (Fogo) is a Brazilian steakhouse known for its exceptional dining experience. When Fogo set out to retrofit a downtown New York City building for one of its 37 locations, VRF was selected for its reliable comfort and design flexibility. The project team mixed and matched both indoor and outdoor units to cover the restaurants' varying needs. Dale Forester, Fogo's construction manager, said VRF "offered the most efficient use of space [and] solved the challenges of low ceilings and tight spaces quite easily."
VRF provides a high-quality cooling and heating solution that meets stores' and restaurants' unique demands. It also helps owners and managers meet budgetary requirements through its operational and energy efficiency, flexibility in design, and easy maintenance and use. Ultimately, VRF contributes to a positive customer experience.
— Kevin Miskewicz is director of commercial marketing for Mitsubishi Electric US, Inc.'s cooling & heating division. In this role, he leads the marketing strategies, programs and initiatives for the division's commercial product line. Miskewicz is a certified LEED® Green Associate and has several years of product marketing experience. Email him at kmiskewicz@hvac.mea.com.