Chicago — McDonald's and its franchisees plan to invest approximately $186 million to modernize 240 restaurants located across Florida. The initiative is part of the fast food giant's aim to invest $6 billion to modernize most of its U.S. restaurants by 2020.
The transformed Florida restaurants will feature modernized dining rooms with globally and locally inspired décor; new furniture; refreshed exterior designs; digital self-order kiosks; remodeled counters; digital menu boards outside and at the drive-thru; designated parking spots for curbside pickup through mobile order and pay; expanded McCafé counters; and larger display cases. The renovations will take place throughout this year and 2019.
In addition to the investments to modernize the spaces, McDonald's has also introduced its McDelivery service with Uber Eats at more than 5,000 U.S. restaurants. In June, McDonald's opened its new $250 million headquarters in Chicago's West Loop after 47 years in the suburbs.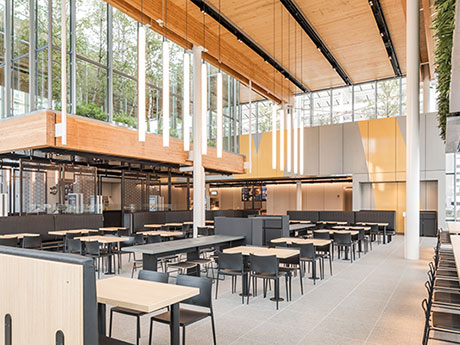 The fast food chain also opened its newly designed flagship restaurant in Chicago in mid-August. Located at Clark and Ontario streets in Chicago, the modern and environmentally friendly design features self-order kiosks, table service, mobile order and payment and delivery. The 19,000-square-foot restaurant includes green spaces and energy-saving features such as a vegetated rooftop, on-site solar panel array for renewable energy collection, LED lighting and more than 70 trees at the ground level.
Chicago-based Ross Barney Architects designed the restaurant, which is set to operate 7 days a week and 24 hours a day. Sydney-based Landini Associates designed the interiors. The new restaurant replaces the previous flagship restaurant, which was a rock 'n' roll-themed restaurant that closed in December 2017.
— Camren Skelton