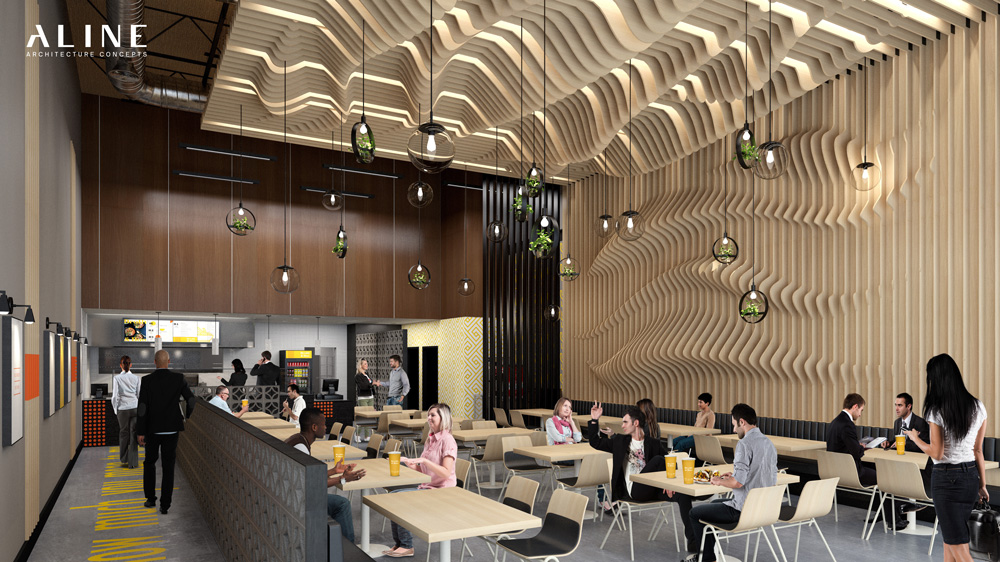 Scottsdale, Ariz. — Born and Raised Hospitality, the restaurant group behind popular Phoenix restaurants Clever Koi, Across The Pond and Fellow Osteria, and architecture firm Aline Architecture Concepts have teamed up to design a new fast-casual ramen restaurant, Clever Ramen, opening this spring in Scottsdale, Ariz.
Clever Ramen was created with the idea of using raw materials that encapsulate warmth and life to the space. The fast-casual restaurant will feature a menu of customized ramen noodle bowls, steamed bao buns and seasoned fries.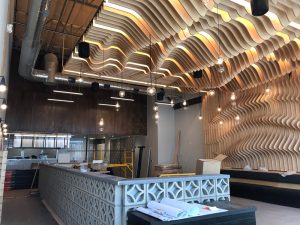 The restaurant features a curved plywood ceiling and wall. It was created using 3D parametric modeling software which allowed Aline to design the ceiling and walls in the shape of a ramen noodle. (See photo at left to see construction in progress.)
"We developed the curved plywood ceiling and wall using a parametric software that allows us to control the shapes," says Brian Laubenthal, principal of Aline Architecture Concepts. "From the software, we directly send the parameters to the CNC machine for accurate cuts and a fast turnaround."
Aline sought to use this new 3D parametric technology to design a restaurant that had a modern feel with real heart. The software also helped the architecture firm to design Clever Ramen with little waste and helped them budget more accurately.
Clever Ramen was designed during the coronavirus pandemic and the restaurant is being created with current health and safety precautions in mind. The focus will be on hands-free ordering. Born and Raised Hospitality is looking into retinal display at the entry which would display your last order which you can confirm or edit. There will also be the option to place orders via mobile or QR code. Clever Ramen makes all orders fresh upon diners' arrival.
For more information, visit https://cleverramen.com.
SOURCE: Aline Architecture, Born and Raised Hospitality
classic-editor-remember:

classic-editor

abkw-text: