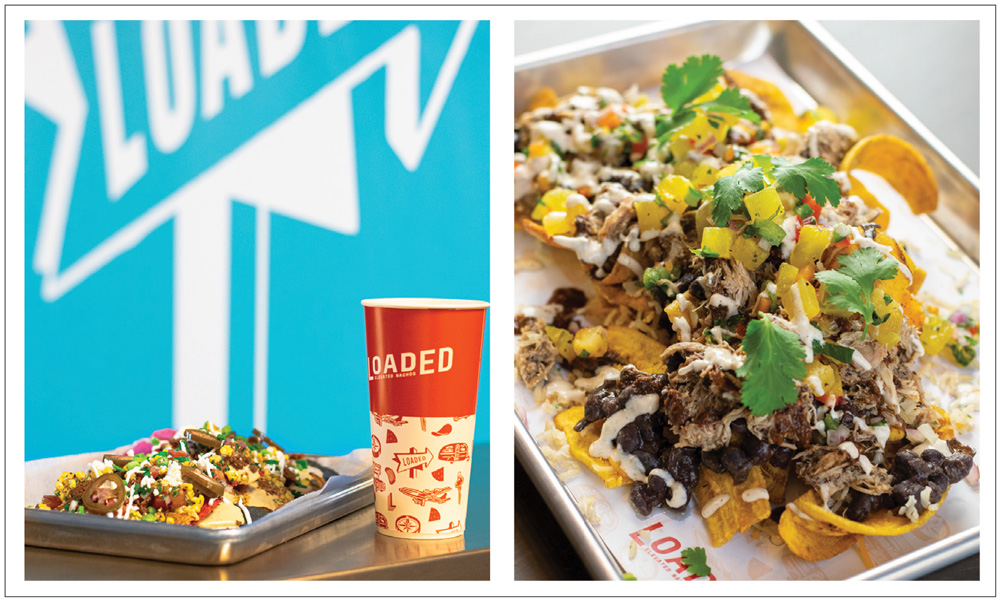 St. Charles, Mo. — Streets of St. Charles, already home to Narwhal's Crafted, has welcomed Loaded Elevated Nachos, a fun new food concept from Narwhal's owners Brad Merten and Brandon Holzhueter.
Loaded is the newest addition to 1450 Beale St., the building that houses Narwhal's Crafted, Yoga Six and the recently opened Napoli III. The 1,400-square-foot space has a fun, upbeat atmosphere that feels much like a food truck without wheels. The menu boasts 10 different elevated nacho dishes that aim to change the perception of what people think nachos can be.
"Loaded has been a long time in the making, and we're beyond excited to finally be opening up at Streets of St. Charles," says Holzhueter. "Having Narwhal's next door, we know this area well and we think the Loaded concept is going to be a perfect fit — adding a fast-casual option to the development while maintaining the level of quality that brings patrons to Streets of St. Charles."
Not only is Loaded directly adjacent to Narwhal's, customers don't even have to leave their frozen drinks to enjoy a plate of nachos. The space features a convenient pass-through window between the businesses.
"Loaded is a great 'food partner' to Narwhal's, and the pass-through window is a nice bonus," says Merten. "Our goal has always been to pleasantly surprise people with Loaded, and now that showtime is finally here, we couldn't be more excited."
Loaded is a nacho-centric "craft casual" concept that combines chef-quality food with a fast-casual format. For more information, visit www.loadednachos.com.
Owned and managed by Cullinan Properties, Ltd., The Streets of St. Charles is a distinctive 27-acre mixed-use community with retail, dining, entertainment, hospitality, multi-family and office components. For more information, visit www.streetsofstcharles.com.
Cullinan Properties is a leading provider of real estate services specializing in commercial and mixed-use developments and acquisitions. For more information, visit www.cullinanproperties.com.
SOURCE: Cullinan Properties, Ltd. / The Streets of St. Charles
classic-editor-remember:

classic-editor

abkw-text: