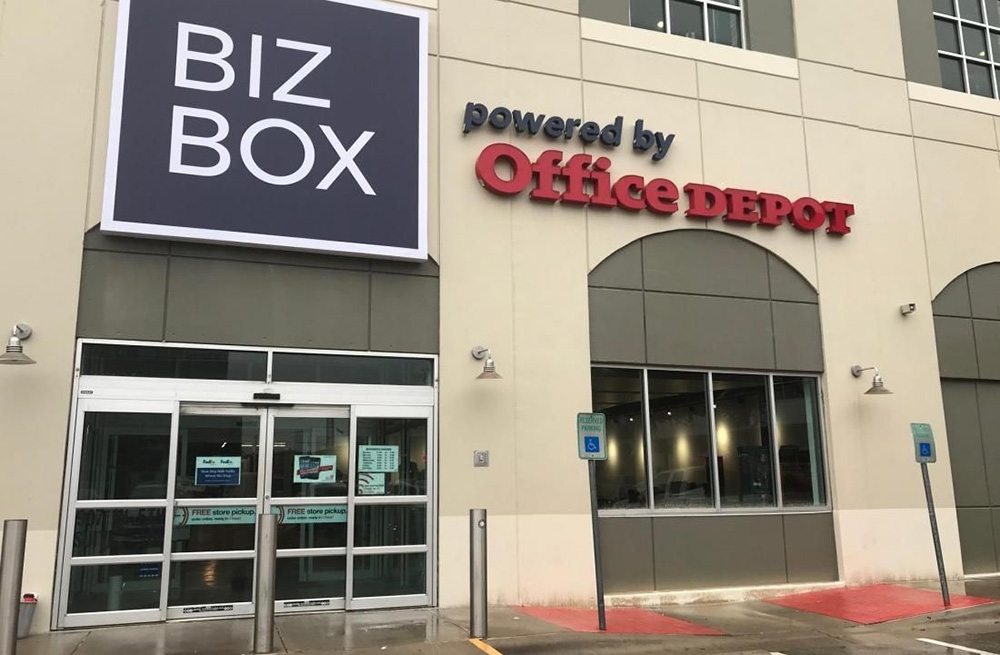 Boca Raton, Fla. — Office Depot, Inc. has unveiled its market makeover of 14 stores in Austin, Texas, including a flagship location — "BizBox: Powered by Office Depot" — that integrate the company's recently launched BizBox offering into its retail locations.
The reimagined stores offer a first-of-its-kind suite of services for small business owners offered both online and in-store, along with flex workspaces in select stores. This is another step forward in the company's strategic transformation from a traditional office products retailer to a broader business services platform.
BizBox is a one-stop-shop for entrepreneurs, offering end-to-end services to help small to mid-sized businesses start and grow their companies, including logo and website design, digital and social marketing, full-service copy and printing, finance and accounting services, payroll, HR, tech support, Centriq's Asset Management software and more. The stores in the Austin market will offer face-to-face, one-on-one consultative support to help local businesses thrive.
Following Austin, the company plans a phased approach to these makeovers as this is the next evolution of its retail transformation. The shift to a services-led retail shopping experience for customers will continue to unfold in its 1,400 stores across the country.
"Today is a key inflection point in the company's transformation from a traditional office products retailer to a broader business services platform," says Gerry Smith, chief executive officer for Office Depot, Inc. "Helping small and medium-sized business customers is core to our identity, but the reality is that our customers' needs have changed. BizBox reflects our continued commitment to an omnichannel experience that addresses the challenges small businesses are facing today."
The Austin retail stores offer digital services as well as a selection of traditional office products, and customers can expect a new look and feel in the upgraded locations, including:
Open floor plan with dedicated BizBox consulting hubs: Entrepreneurs will have access to BizBox professionals and experts on-site to help identify services suited to their unique needs, streamlining operations and freeing up valuable time to focus on innovation and growth.
In-store networking: Open seating areas will encourage entrepreneurs to connect and discuss ideas and solutions alongside BizBox professionals.
Professional tech support in a designated Tech Zone: Professional tech support will be available to assist customers with everything from smartphone repairs to PC tune-ups, and more.
Office Depot, Inc. has approximately 1,400 retail stores, e-commerce sites and a dedicated business-to-business sales organization. The company operates under several banner brands including Office Depot®, OfficeMax®, BizBox, CompuCom®, Complete Office and Grand&Toy®.
SOURCE: Office Depot, Inc.
Tagged under