Dallas — OHM Fitness will open 70 EMS fitness studios in the Texas Triangle through its newest franchise partner over the next few years. OHM Fitness offers a high-tech, high-energy EMS fitness experience that packs the benefits of an intense 2-hour workout into a low-impact, 25-minute session.
Shivam Khanna recently secured the area representative rights to Texas and will bring 70 locations to the state, including 25 in Dallas Fort Worth, 20 in Austin and San Antonio, and 25 in Houston. Khanna plans to open up to 25 locations himself, and is already searching for retail spaces in Dallas Fort Worth with Jim Dunn of Retail Union Partners to identify a location in hopes to open by the end of 2023. The other 45 locations will be awarded to qualified multi-unit franchisees.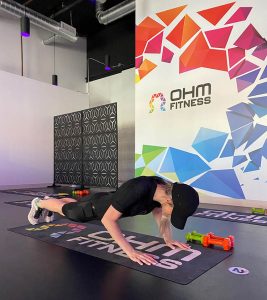 The first studio opened in the company's headquarters of Scottsdale in August 2022 and since then, the company, to date, has sold the rights to 12 area regions, totaling more than 275 future studios. Territories in development include Arizona, San Diego, South Florida, New Jersey, Washington, D.C., Colorado, Kansas, Missouri, North Carolina and now Texas.
"The Texas Triangle is one of the fastest-growing areas in the United States and is a perfect place to introduce the OHM Fitness brand," says Khanna. "OHM Fitness is revolutionizing the fitness industry for the digital age by utilizing a tech-forward proprietary suit to essentially hack working out. This gives people a safe, convenient, and effective strategy for upholding their health regardless of their fitness ability or experience."
OHM Fitness is one of the first franchises to deliver small group workouts using highly-effective electrical muscle stimulation (EMS) through the use of wearable technology through its OHM EMPower Suit. This high-tech fitness experience packs the benefits of an intense 2-hour workout into a low-impact, 25-minute session with a low rate of wear and tear on the joints, ligaments and muscles, in comparison to other HIIT workouts. Founded in Scottsdale, Ariz., OHM Fitness currently offers area developer and franchisee opportunities to qualifying entrepreneurs. For more information, visit http://www.OHMfitness.com.
SOURCE: OHM Fitness