Los Angeles — sweetgreen has opened its first restaurant powered by automation, accelerating the industry's adoption of advanced technology and taking steps toward the future of dining. The pilot store, located in Naperville, Ill., debuts new technology called the sweetgreen Infinite Kitchen, designed to enhance the customer experience and food quality, with a focus on fresh ingredients, fast service and friendly hospitality.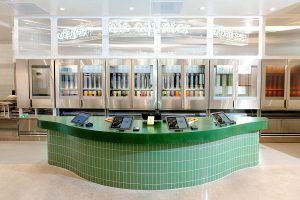 With the advancement of automation playing a large role across industries today, sweetgreen is eager and excited to be an early adopter in the space, opening the first restaurant in its fleet powered by the Infinite Kitchen. Since its acquisition of Spyce in 2021, sweetgreen has spent the last year and a half fine tuning and adapting its technology to test alongside customers and team members, with the goal of designing a frictionless experience that connects more people to real food.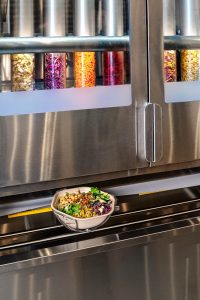 The new format allows for quicker pace, precise portioning and increased accuracy — while creating efficiencies that allow the team to focus on fresh prep and intimate hospitality. Guests can watch the technology at work, from dispensing greens and dressing bowls and plates, to evenly dispersing ingredients and mixing salads. Team members add the final touches at the finishing station, with a sprinkle of herbs or a scoop of avocado.
"We believe that automation will enable us to elevate the quality and integrity of our food while also providing a faster and more convenient experience for our customers and a better, more dynamic job for our team members," says Jonathan Neman, CEO and co-founder of sweetgreen. "With the integration of the sweetgreen Infinite Kitchen in our restaurants, we can unlock efficiencies that will enable us to grow more quickly as we scale."
To order, customers can utilize self-service kiosks, place an order through the mobile app, or order directly from the restaurant's host. The new restaurant format also brings in a new Tasting Counter, brand-storytelling digital screens and a revamped merchandising strategy for an authentic sweetgreen experience at every touchpoint.
For more information, visit www.sweetgreen.com.
SOURCE: sweetgreen