Aurora, Ill. — Palmer Digital Group, a full-service supplier and installer of custom indoor and outdoor digital kiosks, display enclosures and drive-thru digital menu boards, has been selected by The Patio, a high-end QSR specializing in barbeque, sandwiches and salads, to digitize interior and exterior menu board systems at its six Chicago-area locations.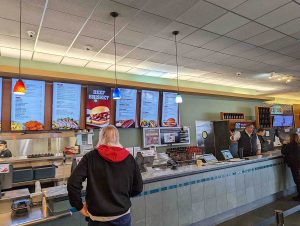 PDG's menu board solutions will completely modernize the in-store and drive-thru customer experience while accelerating the appearance of price adjustments, new menu additions, limited time offers and more across storewide menu board systems.
PDG's solution for The Patio include digital signage software and media players for all indoor and outdoor menu boards. PDG, which completed the first site in early February, will also supply and install new outdoor triple drive-thru digital menu boards and double pre-sell boards at all stores. The latter gives The Patio a dynamic platform for suggestive selling and special promotions.
The Patio is a family-owned and operated business that has focused on customer service and food quality over rapid expansion to new locations. The Patio opened its first store in Bridgeland, Ill., in 1977, and opened its most recent in 2014. Today, The Patio's six locations range from 10,000 to 12,000 square feet in size with 300-to-400 seat dining rooms. While these attributes are clear business differentiators, co-owner Steven Koliopoulos recognizes that changing consumer habits require they make adjustments that keep customers satisfied and revenues flowing.
"Our drive-thru business has always been strong, but more than half of our business has shifted to the drive-thru since the pandemic," says Koliopoulos. "We are always looking toward the future to find ways that both maintain and grow our business. Technology is an important part of that to both improve the customer experience and simplify our business operations."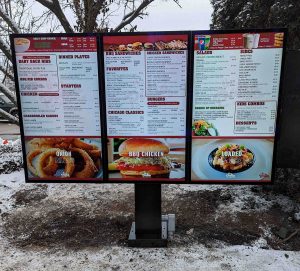 To the latter point, The Patio found that the static menu boards outside their stores were both limiting and labor-intensive. With a large menu of more than 150 items, it was a challenge to list all items in visually appealing ways, if at all. Price adjustments and new menu additions required substantial investments in time, effort, and money to print and/or replace static boards. And while The Patio has had indoor digital screens inside for some time, performing the same functions required manually updating data and then uploading content to new USB sticks, which would then be circulated to their indoor displays at each store.
PDG's menu board solutions will now simplify these operations at all six stores while amplifying The Patio's marketing operation throughout its properties. With installation of outdoor systems and indoor upgrades at The Patio's Orland Park location complete, The Patio will roll out the same concept at the remaining five locations over the next 12 months. PDG's solution includes Spectrio Ping HD digital signage software and BrightSign media players for all indoor screens, including six-to-eight screen video walls that greet customers just inside the entrance.
The same software and players will power content management and display on PDG QSRDM355 triple digital menu boards and QSRDMB246 double pre-sell boards outside. Koliopoulos notes that PDG's installation services included all wiring and system setup, which along with careful planning and robust mounting structures made for a seamless and non-disruptive process.
"We have always excelled at marketing, but PDG's indoor and outdoor solutions will take our marketing to powerful new levels," says Koliopoulos. "They worked with Spectrio to adapt our menu concepts to this new format. We now have scrolling and rotating graphics, and can publish graphics and text in combinations across different panels. The marketing benefits will be very impactful for our day-to-day business. And since PDG has integrated everything with our point-of-sale systems, we can change prices on the fly from any location, and control the schedules of when certain graphics, menu items and promotions appear. We can get very creative, produce more engaging visuals for customers, and in ways that are much easier for us to manage."
Palmer Digital Group specializes in custom indoor and outdoor digital kiosks, display enclosures and drive thru digital menu boards. For more information, visit www.palmerdigitalgroup.com.
SOURCE: Palmer Digital Group