Ann Arbor, Mich. — Franworth, the well-known professional shared services platform, has formed a strategic partnership with the Milkshake Factory, a premium dessert retailer known for its heritage recipes and iconic family legacy throughout Western Pennsylvania.
After successfully operating 11 Pittsburgh-area locations, the Milkshake Factory is prepared to share its business model with qualified franchise investors. Countless numbers of interested parties have inquired about the brand's availability for franchising during the past two decades, and now the opportunity has arrived.
"We've landed at this inflection point after a full year of focused attention for the launch of franchising, and for the future of our organization," says Dana Edwards Manatos, co-founder and CEO of the Milkshake Factory. "From one location in 2003 to 11 locations today, we're now ready with a replicable business model, proven unit economics and a cost-effective store design that embraces the magic of our brand."
The Edwards family's roots run more than a century deep in gourmet chocolates and premium desserts. They were able to establish large-scale manufacturing and develop a line of chocolate products sold in retailers across the country including Costco Wholesale, Target and many grocery chains. This transformation of the family's chocolate business paved the way for the expansion of the Milkshake Factory. Through successful distribution at retail, the Milkshake Factory has earned brand awareness beyond The Steel City.
Leading this next phase of growth for Milkshake Factory is the company's president, Dan Reese. Reese will be working closely with the Franworth team to architect the franchise growth strategy. He previously served as Milkshake Factory's CFO and held various executive-level positions with the Edwards family's consumer packaged goods chocolate company, Edward Marc Brands. Prior to that, he was a marketing executive at Kraft Heinz, running its $2 billion condiments portfolio.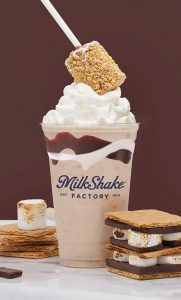 "In all my years in franchising, I haven't seen an emerging franchisor enter growth mode with as much infrastructure and history behind it as the Milkshake Factory," says John Rotche, founder and CEO of Franworth. "All the pieces are in place for a strong foray into franchising."
Beginning in May, the Milkshake Factory will be ready for franchise investment. Rotche and the Franworth team will support franchise sales and building out the franchise operations infrastructure together with Reese and the Edwards family.
Founded in 2016 by John Rotche, Franworth's mission is to identify franchise brands with high growth potential and provide them with resources and support needed for scalable, long term growth. Headquartered in Ann Arbor, Mich., Franworth's current portfolio of franchise brands includes The Lash Lounge®, The Barre Code®, skoah facial shop®, Garage Kings®, Milkshake Factory®, HealthSource America's Chiropractor®, and sugaringLA®. For more information, visit https://www.franworth.com/.
The Milkshake Factory is a premium dessert destination, serving up handspun milkshakes with housemade ice cream, as well as heritage chocolates crafted by generational chocolatiers. Family-owned since 1914, the company evolved from an old-fashioned soda fountain to one of Pittsburgh's premium sweet spots. Now franchising, the brand strives to become the community dessert destination creating smiles from coast to coast.
SOURCE: Franworth / Milkshake Factory