Minneapolis — Target Corporation plans to invest $4 billion to $5 billion this year to expand its guest-centric services, operations network of stores and supply chain facilities, digital experiences and other capabilities. The retailer also shared more about its plans to advance its enterprise efficiency efforts, aimed at optimizing its operations after years of rapid growth. Last but not least, Target will also open approximately 20 new stores this year, in a variety of store formats.
"Investments in our shopping experience and frontline team have deepened our guests' engagement with Target during the last few years, which is reflected in our continued traffic and sales growth," says Michael Fiddelke, chief financial officer of Target Corporation. "This year, we'll continue investing in our long term strategic initiatives that propel our market share and profit growth over time. Coupled with our teams' ongoing efforts to scale our business with greater simplicity, we are confident in our ongoing ability to meet the evolving needs of our guests and deliver value for our shareholders."
Target plans to open about 20 new stores in a variety of sizes as it seeks to reach new guests. Many of the new stores will include new design elements that reflect the local community, experiences that highlight new brands, assortment and services, and sustainable features. Target is also making investments in about 175 of its existing stores, ranging from full remodels to the addition of Ulta Beauty at Target or Apple at Target shop-in-shop experiences, or expanded capacity for same-day fulfillment services. These new and updated stores are one way Target brings new partnerships and the latest innovations in fulfillment services to guests while also investing in operational enhancements for its team.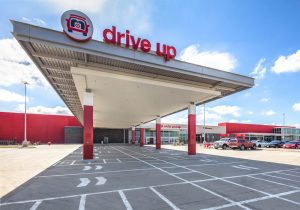 Beginning this spring, Target will expand its latest offering, Drive Up Returns, which allows guests to return most new, unopened items within 90 days of purchase from the comfort of their car — for free. In addition to making the Target guest experience easier, Drive Up Returns brings more efficiency to the retailer's returns process and reduces expenses for mail-in returns.
The company plans to expand its sortation center network from nine to more than 15 locations by the end of 2026, which will expand its next-day delivery capabilities to guests across major U.S. markets. These specialized supply chain facilities allow Target to deliver digital orders faster, more efficiently and at a lower cost, with up to 40% of orders delivered by its last-mile delivery capability arriving next day. Additionally, these facilities remove pressure from Target's stores, giving team members more time to serve guests.
Target also expanded upon its newly introduced enterprise efficiency efforts, aimed at simplifying its operations and enhancing its team and guest experience while fueling near and long term growth. While this efficiency work will be a sustainable, long term plan, Target's goal is to achieve $2 billion to $3 billion in cost savings over the next few years.
Minneapolis-based Target Corporation operates nearly 2,000 stores. For more information, visit www.corporate.target.com.
SOURCE: Target Corporation