— Interview with Tim Welsh, Chief Development Officer —
QDOBA was already making key changes prior to the pandemic.
With a variety of smaller floor plans and a revamped digital suite already in the works pre-COVID, QDOBA Mexican Eats was on the right track — little did it know — to have the best possible chance to weather a global pandemic. Today, the Mexican fast-casual franchise continues with plans to open 30 new restaurants before year end and to have 1,000 open restaurants within the next 5 years. With new technology, new prototypes and new markets on the horizon, QDOBA looks forward to opportunities its sees in a post-2020 world. Recently, Retail & Restaurant Facility Business interviewed Tim Welsh, chief development officer of QDOBA, to learn more.
R&R: How many restaurants does QDOBA operate today? How many new locations opened in 2019, and what was the growth forecast for 2020 prior to the pandemic — and has that changed? I read that you are still on track to open more than 30 restaurants this year.
Tim Welsh: Right now, we have 752 open locations — 11 in Canada and 741 in the U.S. In 2019, we opened 30 locations and were slated to open 50 locations in 2020. Of course, some openings were pushed due to COVID; however, we are still on track to open 30 restaurants before the end of the year.
R&R: In August, QDOBA hired Peter Ortiz to lead franchise development. How do you plan to achieve your goal to grow to more than 2,000 units? What are your key markets for franchise growth?
Welsh: Peter joining the team was a key part of our franchise strategy. We needed a senior executive with a sophisticated and deep understanding of multi-unit restaurant franchising to grow with the nation's top groups. As we look to grow, we have introduced new restaurant formats that are built for today's customer. Our formats are smaller, have dedicated spaces to fuel off-premise sales and are equipped with drive-thrus. The new formats are positioning us very favorably among multi-unit franchise groups seeking a growth vehicle.
Currently, we are looking at attractive markets throughout Arizona, Southern California, South Florida, Georgia, Ohio, Nevada, New Jersey, New York, Texas and Pennsylvania.
R&R: What makes QDOBA attractive to franchisees right now?
Welsh: Our new formats are extremely attractive to today's multi-unit operators, who are looking for chef-driven food quality powered by the convenience of drive-thrus and other areas that enable off-premise sales, like mobile pickup areas. Additionally, we can go into much smaller footprints — as low as 1,200 square feet with a drive-thru.
R&R: Tell me about the royalty deferral program you offered franchisees in March. Is that program still ongoing?
Welsh: The royalty deferral program began in March and was effective for 8 weeks. The program enabled franchisees to protect their revenue when dining rooms were forced to close due to COVID. We wanted to help our franchisees as they were facing an incredible challenge in the early days of the pandemic. We're happy we were able to support them — that's what the QDOBA brand is all about.
R&R: How did QDOBA adapt during the dining room shutdowns? When did you start reopening your dining rooms? Has it been a relatively smooth process?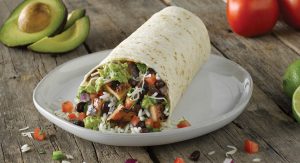 Welsh: In late 2019, we relaunched our digital suite, which turned out to be a very well-timed investment. QDOBA's website, mobile app, rewards program and back-end technology were all revamped. Our digital suite served to support our franchise and corporate locations with off-premise sales through the early stages of the pandemic and when dining rooms were shut down.
We started reopening once we were able to do so safely and local guidelines allowed for dining rooms to reopen. Reopening has been a smooth process thanks to our support teams and great franchise system. As the COVID situation evolves, we are ready to support our franchisees and pivot as needed in the weeks and months ahead.
R&R: You also began rolling out new restaurant floor plans. Was that something that was in the works already, or in direct response to the pandemic?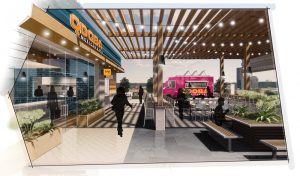 Welsh: Our new restaurant floor plans were already in the works ahead of the pandemic — the fast-casual space has been heading in this direction for some time. The pandemic sped that up and, thankfully, we had these plans in motion and were able to quickly introduce them in third quarter.
In terms of footprint, we do have much smaller floorplans available. As several competing fast-casual concepts need at least 2,200 square feet, we are able to enter spaces as low as 1,200 with a drive-thru and in some cases 1,000 square feet without a drive-thru. This is a meaningful and important shift for our brand as we adapt to consumers' needs and reduce buildout costs and overhead for prospective franchisees.
R&R: What changes have you made when it comes to employee and customer safety and sanitation?
Welsh: We have been following strict health and safety guidelines set forth by the Center for Disease Control (CDC) and local government agencies. Extra precautions such as temperature checks, mask wearing and regular glove changes are taken to ensure customer and employee safety as well.
R&R: Does QDOBA plan any non-traditional openings in airports, stadiums, college campuses?
Welsh: Today, we have non-traditional locations open at 36 universities, 25 military bases, 13 airports and in several other venues. Since August, we have opened eight locations on college campuses across the country — we have strong momentum going in terms of growing our non-traditional footprint and growth in non-traditional venues continues to play a key role in our long term strategy.
R&R: How many international locations does QDOBA have? Do you plan to expand globally?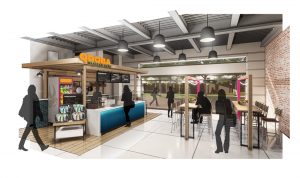 Welsh: Currently, there are 11 locations operating in Canada and we are actively seeking qualified partners to expand our footprint further into Canada.
R&R: To better social distance, have you adjusted your back-of-house and kitchen areas? Did you bring in new equipment or make other operational efficiencies/adjustments?
Welsh: We made adjustments pre-pandemic to our back-of-house operations that have created an environment that is naturally more social distanced.
For example, we started adding backlines to all company locations and some franchise locations, which has really streamlined operations for filling mobile and app orders. This has taken some of the pressure off of the front lines and, in turn, we are seeing less congestion in the restaurant. That investment in particular has already resulted in an increase in systemwide sales.
R&R: Which pandemic-era changes in the restaurant world do you anticipate lasting even past the present crisis?
Welsh: The strong pivot into digital, as well as the marriage of convenience and quality, are changes I foresee lasting well past the present crisis. As a brand, we've always had a strong position on quality and we are now dialing into convenience and finding new ways to make visiting or ordering from QDOBA a seamless process for guests.
I see the decline in on-premise dining continuing. We have reduced our seat count by 25% and I don't anticipate that changing post-pandemic. What this means for guests who do dine at our restaurants is that there is going to be less congestion, more space and an elevated experience overall. Restaurants will also continue making investments in patio and outdoor seating.
R&R: Describe how QDOBA handles repair and maintenance. Do you have an in-house maintenance department or do you rely on vendors? Or do franchisees handle R&M individually?
Welsh: We have facility managers and an R&M team that manages requests and outsources to vendors from there. Today, franchisees handle repairs and maintenance themselves but we look forward to offering R&M as a shared service between franchise and corporate locations in the near future.
R&R: Do you use local or national vendors? Why?
Welsh: We use both national and local vendors. We are always going to go after what is the best solution for our restaurants and that could be a local, regional or national provider.
R&R: How has everyday restaurant maintenance evolved since the pandemic struck?
Welsh: The everyday restaurant maintenance has evolved in that locations are being cleaned and sanitized constantly and are undergoing much more frequent deep cleanings.
R&R: What do you enjoy most about your job day to day?
Welsh: I love that I have the ability to help solve creative problems for franchisees on a day-to-day basis. We live in an era of great challenge but also great opportunity, and we are able to find solutions with our franchisees that we weren't even considering a few months ago. That's exciting.
For example, we installed a service channel as a platform that allows us the ability to communicate with the restaurants virtually. This requires less travel from our team and allows us to have even more frequent conversations with our franchisees — it's a win-win.
R&R: What goals have you set for your team, short term and long? What is the target year to reach 1,000 units?
Welsh: The goals that we've set have challenged us to be more aggressive around growth, and we're seeing a tremendous amount of interest in franchise sales. We are aiming to reach 1,000 units before 2025 and are on pace to open 100 restaurants a year.
— This article originally appeared as the cover story of the November 2020 issue of Retail & Restaurant Facility Business. Email the editor, Katie Lee, at [email protected].