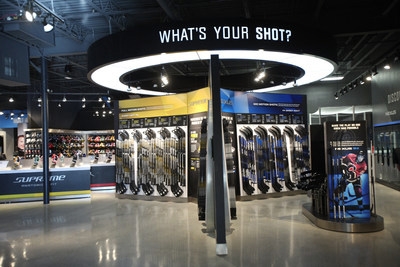 Holliston, Mass. — Pure Hockey, the largest hockey retailer in the U.S., has acquired both of Bauer Hockey's "Own The Moment" retail stores. The new stores will operate as "Bauer Hockey Experience" locations. With the acquisition, Pure Hockey will now operate 53 retail locations across the United States, as well as three e-commerce sites.
"Over the years, we've developed a very strong relationship with Bauer, and by acquiring the Bauer Hockey Experience stores, we can expand our retail footprint in Minneapolis and upgrade our existing location in Burlington, Mass.," says David Nectow, CEO, Pure Hockey.
Both stores will remain Bauer-exclusive locations, now owned and operated by Pure Hockey. The Burlington, Mass., store will move to Pure Hockey's existing store location in Burlington, and is expected to reopen to the public by the end of July. The Bloomington, Minn., location will continue to operate in its current location.
Pure Hockey, LLC is headquartered outside of Boston. The company was founded in 1994 and was acquired by David Nectow and Sal Tiano in 2008. Nectow and Tiano started their hockey business in 2002 with the purchase of one hockey retail store in Massachusetts. Pure Hockey has since expanded organically and through strategic acquisitions, and now operates 53 stores in 18 states across the U.S. under the Pure Hockey and HockeyGiant brands. For more information, visit www.purehockey.com.
SOURCE: Pure Hockey, LLC
Tagged under