San Diego — QDOBA Mexican Eats®, the largest franchise opportunity in the fast-casual Mexican segment, has introduced new restaurant formats that set the stage for continued growth. QDOBA's new concepts feature buildouts including mobile-order drive-thrus, walk-up windows, mobile-order pickup lockers, dedicated curbside pickup areas, ghost kitchens and concepts with updated outdoor seating. The new formats come on the heels of a major multi-unit franchise development strategy announced last month that is set to grow the brand to 2,000 units.
"Today's customer wants a frictionless, safe experience and we're evolving to meet that need quickly with these new formats," says Tim Welsh, chief development officer at QDOBA. "The concepts are designed with our consumer in mind and position our stores to grow sales within and outside the four walls, while reducing buildout costs for franchisees."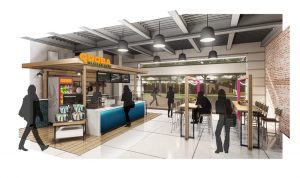 QDOBA's new footprints are built to fuel the 730-unit brand's multi-unit growth in the years ahead. Many of the concepts are designed to grow off-premise sales, including ghost kitchen formats and smaller takeout footprints as low as 1,000 square feet designed with high-rent urban areas in mind.
"Our new formats are incredibly attractive to today's multi-unit operators, who are looking for chef-driven food quality at a lower investment than a traditional QSR. With drive-thru equipped buildouts as low as 1,200 square feet coupled with our strong average unit volumes, QDOBA is well-positioned to meet the needs of today's franchisees," adds Peter Ortiz, QDOBA's newly appointed vice president of franchise development.
In August, QDOBA tapped Ortiz to drive growth into new markets with the nation's top franchise groups. He is already working with several experienced franchisee groups interested in major markets.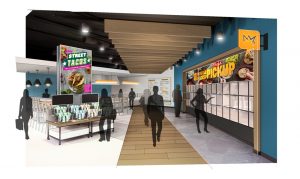 The fast-casual brand continues to grow amid the pandemic and is on track to open more than 30 restaurants this year. Since the onset of the pandemic, QDOBA has continued to prioritize growth, with 15 openings since mid-March and more than 15 new stores to open across the country between September and the end of the year, including San Diego.
In March, QDOBA helped franchise owners navigate the COVID-19 pandemic by offering a royalty deferral program.
For customers, it moved to limited-contact ordering, including digital ordering through www.QDOBA.com or the QDOBA app, in-restaurant to-go ordering and delivery via third-party providers.
QDOBA is a fast-casual Mexican restaurant with more than 730 locations in the U.S. and Canada. QDOBA is prioritizing franchise growth in key markets such as Arizona, Southern California, South Florida, Georgia, Ohio, Nevada, New Jersey, New York, Texas and Pennsylvania. For more information, visit www.qdobafranchise.com.
SOURCE: QDOBA