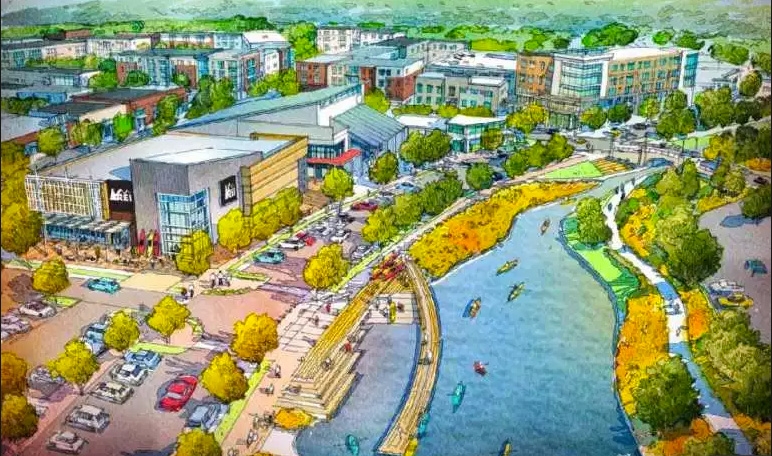 Huntsville, Ala. — REI Co-op will open its first location in the state of Alabama at MidCity Huntsville in fall 2019. With more than 150 stores across the U.S., REI will join a growing list of world-class brands at RCP Companies' $500 million experiential, midtown district.
"Huntsville is a growing outdoor community with proximity to areas like Blevins Gap and Rainbow Mountain, the Tennessee River and Guntersville Lake," says Gail Kirkland, REI retail director for the Southeast district. "With more than 11,000 active REI members in the state of Alabama, we are excited to continue to grow in the South and invest in this community."
The 20,000-square-foot REI Huntsville store will also have direct access to MidCity Park, a 40-acre public park with a trail system, lakeside dock and an outdoor amphitheater.
"REI is a best-in-class retailer that will provide an elevated experience for North Alabama outdoor enthusiasts and the existing co-op members across the Tennessee Valley region," says Max Grelier, co-founder of RCP Companies. "This is a tremendous addition to MidCity, one that really complements our core values through recreation, entertainment, and health and wellness."
Construction is slated to begin in October 2018 with an opening date scheduled for fall 2019.
REI is a specialty outdoor retailer, headquartered near Seattle. REI has 152 stores in 35 states and the District of Columbia. For more information, visit www.rei.com.
RCP Companies is an Alabama-based boutique real estate firm that provides acquisition, development and asset management services. The company currently has more than $700 million of development under construction or in pre-development in Alabama. For more information, visit www.rcpcompanies.com.
SOURCE: RCP Companies