— By Dan Brickner —
Now trending: right-sizing and reducing the store footprint with smaller-format stores.
Retailers have discovered there is no longer a "one-size-fits-all" approach to market expansion. As a result, astute retailers are "right-sizing" their retail footprints and introducing small-store formats that are tailored to specific demographics in both urban and suburban areas. Through available data, retailers have the ability to tailor smaller store formats and curate their merchandising to better serve the needs of their customers. Take a look at how small-format stores are redefining retail real estate and which retailers are finding success.
The Decision to Downsize into Smaller-Format Stores
While the reduction in operating costs is the primary reason for rolling out smaller-format stores, retailers rely on data to understand their customer, their shopping habits and the merchandise they are looking to purchase to provide consumers with greater convenience
in a smaller store format. In response to urbanization and population shifts, smaller-format stores allow traditionally large-format retailers to enter neighborhoods in which they wouldn't have otherwise been able to find the right location to fit a "standard" prototype space. Adjusting the format enables the retailer to fit in and gain traction with new customers that were previously out of reach. Often half the size of full-scale stores, smaller-store formats provide customers with a quick shopping experience that is close to home.
Retailers opening smaller-format stores have a unique opportunity to evaluate the community's wants and needs on a more intimate scale and tailor their merchandise accordingly. If they're near a college campus, they might increase floor area dedicated to grab-and-go items or home décor sections. When putting down roots in a city, a retailer might want to consider offering grocery or pharmacy items if the closest grocery store is not convenient for surrounding residents. A solid understanding of the target customers' shopping habits is key for any retailer but especially when a retailer is considering a smaller format. When reducing store space and merchandise, it's critical to stock shelves with merchandise that is essential to the customer base.
Benefits of a Smaller Footprint
Smaller-format stores are a win-win for both the retailer and the customer. Omnichannel shopping has reduced the need for large in-store inventory and allowed customers to take advantage of 'click and collect' or buying online and picking up in stores. Not only is click and collect practical, but it gives shoppers the ability to order a product quickly and see and touch it in-store. This boosts in-store profitability, even when purchases are made online. A great example is for students on college campuses. Gone are the days of parents sending care packages. Now, with one click, parents can order the necessities and their students can pick them up the same day at a smaller-format store near their college campus.
Big-Name Retailers Going "Small"
Downsizing to smaller-format stores is trending among digitally native retailers and brick-and-mortar brands alike. Through technology, retailers are keeping a pulse on consumer shopping habits and adopting new approaches to stay current. Traditional retailers such as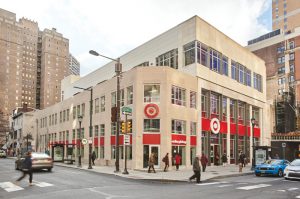 Target, Burlington, A.C. Moore and Kohl's are evaluating how their customers shop and shifting their respective approaches to better serve customers. For instance, Target is finding massive success with its smaller-format urban and college campus stores and plans to operate more than 130 "mini" Targets by the end of 2019. Burlington cut its store format in half and is seeking to "right-size" existing stores to 40,000 to 45,000 square feet. A.C. Moore launched a new small-format concept, A.C. Moore Essentials, that occupies approximately 12,000 square feet and carries the fundamental tools and materials that the brand's customers have grown to love. Kohl's is reducing its store format by 25,000 square feet while still carrying quality products and maintaining its popularity.
Final Thoughts
Looking ahead, in today's competitive retail environment, brands will continue to scale back to provide their customers convenience and a more localized experience. Retailers must understand their target markets and customers, and provide a highly curated shopping experience that speaks to them. Those that can achieve this will not only establish a presence in new markets but propel sales and create life-long customers.
— Dan Brickner is executive vice president of brokerage services and principal at Metro Commercial. He specializes in both regional and national tenant representation. Active retail clients include BJ's Wholesale Club, Dave & Buster's, T.J. Maxx, Regal Entertainment Group, and more. To learn more and contact Brickner directly, visit https://www.metrocommercial.com/metro-team/dan-brickner/.
classic-editor-remember:

classic-editor

abkw-text:
Tagged under