— By Michelle Grojean —
Did you know the Number 1 cause of premature roof failure is lack of regular roof inspections?
Let's talk about the necessary protection of one of the largest assets of your commercial building: your rooftop. For the sake of story time, let's say you recently had a brand new commercial roof installed. What you're probably thinking here is, "My roof is brand new. Why would I need a roofing contractor to look at it regularly so soon?" You could also be thinking, "Hey, I have a 20-year warranty. That should cover me." While roofing maintenance plans may seem like a type of unnecessary "insurance," where you pay but never use, longtime commercial property managers, experienced facility directors, and large-scale building owners know that it's a big-time money saver in the long run.
Think about buying a brand new car. You get regularly-scheduled maintenance on that, right? Whether it's oil changes, air filters, new tires, etc., it's key to keep up with your new vehicle to ensure it's running to its full potential and to help elongate its lifespan. The difference between vehicles and roofs is the average person doesn't see their rooftop everyday like they see their vehicle. "Out of sight, out of mind," you might say.
Bottom Line: The Number 1 cause of premature roof failure is lack of regular roof inspections.
How Often is Rooftop Maintenance Recommended?
It doesn't matter how old a commercial rooftop is, maintenance and regular inspections are key as the roof is one of the most important structural elements of a building. Typically, it is recommend that clients have their roofing systems inspected twice a year — once in the fall, when the leaves have finished dropping (just before winter) and once in the spring after the seedlings have dropped.
When spring's rooftop ice thaws, if you're located in a northern climate, your rooftop will be exposed once again. If you're only doing one inspection a year, you're giving a leak 364 days to develop. Prevention is key when we're talking money-saving tactics. A long-neglected leak can travel across your property before falling below the roof deck, weakening your structure and leading to mold, mildew and even more severe (and costly) problems.
What Happens During Routine Maintenance?
Visual Inspection: It's much more than merely climbing up a ladder, surveying the roof and checking off boxes on an inspection report. An experienced roofing technician will walk your roof looking for visual signs of weakness, whether it be cracked penetration or a seam losing adhesion. Catching these small problems sooner can end up saving you tons in costly repairs down the road.
Drain and Gutter Cleaning: To help prevent unnecessary buildup or blockage, technicians can offer maid services to your drains and gutters, clearing out algae buildup, leaves, sticks, etc. Keeping your rooftop clear of debris is important because when water doesn't have a clear path to exit your rooftop, standing water can not only reduce the longevity (leaks) and efficiency of your rooftop, but it can void you warranty.
Repairs: While a roofing technician is inspecting your rooftop, small repairs can be easily and quickly made. Say your rooftop suffered a hailstorm, or a sharp object hit your roof, damaged areas can be cut out, removed, dried out and caulked or coated to ensure your rooftop remains watertight.
Written Report: Once the inspection and the maintenance repairs are complete, you should receive all the details in a written report. You'll see the work performed (including before-and-after photos), the projected problem areas and the areas of immediate concern.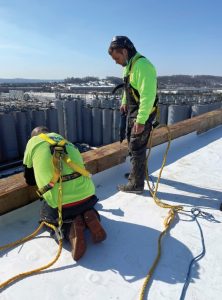 Once all of these steps have been performed by a certified commercial roofing professional, it's time to talk plan of action. Collaboration is key here as no two roofs are the same. By having a to-do conversation with your roofing maintenance provider, you can prioritize repairs for specific issues based on your facility's budget and timeline needs. In many ways, a comprehensive roof report can work as a road map to help management personnel to plan ahead as well as keep track of maintenance and repairs that have already been completed.
What Are My Next Steps in Preserving My Roof?
By now, you're aware that the most experienced property managers understand that a roof should be inspected at least twice a year to keep the roof alive as long as possible and to maintain the warranty, but we're here to help those who may have "forgotten" too. Find a reputable commercial roofing company that has a national fleet of service technicians who dominate routine roof maintenance calls all year long. Find service teams who will thoroughly inspect your roof and take proactive measures to help you maintain roof longevity.
— Michelle L. Grojean is director of marketing with CP Rankin Inc. Roof Management & Contracting. Call 855-ROOF-322 or email [email protected] for more information.
classic-editor-remember:

classic-editor

abkw-text:
Tagged under