— By Andrea Lisbona —
Best practices for long term PPE implementation in retail design.
Prior to the pandemic, it would have been rare to consider PPE like hand sanitizer, plexiglass barriers and masks as critical elements in enhancing the customer experience in retail environments. Today, a standing hand sanitizer dispenser, for example, is the norm at a retail door; it is the first thing customers will see and use when they walk into a store, and continue to experience throughout their browsing and buying journey. It's clear that the demand and a customer's expectation for PPE that keeps them safe around staff and other customers will be here for the long term. Consequently, the need for retail executives to reconsider what PPE means for guest experience, operational budgets, interior design strategy and aesthetic is paramount — especially as the market becomes flooded with options.
PPE is the Latest Architectural Element in an Elevated Customer Experience
In nearly every public indoor environment you enter today, you'll see and use detailed public health signage, hand sanitizer dispensers, socially distanced wayfinding elements, free masks and more. Like never before, these are all the first touchpoints retail brands have with their customers.
As interior design teams and brand, marketing and operations leaders think about this new customer experience in a COVID and post-COVID era, it is clear that the conversation for PPE is rapidly evolving from an immediate need in response to the pandemic to a long term, permanent and intentional design solution; hand sanitizer, given its high-profile visibility at an entry door, will soon be a symbol of what a brand stands for and how it is perceived by customers in the same way that bathroom fixtures, appliances and furniture are. Ultimately, PPE is rapidly shifting from a basic commodity to an architectural furnishing, and brand, design and operations teams need to be prepared to act fast and remain informed as they plan long term investment strategies into this new category.
Consider Your Customers' Physical Browsing and Buying Journey in Your Design Process
Before COVID, retail executives and store designers likely weren't thinking about entry lines of people everyday due to capacity limitations, one-way traffic in store, 6 feet of distance between customers, physical barriers between employees and customers, or third-party products like masks, hand sanitizer dispensers or personal sanitizers for employees. Certain elements of this new reality may fade over time as the pandemic wanes and vaccines become more widely available, though many will not. In designing for the short term and long term, it's important to consider what the impact of the pandemic will be on a customer's perception of safety in indoor environments — and how long certain behavior changes will last.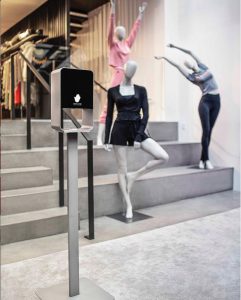 For example, do you foresee customers having a long term desire for 6 feet of physical space between themselves and others? Will they expect to have a barrier between themselves and employees upon checkout? Can you imagine a customer walking into a store and looking for hand sanitizer, and doing the same after picking up items from a shelf and putting them back? As you work through these answers, it will become clear that for as much as there wasn't a phased approach for implementing short term PPE needs in response to the early days of the pandemic, there will be a structured, phased approach in evaluating the long term design strategies that will respond to and accommodate a customer's perception of safe and healthy retail environments in the future.
Do Your Due Diligence and Critically Analyze Your Prospective PPE Partner's Supply Chain
With the increased number of PPE brands entering the market, it is extremely important to ask the right questions to ensure the quality of the product you are purchasing and to have confidence that it will be available for years to come. For example, some questions to consider asking your prospective partner include:
How long have they been in business and how have they handled a sell-out of products in the past? (i.e., Do they have a process for taking pre orders or assembling waitlists in the case that demand spikes again and they sell out?)
Are the appropriate products specifically registered with the FDA and are they produced in an FDA-compliant facility? What lab testing has been done to date?
Where are the products manufactured and are there any potential issues that could prohibit the manufacturer from having supplies when you need them, especially when making necessary reorders?
Are there any restrictions for how much product you can order at one time? And what is the shelf life? Is your partner open to reserving inventory on your behalf? (Many brands last year bought far more hand sanitizer than they actually needed, and due to expiration dates, are looking at having to throw away the majority of their supply.)
Lastly, if you are purchasing PPE through a distributor, are you confident that the refills will be available when you need them? What type of relationship does the distributor have with the manufacturer? Are they importing or is the manufacturer U.S.-based? Does the distributor have an exclusive agreement with a single brand or multiple brands? Getting answers to these questions early on can inform your long term strategy for procurement and a sustainable supply of product in increasingly challenging times.
Plan Your Operational Budget on a Cost-Per-Use Basis and Think Long Term
Given the current usage rates of PPE like sanitizing solutions in retail environments and the projected usage rates for years to come, it's important to evaluate your cost over the long term. Upfront cost is understandably an important consideration, but modeling 12-24+ month pro formas to better understand what to expect is crucial. This modeling will help you compare apples to apples when reviewing products and solutions from multiple brands.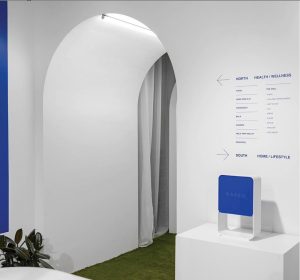 While many hand sanitizer brands will use gel or foam sanitizing solutions, there are a few companies that use a liquid-based sanitizing formula. These aqueous formulas receive national and global recognition for their hydrating and moisturizing properties and are nearly twice as cost-efficient as gel or foam solutions. This efficiency is measured in terms of doses per refill cartridge (a liquid-based formula includes up to 2,000 doses of sanitizer per 1-liter refill cartridge, whereas gel or foam formulas typically average between 1,000 and 1,300 doses for the same volume). If you simply evaluate the cost of a refill by volume and not by the total number of doses, you may find yourself underestimating your total cost over a period of time even if the upfront cost is lower.
Measure Your Success
An investment into PPE that elevates your brand and guest experience will undoubtedly be scrutinized, especially as revenues are impacted by the pandemic. In addition to pro forma modeling and evaluating total spend over time with permanent solutions, if you are piloting different product options, important guest experience-centric metrics like change in NPS score or CSAT score are also valuable to implement as soon as possible to determine the immediate impact of brand-aligned solutions.
— Andrea Lisbona is founder and CEO of hand sanitizer innovator Touchland. For more information, visit https://touchland.com/.
classic-editor-remember:

classic-editor

abkw-text:
Tagged under