Resinous flooring for supermarkets, bakeries, delis and foodservice.
By Sophia Daukus
When you're charged with selecting flooring for the renovation or new construction of a grocery store, bakery, deli or foodservice operation, the sheer number of commercial flooring options can seem overwhelming. Your thoughts may be flooded with numerous considerations of maintenance, safety and operations, construction scheduling, site conditions, design/décor and, of course, your budget.
Balancing These Factors is Key — And Can Be Easier Than You Think
Your first decision should be whether you need flooring for customer access areas or back-of-the-house food preparation areas, or both.
For customer access areas, whether store aisles, entryways, café or restaurant dining spaces, you'll want extremely durable, abrasion- and stain-resistant floors that offer easy-to-clean, slip-inhibiting surfaces with modern, trend-forward décor to welcome your customers. Having the option to create floor designs or patterns and to embed your company logo into the floor would certainly be a plus.
The considerations for your food prep areas may be slightly different. Areas where fats, sugars, salts, acidic vinegar or citrus, hot oil splatter or caustic sanitizing agents are used typically require flooring with extra acid and chemical resistance. If the floors are treated with hot water solutions or steam cleaning, then you'll want to consider floors designed to withstand thermal shock as well. All in all, you'll be looking for USDA-compliant, antimicrobial, industrial-strength performance, slip resistance and easy maintenance, as well as coordinating color/design options.
Better Life Cycle Value in Retail and Restaurant Flooring
In the past, the go-to flooring for retail and restaurant spaces was often grouted quarry or ceramic tile. However, in recent years, it's become clear that tiled floors in food establishments present a number of serious concerns: Maintenance of grout lines is difficult and time consuming; the grout lines and gaps eventually absorb food and cleaning liquids; and tiles can begin to crack and break away, providing breaches in the surface for mold and other undesirable microbes to proliferate. In busy facilities, finding the time to close down every few weeks, scrub in a deep degreaser, wait for the floor to dry and apply a grout and tile sealer, is next to impossible. Yet, without regular resealing, tile and grouted floors do not remain impervious, can quickly begin harboring germs and odors, and start deteriorating.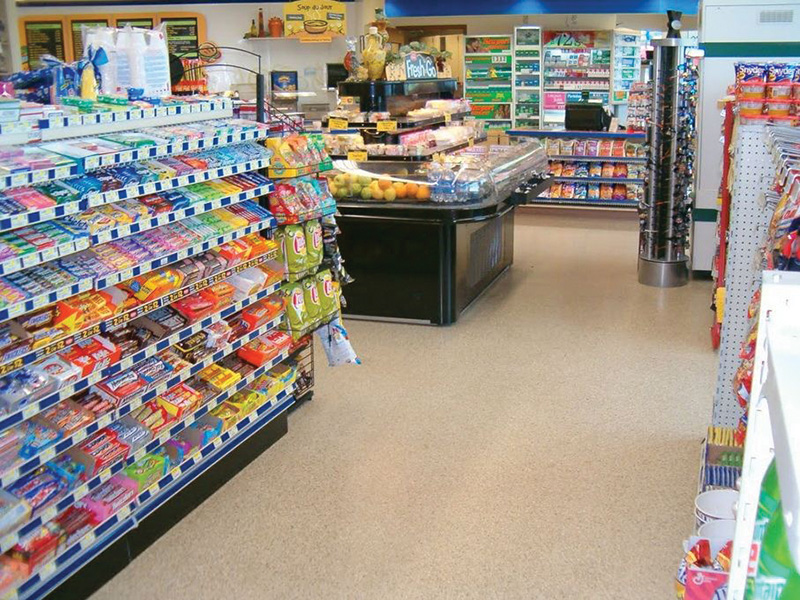 Needless to say, visiting health and other agency inspectors do not take kindly to food preparation and retail floors in this condition. And neither will your customers. Cracked, chipped floors with a dingy, worn or dirty appearance can give the impression that your business is carelessly handled or your products are of lower quality, even when the exact opposite is true. If moisture and liquids (even daily mopping solutions) seep into grout/under tiled floors, the hidden areas often never dry. Over time, an unclean or mildew odor can pervade the facility no matter how often you try to clean or sanitize the floor surface. That's because the problem isn't on top, but rather, has developed in and underneath the grouted floor covering. Fixing the problem requires total removal — greatly shortening the usable life of tiled floor options.
For these reasons, informed managers are now turning to tile- and grout-free seamless floors. Of these, resinous epoxy and cementitious urethane floors, with their superior durability, long usable lives, and inexpensive, easy maintenance, stand out as clear winners. Offering an optimal combination of high performance and great design, resinous flooring has proven itself a superior life cycle value solution for food prep, packaging, retail and dining facilities.
Resinous Flooring: Sanitation Support & Safety
Cementitious urethane or epoxy aggregate flooring, two types of what is known as resinous flooring, can be a great choice for spaces where sanitation and cleanability are high priorities. These floors are typically installed at 1/8" to 1/4" thick, and are virtually seamless. You'll want to opt for a professional factory-approved installer, who can create integral floor to wall cove bases and ensure a correct floor slope to a drain. This allows for optimal sanitation, as any runoff from cleaning at the end of the day can properly drain.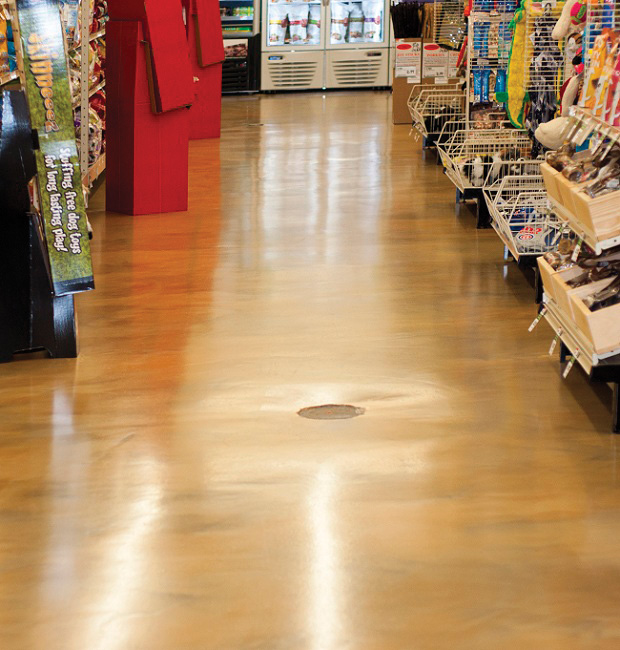 You'll want to note that resinous flooring meets standard government agency building requirements for retail food and dining establishments and can help you stay compliant. Published guidelines typically state that in areas where food is prepared, prepackaged or stored, as well as areas where any utensils are washed, floor surfaces are required to be monolithic, of durable construction, and made of non-absorbent material that is easily cleanable and impervious to water, acid and grease. Proper slope to drain and integral cove bases without seams are also often listed. You should always check on the mandates in your specific location; however, many government agencies list painted floors (e.g., DIY porch and deck enamel) and vinyl tile as unacceptable solutions.
Resinous flooring, therefore, provides a great answer to the question of "what now?" for food facility flooring. Products from quality manufacturers, installed by factory certified contractors, meet USDA, FDA, OSHA, ADA and EPA guidelines/ requirements and take the worry off your shoulders. Common food prep by-products like fats, oils, blood, acids and more are prevented from seeping into the floor or damaging the concrete slab underneath. Additionally, the floors are resistant to harboring mold, bacteria and other threats. Fluid-applied and virtually seamless, these monolithic, grout-free surfaces offer fewer places for bacteria to hide, helping to safeguard foodstuffs, workers and the consuming public.
High Performance and Durability: A Promise of Epoxy Floor Coating Systems
If you're like most supermarket, retail or restaurant managers, flooring with genuine industrial-grade performance is on your wish list. Laminates, tile and sheet goods won't be found on a heavy manufacturing floor. Is your facility really any different? Massive food storage units, loaded racks, carts, constant street shoe traffic, abrasive soil, spilled and dropped items including hot oil splatter, acids and salts, caustic sanitizing agents and rigorous facility hygiene protocols are all part of your business. Can you have flooring that uncompromisingly stands up to these challenges and also provides designer aesthetics?
The answer is a resounding "yes" — if you look beyond the standard list of commercial flooring. In recent years, resinous flooring manufacturers have responded to the needs of grocery, retail and foodservice facilities by greatly expanding their decorative high performance offerings. These attractive traffic surfaces can even be applied over heavy-duty epoxy or urethane matrices furnishing outstanding impact and puncture resistance, nearly unsurpassed chemical resistance, and greater than 10,000 psi compressive strength to properly support even the heaviest equipment. In addition, epoxy and urethane flooring's customizable skid-resistance, zero to low VOC and LEED point contributions — plus options like antimicrobial protection, waterproofing, moisture vapor mitigation, fast-turnaround, low odor installation and more — provide an impressive bang for the facility budget buck.
Industrial quality resinous floors are comprised of fluid-applied resins, along with a variety of engineered, performance enhancing aggregate and powder components, such as specially graded sand and quartz, Portland cement, eco-friendly recycled glass, aluminum oxide and even steel aggregate. Imagine this type of strength in a gorgeous floor that supports your design vision!
Style and Strength: No Sacrifices with Resinous Floor Solutions
If you're a bit surprised by some of the beautiful photos in this article, you're not alone. Resinous systems are only now making their way into many facility managers' and designers' consciousness as a high-value commercial flooring option. Originally created for industrial and military facility applications, epoxy and urethane flooring is coming into its own as one of the most design-flexible, lowest life cycle cost commercial options on the market today.
Beyond performance, durability and compliance with USDA and other agency requirements, resinous floors offer you trend-forward design in your choice of nearly unlimited patterns, colors and blends. Decorative elements such as multi-colored flakes, ceramic-coated sand and natural mica mineral fragments can be incorporated with high performing resins to craft artistic shapes and motifs into the floor.
One of the latest innovations involves the use of fine light-reflective "metallic" powders to create a look similar to — yet far out-performing — typical stained/polished concrete. While the surface color in many stained concrete floors quickly wears away under high traffic, and polished concrete requires ongoing regular re-polishing or buffing by outside crews, the epoxy-based "metallic" floors provide impressively long-lasting finishes that require no buffing or special treatments. And whereas stained/polished concrete visually emphasizes cracks and patches in the concrete slab, the new "faux stain" epoxy floors camouflage and hide surface imperfections. Perhaps most importantly, these designer epoxy floor systems offer ongoing slip-resistance that standard stained and polished concrete surfaces simply can't match.
As you can see, customized aesthetics is a hallmark of resinous flooring. Incorporating floor logos, way-finding messages, floor markings or unique designs into your new epoxy or urethane floor is as easy as discussing your wishes with your resinous flooring professional.
High Value Flooring for the Front and Back of the House
Your retail, grocery, restaurant or other foodservice operation is held to high standards by your customers and agency inspectors alike. Whether you need wow-factor entryway flooring, bright, safe aisles and low-maintenance public restroom floors that contribute to front of the house design, or back of the house flooring for meat, bakery and deli prep departments, employee locker and break rooms, stockrooms, warehouses or shipping docks, fluid-applied flooring offers the hard-working selection you need. Thanks to ease of sanitation and maintenance, exceptional durability, stylish aesthetics and budget-minded pricing, resinous systems provide the retail and restaurant industries with the optimal high value flooring solution.
— Sophia Daukus is a business development manager for Florock Polymer Flooring. Founded in 1952, Florock is a leader in the manufacture, research and development, and installation of solutions-oriented concrete floor coatings and toppings. The company's Florock Polymer Flooring line is headquartered in Chicago.