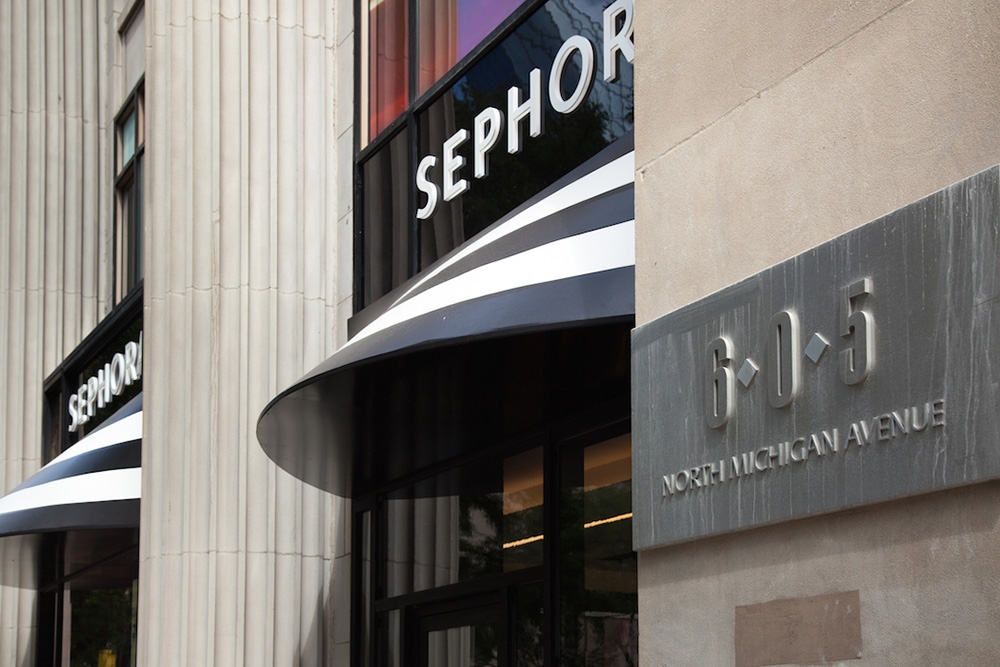 San Francisco — On August 26, 2016, Sephora introduced its BEAUTY TIP WORKSHOP concept store to the Midwest with the opening of its new Michigan Avenue store. Chicago's store will be the fourth Sephora BEAUTY TIP store in the U.S., joining San Francisco's Powell Street, Boston's Prudential Center, and Toronto's Yorkdale Shopping Centre locations, which opened within the last year, and marks the beauty retailer's 400th freestanding SEPHORA store in North America.
Sephora Michigan Avenue's BEAUTY TIP WORKSHOP, an all-new 10,040 square foot street-level store, is one of Sephora's largest and reflects the next-generation of the Sephora experience.
"We're thrilled to expand our reimagined Sephora Beauty TIP Workshop experience to Chicago's Michigan Avenue, one of the premier shopping destinations in the country," says Calvin McDonald, president and CEO of Sephora Americas.
Sephora's reimagined store concept features The Beauty Workshop, the striking "heart" of the store design, and an integral part of the TIP experience. The sleek table acts as a central workstation where clients come together to learn via group beauty classes with Sephora's educated facilitators, leverage tutorials and Sephora Virtual Artist technology on integrated iPad stations, or gather inspiration from The Beauty Board, Sephora's own shop-able gallery showcasing user-generated content via a large digital screen. Each station is equipped with its own product, iPad, USB port and wifi, so clients can play, browse and share looks on the digital screen and online, right from their seat.
The Sephora BEAUTY TIP WORKSHOP also boasts digital signage throughout the store, as well as brighter lighting, a larger cash wrap, additional mobile POS stations, easier-to-shop fixtures, enhanced gifting stations, and more impactful brand imagery.
Sephora is a leader in global beauty retail that debuted in Paris in the early 1970s. A year after its acquisition by luxury group LVMH Moët Hennessy Louis Vuitton in 1997, Sephora expanded its empire to North America with a revolutionary store model that broke down the department store counter. Now with 400 stores in the Americas — including U.S., Canada, Mexico and Brazil — plus 500 inside JCPenney, Sephora has become a leading international beauty destination with over 2,000 locations in 31 countries. For more information, visit sephora.com.
SOURCE: Sephora