— By Joe Bshero —
Common carpet care myths debunked.
In today's competitive marketplace, it's important to give retail customers a quality shopping experience. Some companies do so by focusing on easy-to-navigate store layouts, while others offer in-store dining and soothing music to create a pleasant atmosphere. Cleanliness is also key, and its role is only increasing.
The novel coronavirus pandemic has placed added stress on managers by imposing demanding cleaning standards meant to protect all building occupants. As more states reopen, retailers must understand that there will be a higher level of scrutiny on cleanliness. Because the appearance of flooring, including carpet, can set the stage for customers' impressions of the store's commitment to cleanliness, it's crucial that it always looks its best.
Fact or Fiction?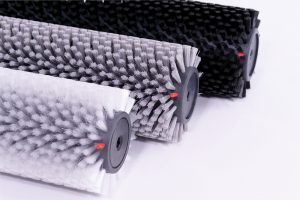 In carpet care, there is a lot of misinformation facility managers have to filter through. As the decision makers, they are entrusted to establish a proper cleaning strategy, but may become confounded by the details. To achieve consistently clean carpet, store managers and their employees must understand common misconceptions about carpet care. Consider the truth behind the following myths.
Retailers should use matting seasonally: Entrance matting is actually essential for year-round preventative maintenance. Many facilities use matting during winter months when patrons and employees are more prone to track salt, sand and excess moisture onto floors. While these contaminants don't impact warmer states, wet shoes can track dirt or mud onto carpet at any time of year. Plus, states with four-season climates also experience rainy spring and summer months and leaves can make their way indoors during fall. Thus, facilities should invest in year-round matting and must prioritize vacuuming, laundering and replacing matting as needed.
Regular vacuuming is enough: Vacuuming is essential, but removing top soils is not enough to maintain clean carpet. The only way to remove tough stains and embedded soils is through vacuuming and regular interim maintenance. According to a survey conducted online by The Harris Poll among 2,012 U.S. adults ages 18 and older, 66% of Americans say dirty carpet in a retail store would negatively impact their perception of that facility. With retailers facing an increasingly difficult landscape, they can't afford to give two of every three shoppers a negative impression of their stores. A comprehensive carpet care program can help maintain customer satisfaction and reduce the risk of lost business.
Carpet care chemistry will always lift stains immediately: Carpet stains have the potential to reappear several days after chemistry application. For especially tough stains like blood, red wine or clay, it may seem like they are permanently set in the carpet, but don't give up hope. If the stain persists after chemistry application, it's best to reapply and agitate the carpet with either a machine or hand-held tool to lift it from the carpet pile. In some cases, you can avoid multiple rounds of application by addressing the stain as quickly as possible before it has an opportunity to dry.
More moisture is better: While the process of carpet care requires some moisture, it's important not to oversaturate flooring. Excess moisture can lead to mold, mildew, odors and fiber damage. To reduce the risk of over-wetting carpet, retailers should consider the benefits of low-moisture encapsulation, which uses much less water and allows carpet to dry within 20-30 minutes. This reduces disruptions if cleaning needs to occur while shoppers are present.
Your warranty is airtight: Many carpet manufacturers offer warranties ranging from 5-10 years, which gives retailers added assurance. However, there are certain practices that can void these warranties. Store managers should understand which machines and chemistries their manufacturer advises against using. Additionally, even if a certain machine or chemistry is approved, they should look closely at how the equipment operates and the product's ingredients to see how it may negatively impact carpet fibers if used improperly.
Over-cleaning damages carpet: Carpet is built to withstand foot traffic, spills and mechanical agitation for decades. While some stores prolong the time between maintenance to avoid excess wear and tear, regular maintenance won't lead to damage if performed correctly. Using an ergonomic, lightweight machine and following the manufacturer's instructions when using equipment and chemistry helps carpet last for years. As carpet replacement is costly, adds to landfill waste and may require temporary store closures, it's necessary to find ways to extend its lifespan.
The Perception of Cleanliness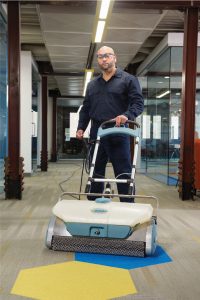 More than ever, store managers should make cleaning processes visible to assure patrons that their cleaning regimen is thorough. During the pandemic, there has been a strong focus on frequently touched areas, but the CDC also advises cleaning soft surfaces such as carpet. Cleaning from the ground up ensures that your store's floors give shoppers the right first impression of your facility and communicate your dedication to cleanliness.
While misinformation and inadequate training can impact carpet care, once retail managers straighten out the facts, they can provide workers with the necessary knowledge, machines, tools and chemistry for proper maintenance. With this comprehensive understanding of floor care, retailers will be better equipped to maintain carpet to meet customer expectations.
— Joe Bshero is the director of technical services with R.E. Whittaker Co., a family-owned business with over 30 years of experience and the pioneers of the first commercial carpet encapsulation system. For more information about low-moisture encapsulation systems from Whittaker, visit www.whittakersystem.com.
classic-editor-remember:

classic-editor

abkw-text:
Tagged under