57% of consumers believe restaurant employees have more control over their experience than the brand itself.
Chicago — Labor demand is continuing to outstrip labor supply by a wider margin despite record job openings. The hospitality industry is just one industry taking hard hits, with some restaurants reporting temporarily closing or cutting hours due to the labor shortage. But just as restaurants look to robotics, apps and digital tools to fill the voids in the frontline workforce, consumers are pressing pause, expressing their desire for more human experiences.
Big Red Rooster, a JLL company, recently assessed the quick-service restaurant (QSR) customer experience, finding employees as essential drivers of the brand experience. Despite ongoing pressures on labor availability to meet the returning demand for on-premise dining, drive-thru and pickup/carry-out orders, just 1 in 5 consumers report a decline in service over the past 6 months. The decline is more than offset by the 1 in 4 consumers who report improved service during the same time period.
"Even in the age of online ordering and curbside pickup, humans have a major impact on brand experience," says Emily Albright Miller, senior vice president of strategy at Big Red Rooster. "As brands and operators look forward, they should consider how to leverage well-trained employees in key moments where human assistance can be reassuring, such as a custom order, or a moment of connection, such as presenting an order."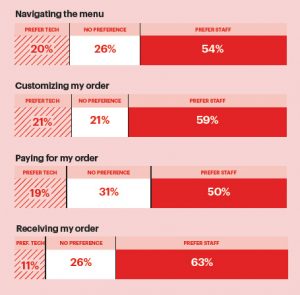 With 57% of consumers believing that restaurant employees have the most control over the experience, these findings present challenges to owners and operators. And now with more baby boomers retiring — a phenomenon accelerated by the pandemic — labor supply growth is slowing further. For the first time in U.S. history, the growth rate of the working-age population (people aged 16 to 64) has consistently turned negative. Between this demographic change, pandemic relief incentives, and a workforce migration from QSR into industries that offer more benefits and flexibility, businesses are increasingly looking to investments in technology because of labor scarcity.
Yet as of today, the majority of consumers prefer working with staff during all moments of the QSR experience: 54% for navigating the menu, 59% for customizing orders, 50% for paying for the order, and 63% for receiving the order. Just 18% of consumers said that incorporating technology to reduce reliance on employees would be one of the top three things brands can do to impact service. Unsurprisingly, Millennials and Gen Z are more likely to prefer tech, with Gen Z preferring it most. In fact, the percentage of tech preference across the quick-serve experience declines as age increases. Still, 40-50% of Gen Z prefer staff across all moments.
"Technology should absolutely be in the pipeline, but it's not an immediate answer. So how do we strike that balance? What's missing most is care," says Miller. "Just 25% of consumers rated QSR brands 'excellent' in making them feel cared for as a guest on their recent visit. Above all, this reiterates the importance of human connection on brand experience."
Chick-fil-A, for example, sees its focus on human interaction pay off as it consistently performed above the brands included in the study on key service attributes. At least 30% of recent Chick-fil-A customers rated the brand 'excellent' on each of the key service attributes, which includes employee mood, friendliness, attentiveness, competence, hygiene and feeling cared for as a guest. The brand's excruciatingly close attention to the consumer experience is often cited as the reason consumers keep coming back for more. Recently Chick-fil-A topped the fast-food industry in customer satisfaction for the seventh consecutive year, scoring an American Customer Satisfaction Index (ACSI) score of 83 out of 100. Culver's is another strong example of a brand successfully managing the employee-related experience drivers, according to the Big Red Rooster survey.
The Big Red Rooster survey also highlighted ways to make attentiveness and friendliness translate to a feeling of care. When asked to rank what would most impact fast food/QSR service, the following actions garnered the most top-three rankings:
52% said increasing the number of staff during peak traffic times.
48% said increasing wages/pay for employees.
45% said improved coaching/training for employees.
42% said recognizing and rewarding outstanding service.
"While the pandemic proved to be an accelerator for digital touchpoints, not all of them are easy, reliable or robust enough to handle the personalization consumers expect," says Miller. "In an earlier 2021 study we conducted on consumer control, 55% of consumers reported going to physical stores to connect with, ask questions, or get help from employees in person. Technology is accelerating, but the human component of the physical space remains a source of comfort and a key trip driver in retail."
Big Red Rooster's Q2 study was conducted in partnership with ENGINE Insights and included a CARAVAN® survey with 1,003 demographically representative U.S. adults 18 years of age and older.
Brands included in this study included: Chick-fil-A, Chipotle, Culver's, Jack in the Box, Krispy Kreme, McDonald's, Papa John's, Starbucks and Taco Bell.
JLL is a leading professional services firm that specializes in real estate and investment management. JLL is the brand name, and a registered trademark, of Jones Lang LaSalle Incorporated. For more information, visit jll.com.
SOURCE: JLL