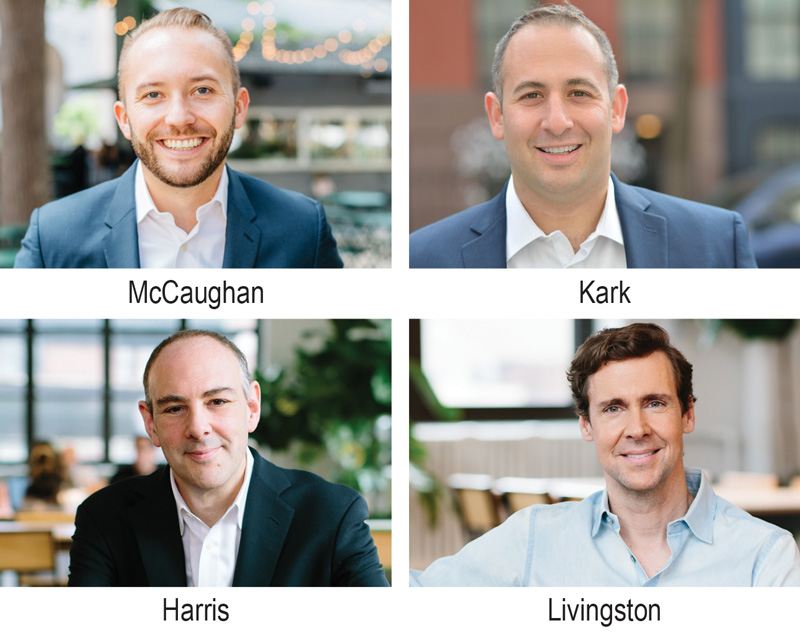 New York City — Shake Shack has appointed a new chief development officer, chief global licensing officer, chief information officer and chief marketing officer, as well as the addition of its ninth board member. All four positions represent new roles at the company, filled with a balanced team of internal and external talent. With sizeable growth ahead, Shake Shack's team of senior leaders will be instrumental in its strategic growth.
Andrew McCaughan, formerly vice president of development at Shake Shack, has been promoted to chief development officer. He will be responsible for the overall growth of the company, leading the real estate strategy, design, construction and facilities functions. Since joining the company in 2010 with just three Shacks, McCaughan has developed and led a best-in-class development team, secured iconic real estate in numerous new markets, and guided the restaurant's design vision to constantly enhance the guest experience. Now with over 200 restaurants worldwide, McCaughan actively focuses on orchestrating the extension of brand and digital experience into the physicality of the restaurant, while leading strategic growth and development of new locations. Prior to joining Shake Shack, McCaughan worked in multiple facets for renowned chef and restaurateur Rick Bayless.
Michael Kark, formerly vice president of global licensing at Shake Shack, has been promoted to chief global licensing officer. He will be responsible for overseeing the company's rapidly expanding licensed partnerships around the world. Kark has led Shake Shack's international business since nascent stages in 2012, having established pivotal partnerships and developed an extraordinary organization capable of building business around the globe. Over the past 8 years, Kark has launched Shake Shack across the UK, Middle East, Hong Kong, Mainland China, Japan, South Korea, Russia and Turkey. In addition, Kark actively pursues business development for future partnerships while managing cross-functional teams including operations, real estate, marketing, design, culinary and supply chain. Before joining Shake Shack, Kark spent 8 years overseeing operations at Chipotle.
"Investment in our teams and developing future leaders from within has always been incredibly important at Shake Shack. We believe the unity that we have built amongst our teams and across the company is a key driver of our ability to deliver a great guest experience and successfully grow our footprint," says Randy Garutti, CEO of Shake Shack. "We're proud to name Andrew McCaughan as chief development officer and Michael Kark as chief global licensing officer, two individuals that have grown with me and the Shake Shack leadership team over the years and have a proven ability to lead, execute and inspire. As we continue to build community gathering places across the U.S. and around the globe, both Andrew and Michael will be instrumental."
Dave Harris has been named chief information officer and will be responsible for overseeing all aspects of technology at Shake Shack. Harris comes with a breadth of experience across digital innovation and technology-enabled growth in large multi-unit environments. Prior to joining Shake Shack, Harris served as vice president of digital technology at Newell Brands, a publicly traded consumer goods company, where he had global responsibility for the e-commerce and digital marketing technology across its diverse portfolio of brands including Sharpie, Elmers, Contigo, Graco, Calphalon, Coleman, Marmot, Rubbermaid and Yankee Candle. Before Newell, Harris was CIO at Yankee Candle where he was responsible for leading the global IT function. There, he led the development of its omnichannel strategy which included deployment of a new POS across 600+ retail stores as well as the implementation of the web, mobile and kiosk technology.
Jay Livingston has been named chief marketing officer and will be responsible for leading strategic and innovative marketing at Shake Shack. Livingston brings a wealth of experience in scaling large global brands, as well as in high growth consumer-facing early stage companies. He previously served as chief marketing officer of BARK, makers of BarkBox, from July 2017. Prior to that, Livingston was senior vice president of global marketing at Bank of America where he held senior marketing roles across the corporation during his 20-year career.
"Shake Shack is experiencing incredible growth and now more than ever, our leadership teams will be key to our success," says Garutti. "We're thrilled to welcome Dave Harris as CIO and Jay Livingston as CMO. With a continued focus on cultivating a connected community through the strength of our brand and the evolution of our digital products, Dave and Jay's partnership will be integral in forwarding a personalized dialogue with our guests, building the infrastructure needed to support innovation, and honing in on the intersection of convenience and excellence in experience through tech."
The search for CIO and CMO was conducted by True Search.
Shake Shack also welcomes a new member to its board of directors with the appointment of Sumaiya Balbale. Sumaiya was the vice president of e-commerce, mobile and digital marketing for Walmart US from January 2017 to February 2019.
Since the original Shake Shack opened in 2004 in New York City's Madison Square Park, the company has expanded to more than 200 locations in 26 U.S. states and the District of Columbia, including more than 70 international locations across London, Hong Kong, Shanghai, Istanbul, Dubai, Tokyo, Moscow, Seoul and more.
SOURCE: Shake Shack
classic-editor-remember:

classic-editor

abkw-text: