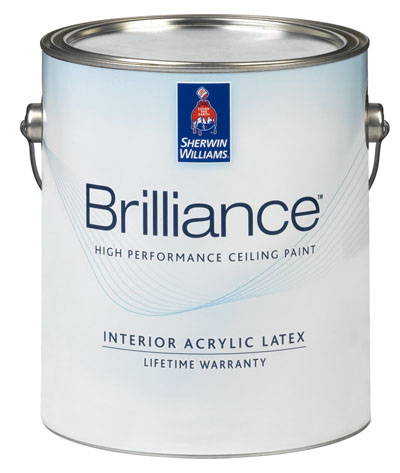 Cleveland—Sherwin-Williams expands its coatings offerings to include a new ceiling paint that offers one-coat coverage, self-priming and a bright-white finish.
Cleveland—Sherwin-Williams expands its coatings offerings to include a ceiling paint that meets the highest expectations. Brilliance ceiling paint delivers one-coat coverage, timesaving self-priming performance and a bright-white finish.
"Painting ceilings can pose a challenge, even for professional painters," says Steve Revnew, vice president of product development for Sherwin-Williams. "Odd sight lines and hard-to-reach corners can make it difficult to achieve a uniform finish, but Brilliance helps professionals overcome that with easy application and smooth consistency not found in competitive products. Minor surface imperfections are masked quickly, with a fresh, crisp stand-out finish as the end result."
Additional key benefits of Brilliance ceiling paint include:
• Excellent flow and leveling
• Light Reflectance Value (LRV) of 92 for a bright, luminous finish
• One-coat coverage without need for primer
• A flat finish specifically formulated to help hide surface imperfections
• Fast drying time and spatter resistance
• A low-VOC formula of less than 50 grams per liter
Formulated to offer long-lasting beauty, Brilliance high performance ceiling paint creates an exceptionally uniform appearance sure to heighten luminosity in any room.
For over 140 years, Sherwin-Williams has satisfied the coating and color needs of builders, designers, specifiers, property managers and contractors. More than 3,300 stores and 1,400 sales representatives make Sherwin-Williams North America's largest single-source supplier of high-quality paints, stains, masonry coatings and brand-name wall and floor coverings. 
— For more information, visit sherwin-williams.com. For green solutions, visit swgreenspecs.com.