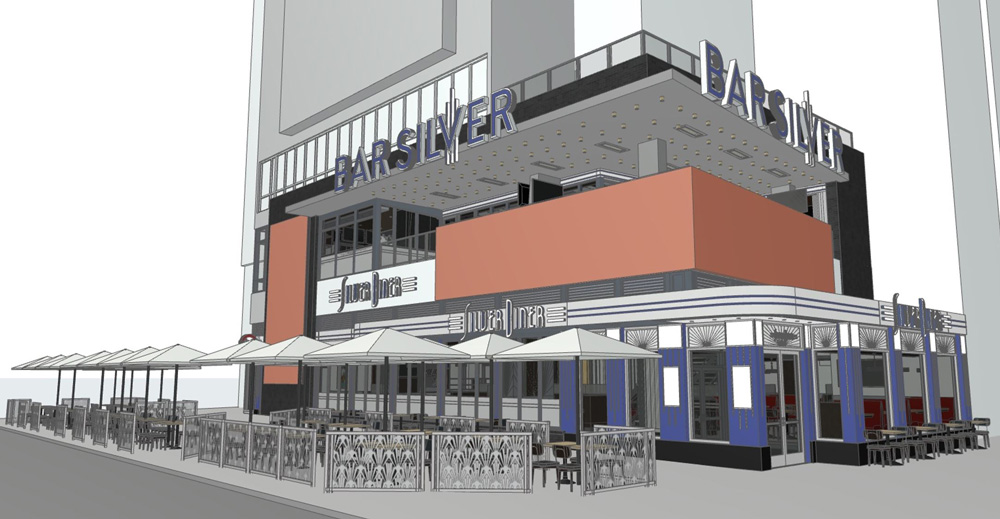 Rockville, Md. — Silver Diner plans to open its first Silver Diner restaurant in Washington, D.C., in 2022. The 8,000-square-foot, two-story space is located next to Nationals Park.
This new two-story concept will feature an updated Silver Diner restaurant on the first floor and a bar, Bar Silver, on the second floor. The 300-seat layout includes an outdoor terrace overlooking Nationals Park. Bar Silver will provide drinks and small plates while downstairs will offer dining with a menu featuring the most popular items served at Silver Diner restaurants.
"This location will be a new updated concept for us," says Robert Giaimo, founder and CEO of Silver Diner. "We're excited to be part of this neighborhood and to be able to bring our first Silver Diner in D.C. to this community."
For more than 32 years, Silver Diner has been a much-loved, locally-owned business. Several years ago, the owners developed an expansion plan and have opened three new restaurants over the past 1.5 years with more planned (an Ashburn, Va., location is opening this summer.) The Half Street Silver Diner is scheduled to open in spring 2022.
As with all other Silver Diner locations, the Half Street restaurant will include a three-pronged hospital-grade air system with HVAC/UV light that increases air flow and forces air over UV light coils. At night, when the restaurant is closed, the interior is bathed in UV light to help kill bacteria and germs on surfaces. The systems were initially installed at the height of the COVID-19 pandemic last August and have become a routine health protocol for the restaurants.
The design of the Half Street location will be in keeping with the new architectural design elements that have been created by Silver Diner's architectural partner, CORE architecture + design. Finishes are more upscale than the original diners but still provide a diner feel with specially selected tiles, wood highlights and chrome. These same finishes have been used at Silver Diners in Columbia, Alexandria, Woodmore and Rio.
"We've adapted our restaurants to meet various architectural retail opportunities, and we've adapted to best meet our customer demands and needs," explains Giaimo.  "The key to our success has been adaptability and evolution. While we have a portfolio of restaurants, many feature special architectural details designed just for that location. This will be our first restaurant with a terrace."
With restaurants throughout Maryland, Virginia and New Jersey, Silver Diner was first established in 1989 in Rockville, Md. Since then, Silver Diner has grown to own and operate 18 restaurants, serving 3 million customers yearly throughout the Washington, D.C., metro area. For more information, visit www.silverdiner.com.
SOURCE: Silver Diner
classic-editor-remember:

classic-editor

abkw-text:
Tagged under