— By Bradley Vanover —
When epoxy pipe restoration makes (dollars and) sense.
The first call to our national facilities maintenance group was an emergency. Sewage was backing up into the restroom of a major department store. Not good for business. Plumbers were called, quotes given, and shock ensued.
Replacing old cast iron pipes is a pricey fix, but not a surprising one. Cast iron is notoriously subject to corrosion, particularly in waste lines where hydrogen sulfide gas forms. Drain cleaners, a common fix for slow-running pipes, often contain sulfuric acid, which is another rust promoter. In addition, the old method of casting iron pipe created variations in the thickness of the pipe walls; thin sections are subject to cracks and pin holes.
This problem, it turns out, was more than a pin hole, and corrosion was extensive. (See "before" image below.)
Patching was not an option, so we asked plumbing providers to bid for replacement. One provider offered an option: relining the cast iron pipes with epoxy. The cost savings was enough to convince store owners to give it a try.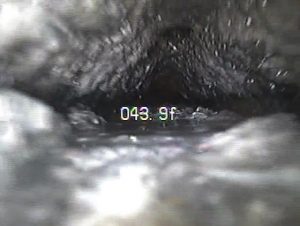 Seven months later, though, it became apparent the cast iron plumbing throughout the rest of the store — 520 feet of main line — also needed attention.
Replacement would require excavation, perhaps store closure and cost an estimated $180,000. By comparison, relining with epoxy resin meant no excavation, no store closure and a cost savings of $93,000. The success of the first fix made this proposal attractive. That's not to say epoxy pipe restoration is a simple process.
The relining process is not new; it was invented in England 30 years ago. Improvements in cleaning and application have made the epoxy fix appealing in several ways beyond price; it takes less time than replacement, is minimally disruptive, and vendors say, renews the pipe to better than original state.
Planning the project took several months. First, new clean-outs were created, which meant cutting 4' x 4' holes in the floor. Then existing pipes were flushed using high power brushes to eliminate decades of debris. Once cleaned, a tube sleeve coated with resin is inserted into the pipes. When the resin hardens it creates a jointless lining, one that seals cracks, fills holes, and resists root intrusion. The smooth epoxy does not attract debris like the old cast iron did. With the new lining, the integrity of the pipes is expected to last as long as the store stands. (See "after" image below.)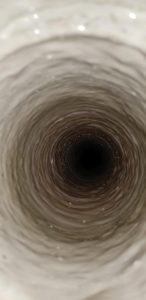 The original plan was to work even during store hours using pop-up tents to keep plumbers out of sight of customers and complete the project as soon as possible. The store opted for after-hours completion to ensure customers' com-fort. Even with that delay, it took less than 4 weeks to complete, much less time than it would have taken to replace the pipe and without tearing up the parking lot and/or city streets.
The bottom line: customer satisfaction. That should always be the goal: to deliver peace of mind to those we serve.
— Bradley Vanover is an account executive for Divisions Maintenance Group, a leading provider of integrated facility services, producing uninterrupted peace of mind through sustainable partner-ships and inspired team members. For more information, email Divmkt@divisionsinc.com.
classic-editor-remember:

classic-editor

abkw-text:
Tagged under