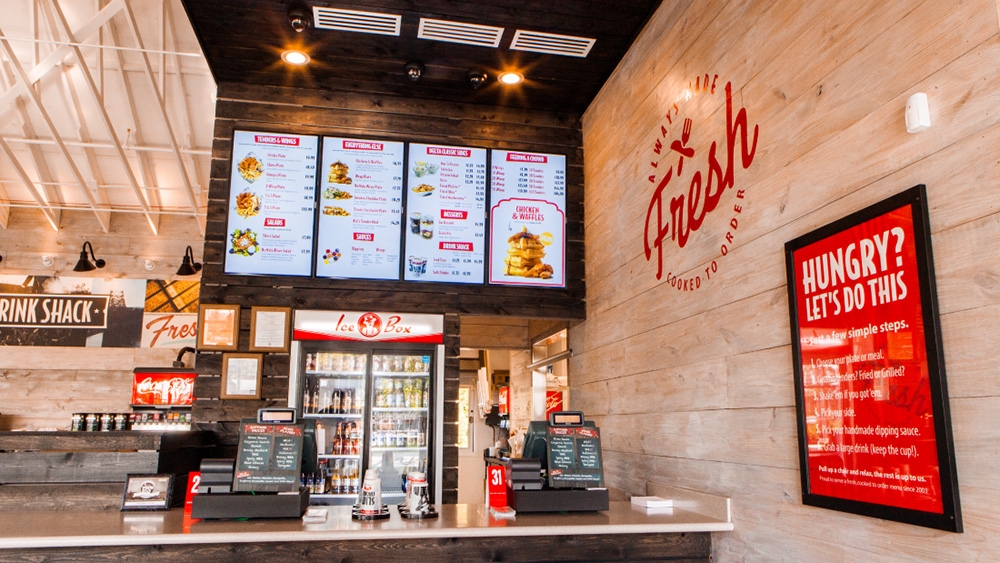 Fayetteville, Ark. — Slim Chickens, a leader in the "better chicken" segment of fast-casual restaurants, has enjoyed organic growth since taking the brand from co-founder Tom Gordon's garage to its first location 2 miles from the University of Arkansas in 2003. Now, as Slim Chickens has grown to more than 75 locations in 14 states (as well as the United Kingdom and Kuwait), the brand has expanded its growth strategy to non-traditional locations.
This fall, Slim Chickens will open a location in Donald W. Reynolds Razorback Stadium at the University of Arkansas and Boone Pickens Stadium at Oklahoma State University, as well as Orland Square Mall near Chicago.
"Growth in non-traditional locations will play a big role in our growth strategy this year and beyond," says Sam Rothschild, chief operating officer for Slim Chickens. "It's such a good opportunity for us to be able to connect our brand emotionally to another experience that is highly emotional, like a football game. Our hope is that fans of these teams will now associate our brand with these incredible teams and raise our brand awareness in these key markets."
Slim Chickens will also open soon in the Kuwait International Airport. Slim Chickens already has one traditional location in Kuwait.
"For us, being able to put our brand in high-traffic areas, like the airport, gives us not only an opportunity to capture sales, but also gain exposure for the brand," says Greg Smart, co-founder and chief brand officer of Slim Chickens.
Slim Chickens opened in 2003 in Fayetteville, Ark. Today it has more than 75 locations open and over 250 locations under development agreements. The goal is to grow to a footprint of 600 restaurants over the next decade. For more information, visit www.slimchickens.com.
SOURCE: Slim Chickens