Retailers can reap rewards with the right choice in roofing.
By Todd Kuykendall
Roofs are a retailer's forgotten asset — until they spring a leak, or incur damage from hail or fire. And a damaged roof usually means significant destruction below, costing thousands or even millions of dollars in ruined merchandise or injury claims — not to mention the lost revenue if a store is closed for an extended period.
The spate of natural disasters in recent years — most dramatically evident in the aftermath of Hurricane Sandy — reinforces the need for all retailers to be as prepared as possible to prevent adversity or mitigate its impact.
That means making smarter choices when installing or repairing roofs, which have taken on even more burden. The added focus on energy efficiency, a desire to make buildings "greener" and the foot traffic required to maintain them have added significant weight to roofs. The added equipment and activity generate loads that compress unprotected insulation and threaten the roofing membrane with stretching or punctures.
The retail roof's added importance has also heightened the need for strength, durability and fire resistance in roofing assemblies. And no roofing cover boards are as effective in protecting today's roof — and a retailer's investment under it — than those comprised of fiberglass mat gypsum panels.
Why Fiberglass Mat Gypsum?
For decades, gypsum has proven to be an effective core material in commercial building products, such as external sheathing, internal wall boards and roof cover boards. It tends to hold up far better than other types of boards against wind up-lift forces, hail, foot traffic, construction damage, external sound intrusion and fire.
On the market for more than 25 years, and successfully installed in hundreds of thousands of commercial buildings, fiberglass mat gypsum roof cover boards have numerous other attributes besides protection against damage.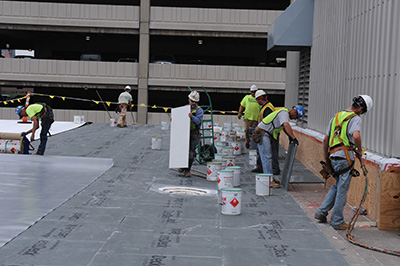 Fiberglass mats on the front and back surfaces and non-combustible gypsum cores add strength and dimensional stability, important factors that ensure the long term sustainability of the roof. Gypsum roof boards are an excellent thermal barrier and provide greater fire resistance than other conventional commercial roofing boards, such as wood fiberboard, perlite or high-density polyisocyanurate.
These attributes can really make a measurable difference in low-slope roofs, the typical assembly for stand-alone stores, strip shopping centers or retail malls.
For instance, a major retailer — whose stores are covered by a combined 130 million square feet of low slope roofing — suffered severe damage to a store in Nebraska that was pummeled by golf ball-sized hail. The hail crushed the foam insulation layers and completely destroyed the single-ply roof.
Rebuilt using fiberglass mat gypsum cover boards as a substrate between the new roof's insulation and membrane, the new roof performed flawlessly during a subsequent storm — which destroyed trees, automobiles and the roofs of nearby buildings.
According to the store's roofing consultant, "The store came out with no fractures in the (top layer) membrane," and no part of the roof needed repair. The retailer now specifies fiberglass mat gypsum roofs in all areas where hail is common.
Choosing the Right Roof
Used as cover boards, underlayment or thermal barrier, fiberglass mat gypsum panels can add durability and sustainability to virtually any commercial roofing system. In selecting the right product for the job, architects and roofing contractors should consider a number of additional factors that optimize their investment, such as:
• Warranties: Some premium gypsum roof boards offer attractive warranties that complement or extend those of other roofing assembly products.
• Ratings: Look for roofing boards with the highest ratings based on standard industry tests for fire resistance (UL and FM guidelines), wind uplift (FM 4470), mold resistance (ASTM D3273) and sound control (STC and OITC). Codes and programs are calling for the reduction of exterior noise levels, especially around high noise areas such as expressways and airports. Compare the performance among manufacturers, as they can widely vary.
• Durability: Adding a cover board as a protective layer between the foam insulation and roofing membrane can moderate potential damage from flying debris or hail; and punctures due to foot traffic or maintenance. Look for boards that can handle compression loads in the 500-900 psi range.
To ensure the long term viability of their investment, retailers strive to select products and materials that limit their vulnerability to natural and man-made disasters. Increasingly, fiberglass mat gypsum roof boards are proven to be a pragmatic product choice that mitigates risk while ensuring the highest levels of performance. RFB
— Todd Kuykendall is director of product management and sustainability for Georgia-Pacific Gypsum. He is responsible for product management, codes and testing, and technical service for the commercial roofing business.