Portland, Ore. — Built around the concept of "Dwelling Outdoors Together," Snow Peak has opened a new U.S. headquarters and retail flagship in Portland, Ore. The grand opening will begin on September 11.
In 20 years, Snow Peak has grown its U.S. presence from a modest distributorship to a 40-person team with retail locations on both coasts and ambitious plans for growth in the next two decades. The new headquarters and flagship embody the brand's heritage and commitment to restoring humanity through time in nature.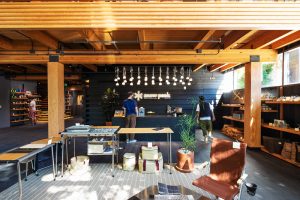 "I first visited the U.S. many years ago and was inspired by its expansive natural beauty and many dedicated outdoor enthusiasts. I knew it was the place for Snow Peak to have an impact — and our HQ4 is a significant step in our North American expansion," says Tohru Yamai, chairman of Snow Peak Inc. and chief executive officer of Snow Peak USA. "In 2011, we opened HQ1 in Niigata, Japan, and combined a retail store, campground and headquarters. Nothing like it had existed before, and it transformed the way we did business. In the same way, HQ4 merges our U.S. flagship store, restaurant and our brand offices — offering new avenues for connecting with customers and furthering our mission."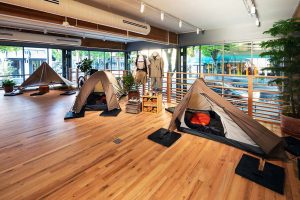 Partnering with Skylab Architecture, the 15,000-square-foot project features retail space on two levels, with the U.S. headquarters housed on the upper floor. Upon entry, visitors are greeted with a two-story mural of Snow Peak founder Yukio Yamai. Design features include an earthy atmosphere with dark stone, wood flooring and 100-year-old Douglas Fir beams, paying homage to traditional Japanese timber framing. The second floor of the retail space includes an airy installation from PNW artists, the light filled showroom and event space evokes a closeness to the sky. Designed to be a playground of outdoor equipment, the space will invite customers to touch, feel and test products, with demos and space for interactive camp exhibits.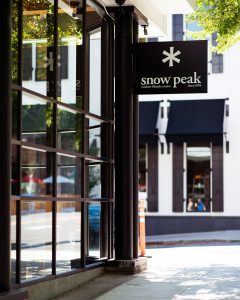 The ground floor also features Snow Peak's bar and restaurant Takibi. Translating to "bonfire" in Japanese, Takibi is anchored by an open wood-burning hearth and features Japanese inspired dishes and a hyper-local supply chain drawn from Pacific Northwest farms and purveyors. An 1,800-square-foot patio, surrounded by greenery, completes the project.
"Our U.S. team will come to work daily in an environment designed to inspire them, and literally be able to walk from their desk and interact with customers shopping for our product within our retail store, enjoying our product in our restaurant, and engaging with the outdoor community in our event spaces," says Matt Liddle, chief operating officer at Snow Peak USA. "Community is deeply important to Snow Peak and our headquarters is built with that in mind."
Construction on the project began in October 2019 and continued under changing safety protocols throughout spring 2020 and the COVID-19 pandemic. Due to safety concerns, Snow Peak has chosen to postpone the opening of its restaurant space until indoor dining safely returns. Snow Peak anticipates the restaurant will open in 2021.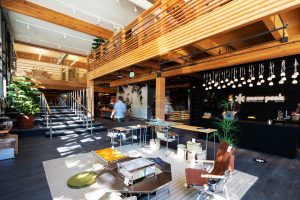 "Snow Peak has long held that time spent outdoors with others is restorative to the human spirit, and an antidote to the stresses of modern life," adds Liddle. "As COVID emerged as one of the defining crises of our generation, time outside with a small group of loved ones provides the moments of respite so many are longing for. Snow Peak creates products and experiences that help people to spend more quality time outdoors — whether in the backyard or the backcountry — and that's resonated with consumers through this crisis."
Snow Peak's journey began in 1958, when Japanese mountaineer and founder Yukio Yamai created his own line of superior gear, inspired by Mount Tanigawa in Niigata Prefecture, Japan. It is this place that inspired Yukio, and to this day continues to inspire all of the products created by Snow Peak. Today, Snow Peak strives to create products that inspire people to enjoy the outdoors and find harmony in nature. For more information, visit www.snowpeak.com.
SOURCE: Snow Peak